LISBON LION Bertie Auld was tailor-made for a Celtic team that played with a swashbuckling sense of adventure.
CQN are celebrating the life and incredible times of the Hoops legend in an EXCLUSIVE series with extracts from his best-selling autobiography, 'A Bhoy Called Bertie', co-authored by his friend and writer Alex Gordon.
The story continues with Bertie coming close to a quick u-turn to Celtic after agreeing to join Birmingham City.
BOB KELLY'S influence on team selection was emphasised one afternoon on October 1, 1960, as our team bus was wending its merry way to Broomfield, the quaint home of Airdrie Football Club.
The chairman recognised one of the Celtic supporters, bedecked in a huge woolly green-and-white scarf, walking towards the same destination. 'That's one of our reserve goalies, isn't it?' asked Kelly. It was, indeed, an individual called Willie Goldie, and Kelly ordered the bus to be stopped.
Goldie was invited on board and he didn't only get a lift to Broomfield, he also played! Kelly was so impressed with his commitment to Celtic that Goldie suddenly found himself in goal. John Fallon, who had been in position for the previous four league games, was dropped. Just like that.
Celtic duly lost 2-0. By the way, Goldie got plenty of opportunities after that to support the club from the terracings – he never played in the first team again! Actually, I owe him a big thank-you for helping restore me to the first team. I missed the game against Airdrie with Alec Byrne playing outside-left, but I returned for the next match and scored two goals in a 4-2 victory over St.Mirren.
UNDER ATTACK…Dundee keeper Ally Donaldson dives at the feet of Bertie Auld with Bobby Lennox and Joe McBride poised to pounce.
Yet, even in the midst of these bizarre team selections and other odd goings-on, I still wanted to remain a Celtic player. I knew Bob Kelly had tried to get rid of me earlier when Bobby Collins was about to join Everton. Our chairman tried to persuade the Goodison Park side to make it a double deal and throw me in, as well.
I was having none of it. For a start, I was in love! I had met this fantastic girl called Liz at the Locarno Ballroom in Sauchiehall Street, Glasgow, one Saturday night and it was love at first sight. She is now Mrs. Auld and we married on January 28, 1963 at St.Andrews Church in the shadow of Birmingham City's ground.
At that time, though, we had just started going out with each other and I realised a transfer to Merseyside would mean the end of our all-too-brief relationship. That wasn't going to happen and no-one was going to force me into leaving Celtic or Glasgow. When Birmingham City came on the scene it was a different proposition. Liz and I were an item, as they say, so a shift across the border wasn't out of the question if we both agreed it was the right thing to do.
GENTLEMAN JIMMY McGRORY…the Celtic manager in familiar pose with trilby hat and pipe.
After talking to Jimmy McGrory, I decided the very least I could do was to speak to the Bimingham City manager. I was sad in my heart, but I thought it was only polite to meet again with Gil Merrick. I was immediately impressed by the man. He gave me the impression he only wanted me; no-one else. He knew exactly what he wanted me to do for his club and he was exceptionally persuasive.
I found myself thinking maybe it wouldn't be a bad idea if I looked into this a bit more carefully. He was offering me the opportunity to go to England and play against the likes of Spurs, Manchester United, Chelsea, West Ham and so on. There were so many personalities down there at the time.
There was my old mate Denis Law at United, Dave Mackay had joined Spurs and West Ham had youngsters such as Bobby Moore, Martin Peters and Geoff Hurst beginning to emerge. Of course, that trio would win the World Cup with England some five years later.
After a quick word with Liz, I decided to move to Birmingham City. Genuinely, I thought it was the way ahead for me. Exciting times were around the corner, but my career at the St.Andrews outfit almost didn't even get off the ground. But for a chance happening, I would have been on the train back to Glasgow only hours after meeting the board of directors.
Honestly, they couldn't have beem more welcoming. The men who owned the club and the directors couldn't have been more accommodating. Gil Merrick, too, was there as the red carpet was rolled out. Actually, Birmingham City reminded me so much of Celtic in a sense. It was like one big family and I was impressed by the mere fact they actually cared about me.
I had travelled down by train on my own, utterly convinced I was doing the right thing. Liz had packed my holdall, two pairs of socks and two pairs of underpants. She must have listened to my mum who continually insisted, 'Always have fresh underpants – you never know when you might get hit by a bus!'
Gil Merrick and one of his coaching staff, a chap called Don Dorman, accompanied me from the football ground at St.Andrews to the Midlands Hotel which was situated near the railway station. Gil, as ever, was kindness personified. 'If there's anything you need, Bertie, just let me know.'
Nothing was too much trouble and I really appreciated that. Once they departed, I thought I would go out and have a walk around the city where I would be plying my trade to a whole new set of supporters. But it almost didn't happen. I was walking up Corporation Street and caught sight of myself in my reflection in the window of a giant store called Racham's, which looked like Bimingham's version of Glasgow's Fraser's.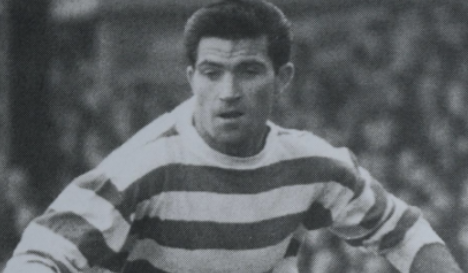 ACTION MAN…Bertie Auld in the hoops of Celtic.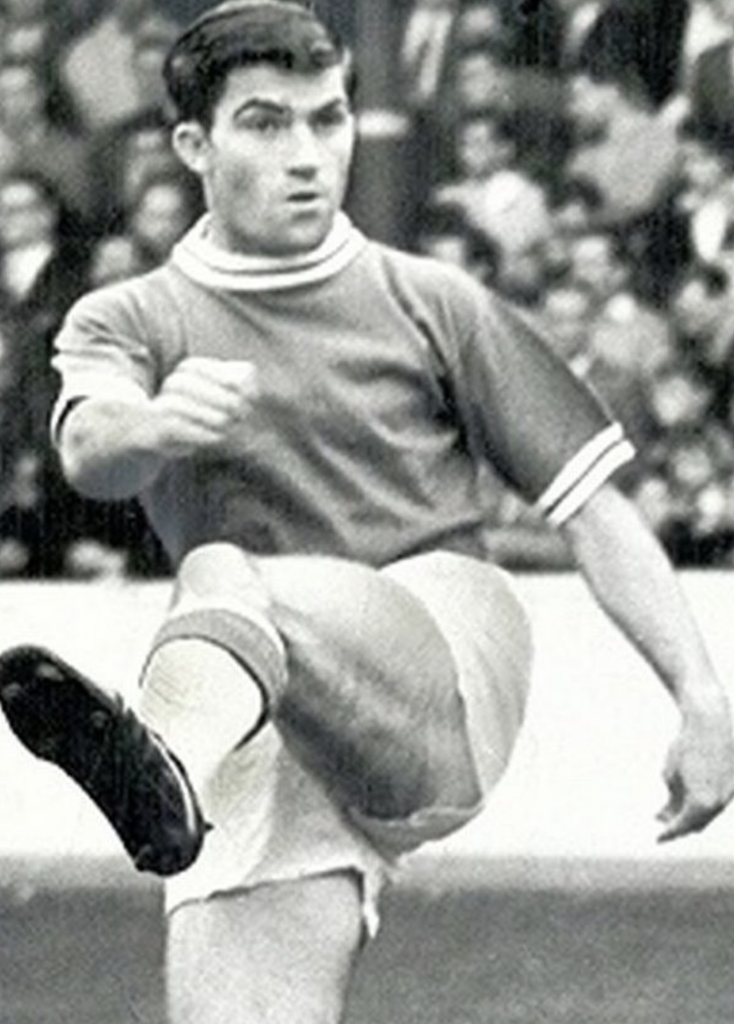 CITY SLICKER…Bertie Auld in a Birmingham strip after his move from Parkhead.
I stopped and looked at myself. Suddenly, I thought, 'Ach, what am I doing here?' And with that, I turned on my heel and headed back to the hotel where I had every intention of picking up my holdall and getting on the first train back to Glasgow. Then fate stepped in.
As I was preparing to leave my room, someone knocked on the door. I answered and there was Don Dorman standing in the hallway. He said,'Do you mind me in your company?' I was more than just a tad bewildered. He admitted things weren't quite right at home and he and his wife were going through a rough patch. I invited him in. What on earth was I going to do? Don had no inkling that I was about to quit his club and get back up the road as swiftly as possible.
We went for a coffee and then a bite to eat. If Don had been even five minutes late in coming to that door, I would have been off and my career would have been in jeopardy. That's if I still had a career. Birmingham City had just paid £15,000 for me and they held my registration. I don't think they would have been too pleased with my disappearing act and they could have put me out of the game altogether. Who could have blamed them?
Thankfully, that rather awkward situation did not develop. Don sidetracked me and I stayed the night in the Midlands Hotel before reporting for training the next morning. Remarkably, I made my debut for Birmingham in the Inter-Cities' Fairs Cup Final against Italian side AS Roma a week or so afterwards. I couldn't have asked for a more glamorous occasion in which to perform at St.Andrews for the first time.
Before the game, Gil Merrick and his coaches, one was Spanish, I seem to recall, were talking to the players in the dressing room. They were meticulously going through our team and what they expected of each individual. They were talking tactics and suchlike and I was mesmerised. This sort of thing did not happen at Celtic, believe me.
At Parkhead, I would be given the No.11 shorts and told to beat the full-back, get down the wing and hurl in crosses for the main strikers. If I chipped in a goal or two myself, all well and good, but my priority was to serve the frontmen with a steady stream of balls into the penalty box.
Now I was sitting in a different dressing room and it might as well have been a different world. Our manager was talking about set-pieces, systems and so on. I was transfixed. He would take time out to point to an individual and tell the rest of the team how they should treat him.
'Get the ball to Bertie,' he would say. 'He'll bring a new dimension to our play. You will all like what you see from this player.' I sat there, drinking all this in and I couldn't wait to get started. There was one problem, though – the Birmingham City shirt was BLUE! Bertie Auld in Rangers' colours? What a shocker!
I made sure I put on a vest under that blue top. Only joking! My first game, watched by a reasonable crowd of 21,000 at St.Andrews, finished in a 2-2 draw in the first leg and we lost 2-0 the return in Rome where 60,000 fanatical Italian supporters turned out to create a magnificent atmosphere. I had desperately wanted to repay everyone at my new club for their faith in me, but it wasn't to be.
GREEN FOR GO…Bertie Auld prepares for another game for the Hoops.
However, I would have better luck against another Italian team in a European Final six years later, of course.
I became a better player for my experience in English football, I am convinced of that. I was mixing with so many good players and learning from them. Birmingham City fans were passionate about their team although not on a scale of anything I ever experienced at Celtic with their supporters.
Mind you, you would have to travel far and wide to find a set of fans like the Celtic crowd. I really mean that. My dad was absolutely right when he said they were the most knowledgeable in the game. I thought that the day I signed first time around and I still believe it to be true today.
At Birmingham, I was encouraged to come inside a bit more often. Gil Merrick left before I returned to Celtic and a guy called Joe Mallett took over. He was the first manager to encourage me to come in from the touchline. At Celtic, as I said earlier, my job was to get down that wing and thump over as many crossballs as I could in ninety minutes.
But the support in England were a bit different in their outlook to the game. Instead of haring down the touchline all day, they would applaud you if you hit an accurate long-range pass across the pitch to switch play. I found myself venturing inside a bit more often than in my days in Glasgow.
I enjoyed it, too. It was adding a new dimension to my play and I was getting a bigger and clearer picture of what was developing all around me. It was an education and I thrived on my new responsibilties.
I'll tell you this, though, and I wouldn't blame you one bit if you didn't believe me, the day I left Celtic I instinctively knew I would return.
And so, of course, it proved.
TOMORROW: DON'T MISS THE UNFORGETTABLE BERTIE AULD: PART SEVEN.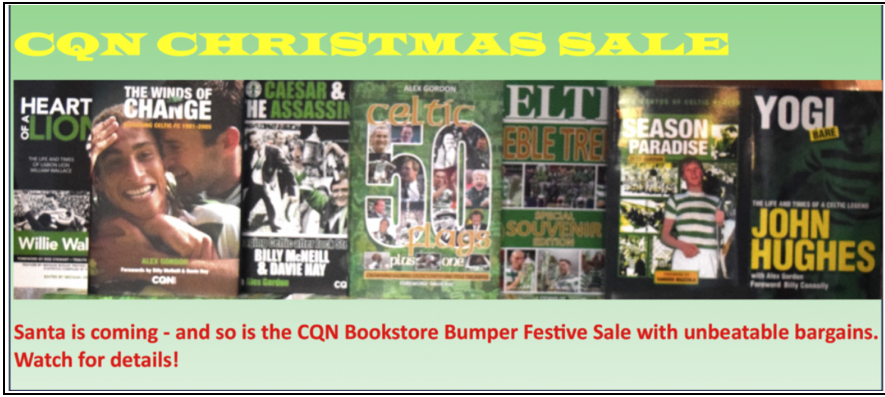 Click Here for Comments >