LISBON LION Bertie Auld passed away on November 14 last year at the age of 83 after a brave battle against dementia.
CQN has been celebrating the life and incredible times of the Celtic legend in an EXCLUSIVE series with extracts from his best-selling autobiography, 'A Bhoy Called Bertie', co-authored by his friend and writer Alex Gordon.
The remarkable life story concludes with Bertie reminiscing about his last day as a Celtic player.
I HAVE often wondered what would have happened if Celtic had won a second European Cup in 1970. I ask because I believe Big Jock was a just bit too hasty in breaking up a team that had been good enough to reach soccer's summit, beating Leeds United along the way, but was dismantled just a year later.
At the age of thirty-three, I realised my time as a Celtic player was coming to an end when Jock took me aside and informed me, 'I think you should sign for Clyde.' Once I had gathered my wits, I replied, 'The only way I'm going to Clyde is if I have a turnstile at Shawfield on matchday! You're not on.'
Absolutely no disrespect to Clyde or their excellent manager at the time, Archie Robertson, but I thought it was a bit of a quantum leap in the wrong direction to quit Parkhead for Shawfield. One year I was playing in a European Cup Final and the next I was being shipped off to Clyde. I wasn't having that. I would leave Celtic under my own terms.
Ironically, I thought one of my last games for Celtic might be a Glasgow Cup-tie against the Shawfield outfit. There are always rumours flying around in football and Alex Wright, who was then the St.Mirren manager, wanted to know if I might be interested in going to Love Street. I didn't rule that out altogether. I had just bought a bungalow in Newton Mearns and I had some of the mortgage to pay off – I think it was around the £5,000 mark.
Alex asked me what it would take for me to go to Paisley and I named a figure which, I believe, would have taken care of what was left of the mortgage. I was told that wouldn't be a problem as there would be no transfer fee involved and I was about to become a free agent.
THE LAST HURRAH…Bertie Auld is hoisted shoulder high by team-mates Willie Wallace, Tommy Gemmell and Billy McNeill after his final game for Celtic, a 6-1 win over Clyde at Parkhead on May 1 1971.
I trotted out to play against Clyde and it was one of those games where I could do no wrong. Even when I mishit a pass it would find a team-mate. The ball would bounce off the back of my head straight to a colleague. Sixty-yard passes were dropping right on the button. Even when I miscued the ball it still found a pal wearing green-and-white.
This went on for the full ninety minutes and I was beginning to really enjoy myself. We won in a canter and I was more than just a little taken aback when Jock greeted me in the dressing room and hugged me. 'You're going nowhere,' he said. 'You'll finish your career here.'
He still freed me a couple of months later, though!
Alex Wright was at the match, too, and he said, 'Bertie, there's no way Celtic will let you leave now. That was as fine a performance as I have seen all season. You could have done something about your timing!'
St.Mirren had appealed to me and I didn't want to be left on the scrapheap. What if no-one else wanted me? I used to worry over things like that. I had no trade to fall back on and I didn't see me setting up a carpentry business at that stage. I still wanted to prove something on the field. I did make my last outing for the club in yet another match against Clyde – we seemed to play them every second week – and it was an emotional occasion for all of us.
THE PERFORMER AND THE PERFECT STAGE…Bertie Auld struts his stuff at a packed Hampden.
It was the last day of the season and we realised Jock had changes in mind and a massive shake-up was coming. Ten of the eleven Lisbon Lions took the field that afternoon on 1 May, 1971 – and I was on my way to Hibs five days later. Ronnie Simpson missed out as he had already retired with a troublesome shoulder injury and Evan Williams took his place in goal. But the other ten were the guys who had played so well almost four years earlier to entrance and entertain Europe.
I wasn't the only one who saw his Celtic playing days come to an end in a 6-1 triumph for us. John Clark and Stevie Chalmers were shipped out to Morton about four months after I left. Stevie was thirty-five-years-old, but Luggy had just turned thirty and, given his position where experience is crucial, I thought he would have got a bigger team.
I heard some English outfits were sniffing around, but he, like Stevie, agreed to go to Morton. Why the Greenock club? It was no secret that Big Jock was very friendly with the Cappielow chairman Hal Stewart. Maybe he was doing him a favour.
THE CUP THAT CHEERS…Bertie Auld with the League Cup after his winning goal against St Johnstone in October 1969.
A month after that, Willie Wallace, along with John Hughes, moved to Crystal Palace. It wasn't long before Big Tommy Gemmell was shifting, too, as he agreed to join Nottingham Forest. So, that was six seasoned first team pros all leaving within seven months of each other. Remember, too, these individuals had all been good enough to help the club pick up their sixth successive title.
Jim Craig would follow in May 1972 and it was all over for Bobby Murdoch a year later when he went to Middlesbrough. As I have already said in a previous chapter, it was simply marvellous to see him have such a good career in England.
Look, I know when the time is right to make way for new players and Jock had bought the likes of Harry Hood, Tommy Callaghan and Stevie Murray. There was also the emerging talent of Kenny Dalglish, Davie Hay, Danny McGrain, George Connelly and Lou Macari, among others, from the reserves. Time catches up with everyone, but I still find it difficult to get my head around the fact that so many left over such a short period of time.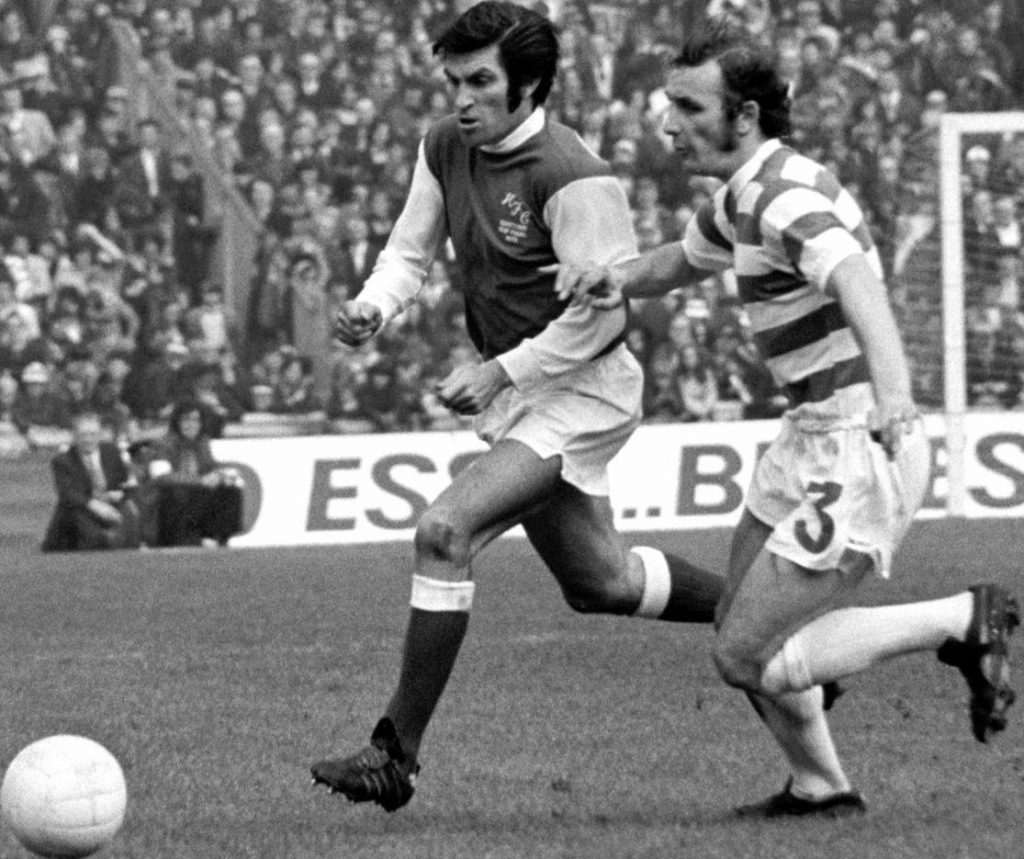 BERTIE v BROGIE…Bertie Auld takes on ex-team-mate Jim Brogan in the Scottish Cup Final in 1972 in which Hibs were hammered 6-1.
We hadn't all become duds in the space of twelve months or so.
Hibs manager Eddie Turnbull, thankfully, still had faith in my ability and, as they say in The Godfather movies, he made me an offer I couldn't refuse.
It was sad to walk out of Celtic Park for the last time, but I had a new challenge to meet and I was going to give it my best shot. I didn't realise what a momentous move it would turn out to be as it completely reshaped and transformed my career.
* CQN hopes you have enjoyed out EXCLUSIVE series on one of the genuine Celtic greats. Watch this space for more insider stories from some of the Hoops' most magnificent and legendary performers – only in your champion CQN.
Click Here for Comments >