LISBON LION Bertie Auld passed away on November 14 last year at the age of 83 after a brave battle against dementia.
CQN has been celebrating the life and incredible times of the Celtic legend in an EXCLUSIVE series with extracts from his best-selling autobiography, 'A Bhoy Called Bertie', co-authored by his friend and writer Alex Gordon.
The remarkable life story continues with Bertie's memories of two epic European Cup semi-final encounters against Leeds United.
BIG Mick Jones wasn't happy with me the night we overwhelmed Leeds United 2-1 in the European Cup semi-final in 1970 at Hampden. I couldn't blame him – I had just 'done' the Elland Road striker minutes before half-time.
As we came out for the second-half the aggregate score was level at 1-1 after we had beaten them down on their own patch in the first leg. Jones was a giant of a man, a huge physical presence and, to be honest, I was getting more than a little fed up that he was getting away with all his barging and bumping of my team-mates. He was racing around like an angry bull elephant. That was his game, of course, and he was built for it. He liked to soften up opponents and I thought it would be a reasonable idea to give him some of his own medicine. I saw my chance nearing the interval.
It was a 50/50 ball and Jock always insisted we should win these challenges. He never told us how he expected us to win them, we just had to make sure we got the ball. I flew into the challenge and I caught Jones. He squealed and went down in a heap.
I didn't have much sympathy for him. If you dish it out, you have got to anticipate that you might get some back in return.
So, Jones came over to me as we trooped onto the pitch for the second-half. He sidled up to me and said, 'Hunter's going to get you. He'll sort you out, you little bastard.' I laughed in his face. I've knocked bigger men out of the way to get into a fight. 'I hope it's The White Hunter,' I said, making a reference to a television programme at the time about some bloke who wandered around jungles blowing away all sort of wildlife with an enormous shotgun.
ON PATROL…Bertie Auld is the master of all he surveyed.
Jones, of course, was referring to his so-called hardman team-mate Norman Hunter, who rejoiced in the nickname of Bites Yer Legs Hunter. Well, that terrified the hell out of me! Threats on a football field never bothered me. There was always some tough guy who was going to 'sort you out'. I don't know what the Leeds defender promised his team-mate at half-time about the retribution that was about to come my way, but I'm still waiting.
Before the matches Leeds were already as good as European Cup winners, according to the English media. We were dismissed out of hand and that got right up my nose. Jackie Charlton should have known better, but he, too, was conned into believing it would be a walkover for his team. It rankled with me when I was watching television and the England international central defender announced, 'The next time we beat Celtic, I'm going to put them on my mantelpiece.' Wrong thing to say, Jackie.
Celtic and Leeds had played several friendlies around that period with respective managers, Big Jock and Don Revie, fairly pally. Now please note the word 'friendlies'. Jock would try new things in such games, move players around and so on. Leeds did okay in these encounters and maybe that lured them into a false sense of security. They hadn't realised they hadn't witnessed the REAL Celtic on these occasions. That was all to change over the two legs of the European Cup semi-final. We won them both, home and away, and it was 'Goodnight, Leeds – thanks for the memories.'
HOOPY DAYS…the Celtic players race away in celebration after George Connelly's opening goal.
Charlton was so incensed afterwards he admitted in a sports show that he had a little black book and there were two names in it. He vowed to get revenge on these characters – one was Peter Osgood, the former Chelsea striker, the other was me! At least, I was in good company because Peter was some player. Ironically, I met him just before his death a few years ago and we had a wee chat about Charlton's Book of Bad Guys. It seemed to bother Peter as much as it bothered me.
We knew Leeds were a physical team. They bossed a lot of teams in England just by their sheer bullying presence. Revie had assembled an excellent outfit, but they could put it about, too. They had my wee pal Billy Bremner as skipper and he was afraid of nothing. They also contained players such as Paul Reaney, Johnny Giles, Paul Madeley, Charlton, Hunter and Jones.
There wasn't a shrinking violet in sight, but if they thought they could intimidate us, they were terribly misinformed. How do you put the frighteners on guys such as Davie Hay, Tommy Gemmell, Bobby Murdoch, Billy McNeill, Jinky Johnstone and Willie Wallace? I was never going to be famous, either, for running for cover when the going got tough. Leeds were about to discover this to their cost.
They should have heeded the warning when George Connelly scored in the first minute in Leeds. He got a second, but it was ruled out for whatever reason. As I recall, George was well onside, but Jinky might have strayed offside. We contained them quite well and our goalkeeper, Evan Williams, wasn't exactly overworked. We came back up by train and even I was astounded at the reception committee that awaited us at Glasgow's Central Station. Thousands of Celtic fans were there to welcome us home. I believe we all had to pile into a police van to escape to safety. If our wonderful support were happy then, it was going to get better in a fortnight.
FIST IN TIME…Evan Williams rises to punch clear as Leeds rally at Elland Road.
Actually, we were stunned fairly early on at Hampden where the game had been switched to deal with the incredible demand for tickets. A crowd of 136,505 crammed into the stadium and that is still a record gate for a European Cup game. Bremner scored a screamer for them in only fourteen minutes and I have to accept the blame. I wasn't picking him up and considering he was on the right of their midfield and I was on the left of ours, I should have put in more of a challenge to prevent him from taking aim.
He was about thirty-five yards when he looked up and walloped this effort at our goal. I can still see that shot flying in to this day. It seemed to pick up momentum as the ball hurtled towards Williams' top right hand corner. It was in the back of his net before our keeper could move and I had to put my hands up and accept responsibility. Funnily enough, although that tied the score, I didn't think for one second we would lose and I am not saying that out of bravado now the result is in the history books. We knew there would be a winner that night and I just happened to believe it would be Celtic. My team-mates were in complete accordance.
We moved the ball around crisply and we could see Big Yogi, John Hughes, was giving Charlton problems with his powerful style. Jock had seen Yogi score two goals for the Scottish League against their English counterparts at St.James's Park, Newcastle, one night and kept it in mind. The opposition centre-half on that occasion was the aforementioned Charlton. Yogi could play on the left wing or directly through the middle and our manager knew his presence in leading the attack would unsettle the man who put my name in his little black book all those years ago. Maybe he should have added Yogi's, too!
As I said earlier, Jones was rampaging around and getting away with it. I decided to let him know we would not accept his antics and, I readily admit, I did him. I still say, though, that it was a 50/50 ball and the challenge, fierce though it may have been, was not a foul. But I was determined to put down a market to let him and his mates know that we would not tolerate such behaviour. I think I got the message across. So, I was hardly shaking in my boots when he made his threat at the start of the second period.
Actually, they had also tried to intimidate Jinky throughout the game with the same level of success. Our wee outside-right was absolutely immense that evening. He turned their English international left-back Cooper, rated one of the best in Europe, inside out as he darted around, weaving this way and that as only he could. Hunter was heard shouting at Cooper, 'Kick him!' Cooper roared back, 'You try and kick him!' Hunter tried and failed before retreating to his normal berth beside Charlton.
That second-half was to become among my most memorable in my entire career. Hampden was rocking to its foundations, the atmosphere was electric, the fans' ferocious vocal backing was inspiring and we couldn't possibly let them down. We didn't. I thought it was only a matter of time before we levelled and I'm glad to say I went at least a part of the way to atoning for allowing Bremner to score when I helped set up the equaliser. I worked a one-two with Davie Hay on the right, flicked over a neat cross and Yogi threw himself in front of the hesitating Charlton to bullet a header past the helpless Gary Sprake.
Leeds were on the ropes, to use a boxing term, and, in the same parlance, we were about to deliver the knock-out blow. Sprake went off with an ankle injury and Revie threw on substitute David Harvey, who was to become a mainstay in the Scottish international team a few years later. He had happier times to come at Hampden.  We put together a sweeping move down the right flank and Jinky placed the ball to the edge of the box where my midfield mate Chopper Murdoch was arriving with his usual immaculate sense of timing to wallop an unstoppable right-foot shot low past the despairing Harvey. Game over. Where was Norman 'Bites Yer Legs' Hunter when you needed him!
I will always remember Chopper running away after scoring that goal. His chest seemed to be getting bigger and bigger as he took the salute of the delerious Celtic fans. It looked as though it was being pumped up and I thought it was going to burst through his shirt. I really liked Chopper – it would have been impossible not to – and I was so happy for him. He was always so proud to wear those Celtic colours and I realised just how much that strike meant to him. That enduring image of him at that particular moment in time will be with me forever.
YOGI DARE…Big John Hughes hits the deck as his header flashes beyond Gary Sprake for Celtic's leveller at Hampden Park.
It says a helluva lot about their skipper Billy Bremner that he came into our dressing room at time-up to congratulate us on a 'phenomenal performance', as I recall. He must have been dreadfully disappointed and no-one would have blamed for him from going away to hide in some dark corner of Hampden. But that wasn't his style. Actually, we all knew Billy was a massive Celtic fan and he was a fabulous talent. But where would we have fitted him into that side?
We had been promised a bonus by the Celtic directors if we reached the European Cup Final and a few days later we were all handed a cheque. Normally, the club would pay you in readies, but on this occasion they gave us cheques. Our reward for reaching Milan was £1,500 each – the same payment we had received for winning the European Cup three years previously. We weren't greedy, but none of us thought that was an adequate sum of money for what we achieved. The players met in the dressing room to discuss what we were going to do next. We decided to place our cheques on a table and tell Jock we weren't accepting them. We thought we deserved a little bit more.
The Big Man came in, looked at this pile of cheques and asked, 'What's this? Don't you want your bonus money?' One of the players told him we weren't too happy with the sum of money. Jock stared back at all of us and then glanced at his watch. 'Oh, well, do what you want – the cleaning lady will be arriving in a few minutes' time'. He then just walked out of the room. The players looked at each other. Quietly, we all moved to the table and picked up our respective cheques. That was the end of the matter.
Although it all went pear-shaped that ill-fated night in the San Siro Stadium, it must be said that the run to the final was nothing short of exhilarating. I will always remember our quarter-final tie against Fiorentina at Parkhead where, I believe, I had one of the best games of my career. It was one of those evenings when everything simply fell into place. We won 3-0, I scored one goal and set up the other two, one netted by Wispy and one put into his own net by the unfortunate Luigi Carpenetti. My goal was one of the sweetest strikes I have ever hit; a low left foot drive from the edge of the box that swept past their keeper at his post.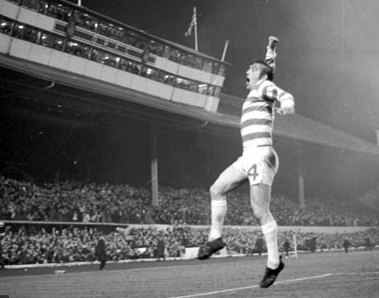 HAMPDEN HOORAYS…Bobby Murdoch leaps high in delight after thumping in Celtic's second goal en route to Lisbon.
Big Yogi knocked it down, I controlled it in an instant and then hit it perfectly. A photographer, Eric Craig, of the Daily Record, came over to the park the following day to see if I could re-enact my effort. I was still on a high and there was no way I was going to miss the opportunity to show the thousands of readers of his newspaper how it was done. Eric got his snaps and I was plastered all over his paper the following day. We lost 1-0 in Florence in the second leg, but we were never in any danger of going out of the tournament.
Actually, our European Cup campaign got off to a blank start when we drew 0-0 with Basle in Switzerland and Harry Hood and TG got the goals in the second leg to give us a 2-0 victory. Next up was Benfica, Eusebio and all, and what amazing encounters they were, in Glasgow and Lisbon. TG and Big Jock had had a bit of a fall-out after our left-back was dropped for the League Cup Final against St.Johnstone where I got the only goal of the game. TG had demanded a transfer the following day and it looked as though he was on his way out.
But everyone knew he was a big-game player; the more important the occasion, the better TG played. He was absolutely nerveless and a match against the Portuguese champions was one we all knew he would welcome. Jock realised that, too, so no-one was unduly surprised when TG took the field that night. What an impact he made, too.
I think the game was barely two minutes old when we were awarded a free-kick about 35 yards out. There was only one man for the job – Tommy Gemmell. He raced up to the ball and gave it an almighty clatter. The thing just took off and the keeper hadn't an earthly as it rocketed into the roof of the net. TG was back – and how! Harry and Wispy got the others as we took a three-goal lead to Lisbon and we thought the job was done. Not quite!
With Eusebio in devastating form, the Portuguese gave us one hell of a fright. They were 2-0 up nearing the end of a fairly frantic encounter and searching for the equaliser that would take it into extra-time. The minutes were ticking by agonisingly slowly as we tried desperately to keep them at bay. Eusebio had netted just before the interval and Garca piled on the pressure with a second after the turnaround.
The game was deep in injury time when Diamentino got their equaliser. I have to admit it was deserved. They really put us through it in front of their own fans. There were no more goals in the extra half-hour and in those days the tie was decided on the toss of a coin. Caesar was called into referee Louis van Raavens' room and asked to make a call. Thankfully, our skipper got it right and, naturally enough, we were elated. I felt a bit for Benfica, too. They had put so much into the game and, in the end, got nothing because of the flip of a coin.
Fiorentina were duly despatched and then it was the turn of Leeds United. They were taken care of, home and away, of course, and we were racing certainties and massive favourites to lift our second European Cup in three years.
What could go wrong? Well, just about everything!
TOMORROW DON'T MISS THE UNFORGETABLE BERTIE AULD: PART TWENTY-FIVE
Click Here for Comments >