LISBON LION Bertie Auld passed away on November 14 last year at the age of 83 after a brave battle against dementia.
CQN has been celebrating the life and incredible times of the Celtic legend in an EXCLUSIVE series with extracts from his best-selling autobiography, 'A Bhoy Called Bertie', co-authored by his friend and writer Alex Gordon.
The remarkable life story continues with Bertie's revelation of a Jock Stein move he could never understand.
YOU know, I could have been manager of Aberdeen back in the Seventies but for the intervention of Big Jock Stein.
I was perfectly happy at Partick Thistle, of course, but the Dons job would have interested me. Dundee also wanted me to become their gaffer after they parted company with Davie White.
I did have a chat with Dundee chairman Ian Gellatly, but I turned him down to remain at Firhill. I told him their captain, a certain Tommy Gemmell, had all the makings of a good manager and I'm happy to say he took my advice and appointed TG as White's successor. What a friend gets is no loss, eh?
But back in 1975 there was a chance of going Pittodrie with the Dons looking for someone to take over from Ally MacLeod who had replaced Willie Ormond in the Scottish international post. The Aberdeen chairman, Dick Donald, approached Jock to seek his advice. This happened quite a lot.
TWO OF A KIND…Celtic pals Bertie Auld and Tommy Gemmell both went into club management after playing days.
Jock had a massive influence and people listened to him. Now I don't know what went on in that private conversation between Jock and Dick, but I do know that Aberdeen dropped their interest in me. For whatever reason, Jock didn't give me his recommendation. I'll never know why.
Jock actually telephoned me to tell me what he had done. Yes, I was extremely hurt. He insisted he was just being professional and honest. Actually, he also realised that I would have got to know all about his chat with Dick Donald. You don't keep things like that quiet for too long on soccer's grapevine. So, what had I done to be treated in such a manner after all the service I had given Jock and Celtic? Nothing, as far as I was concerned.
The Dons job, of course, went to Billy McNeill who had only been in management a matter of months with Clyde. I thanked Jock for the telephone call and we never mentioned it again. I wonder how my managerial career would have panned out if I had gone to Pittodrie. It's all conjecture now.
Billy wasn't with the Dons too long, either, as he replaced Jock as Celtic boss in 1978. Now that was a job in which I would very definitely have been interested!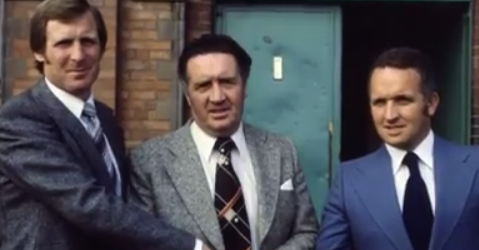 THREE CHEERS…Billy McNeill, Jock Stein and John Clark at Parkhead on the day the legendary Celtic skipper took over as manager.
Jock may have been a fairly dour, no-nonsense, defensive-minded centre-half, but, conversely, he liked his football played with flair and adventure. He was always on at the players to remember to win while also entertaining the crowd.
'Let's get out there and bring those fans some enjoyment,' he would say as you prepared for a game. 'Entertain – don't forget. These guys have worked hard all week and they want to be entertained. They've been down mines, they've been up scaffoldings, they've been repairing this, that the next thing. Entertain them – you all have the ability to do that. So, let's give them a right good time. They've been looking forward all week to seeing their team in action on a Saturday. Don't let them down.'
And, as the players trooped out of the dressing room, you would hear the words one last time. 'Let's entertain these guys.'
One victory that was always designed to put a massive smile on Jock's face was a win over Rangers. Publicly, he would tell everyone it was just another game. Privately, he thoroughly enjoyed putting one over our oldest rivals. I would go as far as to say Jock detested Rangers. As I have said often enough, you could still get a rollicking off the boss even after a triumph.
THE BOSS AND ME…Bertie Auld celebrates with Jock Stein after the European Cup semi-final against Dukla Prague.
However, that never happened if we had beaten the men from Ibrox. It didn't matter how we achieved it. We might have ground out a victory and possibly not played at our best. We might even have been extremely fortunate. That didn't matter to Jock. The only thing that was on his mind was a victory.
How he loved to beat them. It was so important to him. In fact, you could say he was obsessed at winning these games and he never let you forget how important they were to him. If you wanted to save your ears from receiving a right bashing all you had to do was beat Rangers. That was all.
Jock always wanted to know what was happening over at Ibrox. He was as surprised as anyone when they sacked Scot Symon and replaced him with the aforementioned Davie White in 1967. White was only 34-years-old and had only been manager of Clyde for a short while.
The appointment smacked of panic and Jock sensed it. He was a bit unhappy as the press talked up the tactical ability of White and Jock, clearly, wasn't quite in total agreement with any of that. As ever, he would show respect and every courtesy to a fellow-sportsman, but, deep inside, we all realised he wanted Rangers' new boss to discover real pressure. Anything he had encountered at Shawfield would be infinitesimal to what was waiting for him at Ibrox. Especially in Old Firm confrontations.
HOOP HOOP HOORAY…Billy McNeill leaps in triumph after heading in the opening goal in Celtic's 4-0 win over Rangers in the 1969 Scottish Cup Final. Bertie Auld shares the joy, but Orjan Persson is dumbstruck.
The first time Jock pitted his wits against his latest Old Firm rival he didn't just want to dent White's credibility with the Rangers support – he wanted to obliterate it. It was 2 January, 1968 at Celtic Park and Jock was really looking forward to the match with even more than his usual enthusiasm for these encounters.
It didn't quite go according to plan after two terrible goalkeeping blunders from Fallon allowed Rangers to snatch a 2-2 draw.
Jock had seen it as an ideal opportunity lost. But there would be a next time. And that was the 1969 Scottish Cup Final when Rangers were well and truly put in their place with us running out 4-0 victors. Not only had Rangers been destroyed, but so, too, was the reputation of White who could never get to grips with his wily opposite number.
Six months after that devastating defeat, White was sacked and replaced by Willie Waddell. And the mind games started all over again.
TOMORROW: DON'T MISS THE UNFORGETTABLE BERTIE AULD: PART TWENTY-FOUR
Click Here for Comments >