LISBON LION Bertie Auld passed away on November 14 last year at the age of 83 after a brave battle against dementia.
CQN has been celebrating the life and incredible times of the Celtic legend in an EXCLUSIVE series with extracts from his best-selling autobiography, 'A Bhoy Called Bertie', co-authored by his friend and writer Alex Gordon.
The remarkable life story continues with Bertie looking back at his brief Scotland international career – and wondering why he stalled on three caps.
I HAD what is euphamistically known as a 'memorable' international debut for Scotland. Well, who could forget it? I was sent off! What a way to make my baptisim at that level.
It was against Holland in their Olympic Stadium on May 24 1959, and we won 2-1. However, I was to hit the headlines for all the wrong reasons after I got involved in a bit of a brawl with one of their players, a bloke called Johan Motermann. Everything was going okay, Scotland were playing well enough when this guy decided to try and split me in two.
It was a crude challenge as he hammered into me from behind. I didn't see him coming and suddenly, without warning, I was left writhing in pain on the ground. There was a bit of a melee and, being no angel, I was involved. I saw Graham Leggat throw a punch, but the ref missed it. I was immediately singled out and, with their fans going crazy and lobbing cushions onto the pitch, I was ordered off.
As I trudged towards the tunnel, I was aware of two irate Dutch supporters racing onto the field in their efforts for a bit of retribution. Thankfully, two of Holland's finest stopped them in their tracks and ushered them away.
EUROPEAN MASTER…Bertie Auld races away from Inter Milan defender Armando Picchi in Lisbon on May 25 1967.
It was reported in one of the national newspapers as 'an over-hostile act by Auld'. Me? Hostile? They must have confused me with someone else. The referee, Miguel Campos, from Portugal, however, agreed with the reporter and unhesitatingly waved me off. As I made my way to the dressing room, I didn't realise my international career would be over after a further two games. Short and not-so-sweet.
I won my three caps early in my playing days and, curiously, didn't even get a nod when I was in the form of my life for Celtic in the Sixties. Strange, that.
Actually, I played for my country before that match in Amsterdam, but it wasn't deemed as a full international as we drew 3-3 with a Jutland Select in Aarhus in Holland. However, I must have done well enough to keep my place a few days later for the game against the Dutch with a crowd of 55,000 watching the action.
I felt quite at home and I was helped in the settling-in process with my old Celtic team-mates Dunky Mackay, Eric Smith, Bobby Evans and Bobby Collins lining up alongside me. We had George Farm in goal with Rangers' Eric Caldow at left-back. Charlton's John Hewie and the aforementioned Graham Leggat, who would have such a good career with Aberdeen and Fulham, led the attack.
HAVING A BALL…Bertie Auld celebrates in his inimitable fashion after the epic European Cup semi-final win over Leeds United at Hampden in 1970.
Spurs' John White was in midfield. Denis Law, as ever, wore the No.10 and he was a fabulous performer; easily one of the greatest players in the world on his day. Collins and Leggat were our goalscorers that night.
The SFA appeared to back me after the fracas in Amsterdam when they selected me to play in the next game against Portugal in the Avalede Stadium in Lisbon a week later. They made one change and dropped Leggat with Rangers' Alex Scott taking his place in the frontline. That might have been the SFA taking their own action against the player.
I played quite well, even if I do say so myself, and I was named Man of the Match by the reporter who covered the game for the Evening Times. I waited another five months before I donned the dark blue of my country again – a 1-1 draw with Wales at Hampden in front of 55,813 fans. Again, I thought I had a reasonable game and I set up our goal with a nice cross for my old chum Leggat to score.
Our team on that occasion was: Bill Brown (Spurs); Eric Caldow (Rangers) and John Hewie (Charlton); Dave Mackay (Spurs), Bobby Evans (Celtic) and Bert McCann (Motherwell); Graham Leggat (Fulham), John White (Spurs), Ian St.John (Liverpool), Denis Law (Manchester United) and yours truly. As I packed my bags and left the national stadium afterwards I wouldn't have believed I would never play for Scotland again.
I am as patriotic as the next Scot, but it didn't really bother me that I was continually overlooked for the international squads. The main thing for me was to play for Celtic. If Big Jock was happy enough to select me week after week then I knew I was doing something right.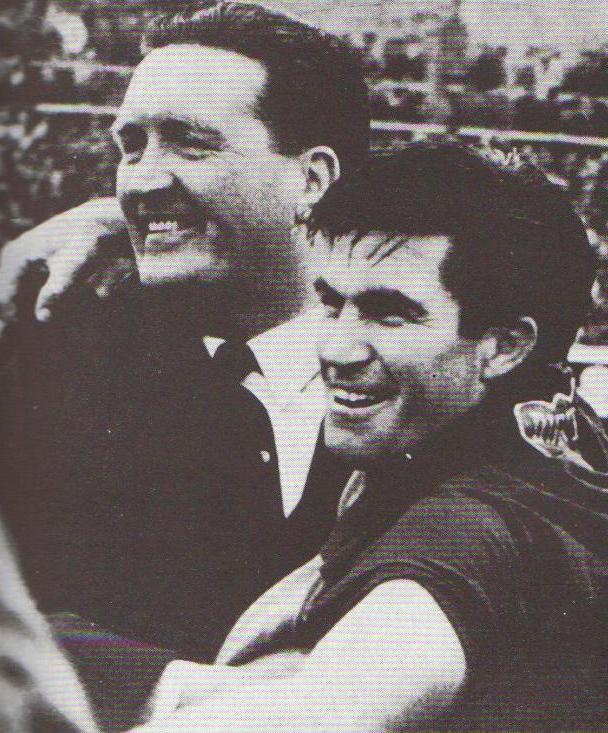 THE BOSS AND BERTIE…Jock Stein and Bertie Auld celebrate after the goalless draw against Dukla Prague in the Czchoslovakian capital in April 1967 en route to everlasting glory in Lisbon a month later.
If the respective international gaffers chose not to include me, then fair enough. People have often said Scotland should just have played the Celtic first team en masse. We were all Scots, after all, and were the best team in Europe for several years in my view, not just in 1967 when we won the European Cup.
I don't suppose too many Rangers fans would have turned out to see a Scotland line-up comprising eleven Celtic players! It was worth a thought, though.
In fact, Bobby Brown selected nine of my team-mates for a friendly against Russia at Hampden in 1967. Denis Law and Jim McCalliog were the two guest stars. Unfortunately, it wasn't a particularly good evening for Scotland as we lost 2-0 and my big mate Tommy Gemmell scored an own goal with a lovely lob over Ronnie Simpson.
When you look at Celtic back then it is a bit of a mystery that Wee Jinky won only twenty-three caps. Bobby Murdoch picked up a mere twelve. TG, one of the best left-backs in the world, got eighteen. In fact, the entire Lisbon Lions team achieved a mere 114 caps in total – only twelve more than Kenny Dalglish managed on his own!
Yes, I think there was a bit of bias against Celtic. If the SFA selectors had the opportunity of selecting Rangers centre-half Ronnie McKinnon instead of Billy McNeill I believe they would have gone for the Ibrox player. Absolutely no disrespect to Ronnie, a fine defender, but he wasn't in the same class as Caesar.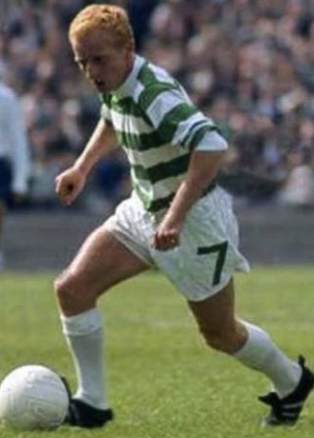 HOOP HOOP HOORAY…Jimmy Johnstone, the best outside-right in the land.
The same went for Willie Henderson, too. Scotland invariably gave Willie the nod over Jinky at outside-right and, once again, I don't think the Rangers lad, good as he was, could touch my old colleague. Willie might even agree with that.
Scotland, back then, was supported mainly by Rangers fans. You would see them making their way to the game and they would be wearing Rangers colours. There was no such thing as the Tartan Army in those days. I know a few of my team-mates felt more than a little uncomfortable when playing for their country and that is fairly sad.
The Ibrox support was never happy when, for instance, Davie Hay played at right-back instead of Sandy Jardine. I even heard Kenny Dalglish being booed by so-called Scottish fans. Mind you, that came to an abrupt halt when he left Celtic for Liverpool. I wonder why.
Yes, I would have loved to have played a few more games for my nation. It would have been brilliant to be involved in the day we beat England 3-2  at Wembley in 1967. Of course, they were world champions at the time and had been unbeaten since taking the trophy the previous year. Celtic had just overcome Dukla Prague the previous Wednesday and were only ninety minutes away from booking our place in the European Cup Final.
TWO OF A KIND…Bertie Auld and Tommy Gemmell, "one of the best in the world."
Everyone was on a high at the time – except Wee Jinky. He took a sore one against the Czechs and had to pull out. That opened the way for Wispy, Willie Wallace, who had scored two excellent goals against Dukla. He was called in and and helped Scotland get off to a flying start with a low shot which Gordon Banks spilled and that allowed Denis Law, the possessor of electric reflexes, to pounce and fire it into the welcoming net.
Bobby Lennox got our second goal with a typical flashing, low shot and Jim McCalliog got the third. Jackie Charlton and Geoff Hurst were England's scorers, but it was definitely Scotland's day.
Slim Jim Baxter toyed with his opponents as only he could. He played keepy-uppy with wee Alan Ball snapping, unsuccessfully, at his heels. It was a marvellous afternoon and I was so happy for Faither, who was making his debut at thirty-six-years of age. Big TG played right-back that afternoon to accommodate Eddie McCreadie on the left.
WEMBLEY WONDERS…the delighted Scotland players celebrate Bobby Lennox's goal that put the team 2-0 ahead against England in the 3-2 win in April 1967.
Greigy, Ronnie and Slim Jim made up the impressive half-back line – as it was then – with Wispy, Billy Bremner, Jim McCalliog, Denis Law and Bobby Lennox making up the attack.
That wasn't a bad side at all. Goodness knows where I would have fitted into that line-up, but I would have thoroughly enjoyed being on the Wembley pitch that day. Slim Jim and I would have needed a ball each!
My international career was complete as soon as English referee John Howley blew for time-up at Hampden on November 4 1959 in the draw against the Welsh. I had played in three official games, won one, drawn one and lost one. And, of course, been sent off.
All I needed was a goal and I suppose you could have said I had covered all bases.
TOMORROW: DON'T MISS THE UNFORGETTABLE BERTIE AULD: PART TWENTY-ONE
Click Here for Comments >