DEDRYCK BOYATA insists he WILL play again for Celtic.
The Belgian World Cup defender was involved in a controversial no-show in the Hoops' Champions League exit against AEK Athens in the Greek capital on Tuesday.
He claimed he was unfit while boss Brendan Rodgers said he was perfectly okay.
Now Boyata has broken his silence after clear-the-air talks at Lennoxtown on Thursday and the 27-year-old centre-half, who is out of contract at the end of the season, is certain he will be back playing for the champions.
He said: "I'm feeling good, I'm strong and I'll be training on Monday. One thing you need to know is that things with the boys are good. There are no problems there.
"I have no issues with the fans or my team-mates."
'I'LL BE BACK'…Dederyck Boyata will train with Celtic first team tomorrow.
After yesterday's 3-1 Betfred Cup victory over Partick at Firhill, Rodgers said the former Manchester City player deserved to redeem himself after "making a mistake".
He said: "I had a long chat with Dedryck and he's still a Celtic player.
"I want him to be involved and I know he's a good guy. Everyone makes mistakes and, even though it's not the way in modern life, people need a chance to redeem themselves.
"If that's the case, I'd like to have him involved again because he's a top-class player.
"Has he apologised? Whatever has been said will be kept internal, but before anyone will join the group, that will have to be the case, to staff and players.
"So, if you take it that he'll join the group, that will be the case.
"The players will accept him back because they're an honest group. They are winners, they're always demanding, but they're humble.
"Last week we wanted players and some weren't available for a number of reasons.
"However, this is a group that's very much together. The collective spirit is very strong, it's something we'll continue to have.
"He'll be involved this week? Absolutely. It was raw for everyone last week, the team and the supporters. But I've been in this situation before with Luis Suarez at Liverpool and that worked out okay, so I'm pretty sure this will be as well.
"It was important to have the discussion with him.
"After the Champions League there was anger and frustration, but it's important to stay calm and remember how Dedryck has been for me. It wasn't just about him, other people were around the situation.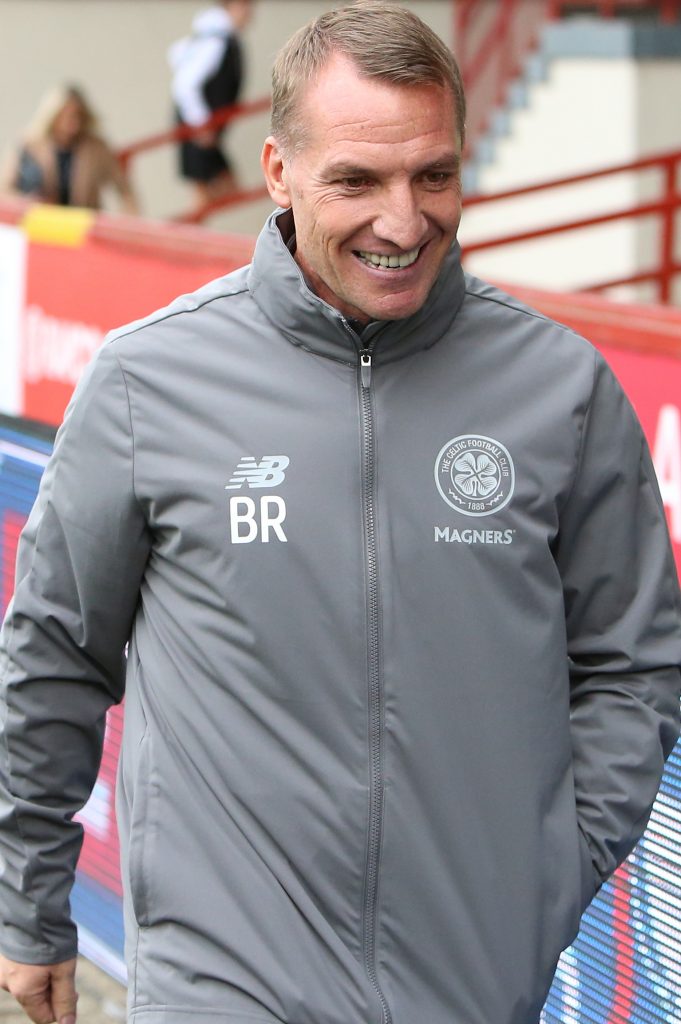 MAN ON A MISSION…Brendan Rodgers at Firhill yesterday. Pic: Geo.
"We've had a couple of days to keep at arm's length and we'll sit down again on Monday. I'm pretty sure he'll be back with the squad.
"Everything is clean and we move forward. He's an outstanding player and we want our best players available to us.
"Redemption always takes a wee bit of time. The Celtic supporters are demanding, but they accept well and if Dedryck puts the shirt on again, I know he'll be committed as ever.
"If you show that to the Celtic support, they will always be behind you."
Leigh Griffiths, who netted the opener against the Jags for his 99th strike for the Hoops, added: "We'll welcome Dedryck back into the group next week.
"The manager and everyone above us will deal with the matter internally. As players, we just focus on the job in hand.
"There will be no resentment. Odsonne Edouard missed the game on Tuesday, as well, and there's no resentment there.
"We need to move on and forget about it. We've got a massive game on Thursday and if Dedryck comes back in we will welcome him."
Click Here for Comments >