CELTIC boss Brendan Rodgers has already set his sights on next season's targets: The double treble is in the bank – now for the treble treble.
The Irishman beamed with pride as his team took their place in the history books following glorious back-to-back trebles.
Motherwell stood in their way of unprecedented success, but they were dismissed in the Hampden sunshine as two first-half strikes from Callum McGregor and Olivier Ntcham brought the Scottish Cup home to Parkhead.
And, after dedicating the win to those in the stands and behind the scenes who commit everything to the club, Rodgers insisted standards will not drop.
CUP THAT CHEERS…beaming Brendan Rodgers with the Scottish Cup.
Asked why no-one – not even Hoops legend Jock Stein – had managed what he just had, he replied: "Certain teams have dominated, others haven't and then it has flipped – but in all that time, it was never achieved.
"My satisfaction is for the club as a whole, the joy it will give people and during the off season and then it will all quickly be forgotten about and we'll go again next year.
"I can only talk about this team and it's why it's so difficult to do.
"When you come off the back of a really successful season like last year, it's so easy to go soft and timid and not have quite the same aggression and that's something I was really aware of.
"So the pats on the back, we haven't given out too many of them. We have to continue to work. The spirit of the team is strong, the mentality of the team to improve and get better.
"I don't have players who don't want to be better every day and that's clearly important. We can never be satisfied. In the cycle or era that we'll be here, for however long it is, we have to be hungry to succeed.
"Winning everything, that's the idea. I certainly need to push them even harder next season. They won't get the pats on the back. This is our job, we are here to win. I think we can be better.
"This year was always going to be difficult on the back of last year, but to still churn that out and have that winning mentality and produce winning performances when you really need it is a real mark of the group.
"We need to get better again. We dropped too many points this year, especially at home. There is a lot for us to push for next season. We enter every season to win every competition and that will be the aim next season."
OZ-SOME…Brendan Rodgers hugs Aussie star Tom Rogic.
A clearly overjoyed Rodgers added: "It's a historic day for the players and everyone else who was here. For the first time for it to be achieved is great. Scotland is a great footballing country with a raft of great players and managers down the years.
"For us to have become the first team to have done it is a real privilege.
"It's a special day – a day that will last forever. I said before the game, there aren't too many days you wake up in your life with a chance of creating history.
"It is not going to be easy, it is going to be tough. But if we play how we can then we can make a memory that is going to last with the fans for the rest of their lives. And they did that.
"It'll take time for me to enjoy it.
"We're at the end of a long season and we've achieved three trophies to create history, so it's a special feeling.
"My thoughts are more with the supporters, the players and all the staff. I'm also thinking about the board who brought me in a couple of years ago. I'm so happy for all of them and they can really enjoy this, creating history. And especially for the supporters.
"We can be nothing but inspired by the Celtic supporters with their commitment to us.
"Wherever we go, they're always there. To give them a day like this and a moment in history, that's what gives me the real satisfaction."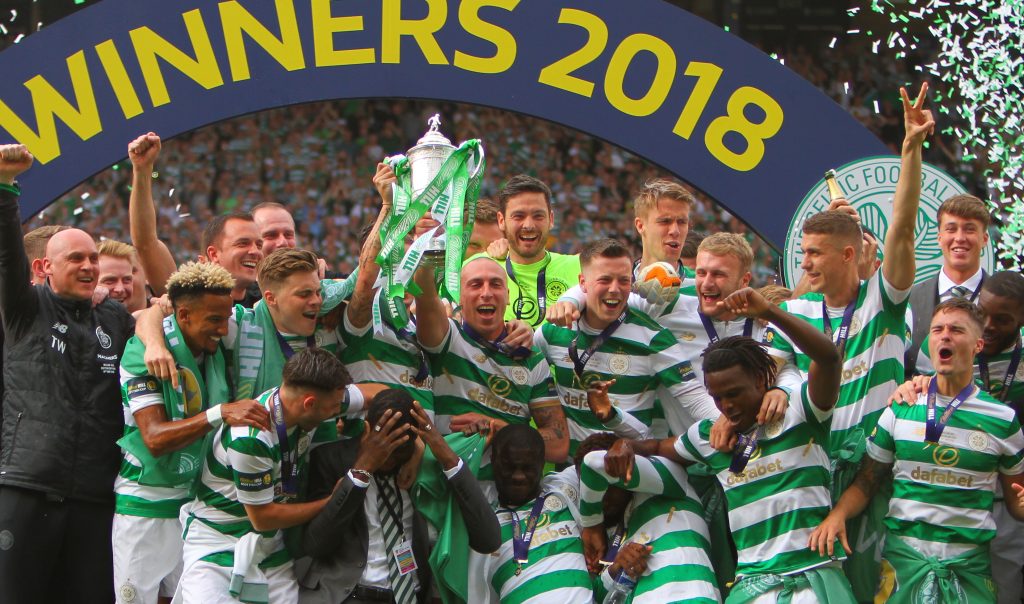 HAMPDEN HEROES…Celtic players celebrate their sixth successive silverware triumph. Pics: Geo.
Click Here for Comments >