JOHN FALLON is UEFA's History Man – the first ever player to win a European Cup Medal and as substitute!
The Original Holy Goalie was involved in all nine of Celtic's European Cup games during season 1966/67 – and didn't touch the ball once!
In those days the only substitute allowed by UEFA was the goalkeeper and Fallon was back-up to the outstanding Ronnie Simpson.
It must have been hugely frustrating for the keeper who was brought to Celtic from Blantyre Vics.
Charlie Gallagher, Willie O'Neill, Joe McBride and John Hughes all played their part in the European campaign in 19966/67 as Celtic made their way along the  road to Lisbon.
The versatile O'Neill filled in at left-back for Tommy Gemmell in the first two rounds against Zurich and Nantes.
Solid and reliable, Willie O'Neill was excellent as Celtic won all four games with an aggregate of 11 goals for and only two against. But Jock Stein switched Gemmell from right-back to the left side to accommodate Jim Craig and O'Neill's glory run was over.
Joe McBride could also count himself dreadfully unlucky. The burly striker was on fire in 1966 and was heading for a record amount of goals at home and abroad. He played two games – against Zurich at home and Nantes away – and scored in both.
However, injury was to strike him down just before the turn of the year and he was sidelined for the remainder of the programme. The nearest he got to being involved again was a seat in the stand.
John Hughes, a battering ram of a forward who possessed a curiously neat touch for one of his bulk, went one better than O'Neill and turned out in five of the eight games en route to Lisbon. His disappointment at missing out on the final must have been overwhelming.
He played in the opening two triumphs over FC Zurich, missed the next two against Nantes before getting the call-up for the double test against Vojvodina Novi Sad. Jock Stein knew Hughes was invaluable in heavy going where he could power through the adverse conditions.
Both matches against the talented Slavs were played in March and Big Yogi, as he was affectionately known to team-mates and fans alike, was in. He kept his position for the first semi-final match against Dukla Prague, but dropped out for the second leg. Stein reckoned the pace of Bobby Lennox, in a defensive role, may be of more value against the Czechs.
That formation did the business and Jock agonised over his team selection for Lisbon before saying: "Same again,"  knowing that Yogi was struggling with an ankle knock. No-one, though, should overlook Hughes's immense contribution throughout the campaign. He may not have claimed any of the 18 goals scored during that run, but he certainly made a few. He took the weight off the defence with his surging forays through the middle and on the left. A handy man to have around.
Charlie Gallagher also participated in two games and looked the part in the home encounters against Nantes and Vojovodina. Jock Stein used to juggle with Gallagher and Bertie Auld, but, although Charlie was an extremely gifted player, he didn't possess that extra bit of menace that was evident in Bertie.
However, it should never be forgotten the role Gallagher played in the vital match against Vojvodina Novi Sad.
Stein rated the Yugoslavs as the best team Celtic had encountered on their way to winning the European Cup and Gallagher put in a magnificent shift that night at Parkhead. And, of course, it was the Gorbals-born Celtic fan who set up the winner for Billy McNeill with an inch-perfect corner-kick in the last minute.
Football being the strange game that it often is, that was Gallagher's last kick of the ball in the remaining campaign. At least, he could always say he went out on a high!
Never let it be said that John Fallon, Charlie Gallagher, Willie O'Neill, Joe McBride and John Hughes are not extra- special Celtic legends and Lisbon Lions.
*CQN has the Lisbon Lions down at the Greenock CSC on Friday evening, tickets are priced at £10 and available now from
cqnbookstore.com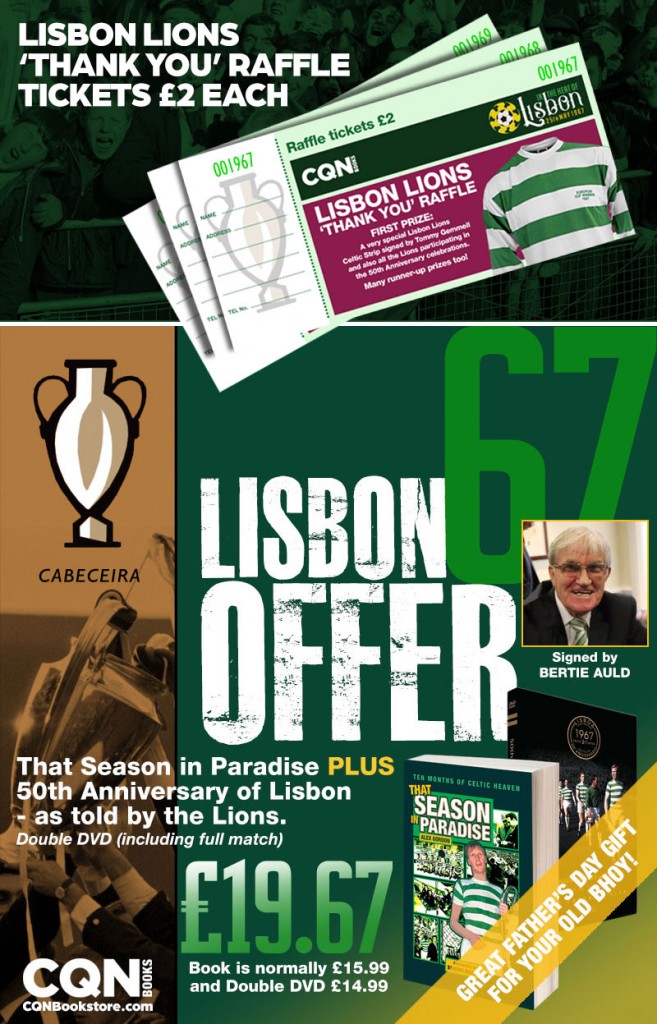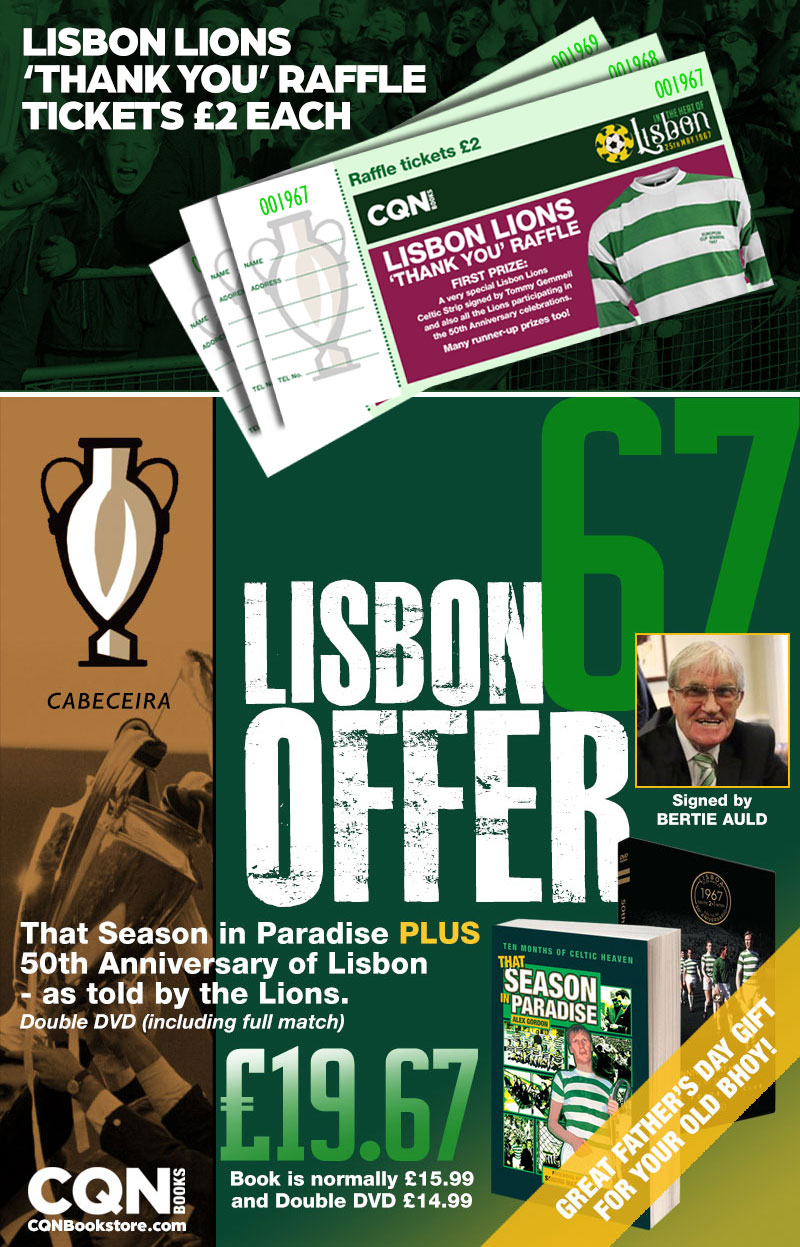 Click Here for Comments >