ONE of the Forrest Advertising units being used around Glasgow to display the Celtic Champions League advertising has been badly damaged in the East End of the city today after a brick was thrown through it.
The vandal must have been green with envy ahead of this afternoon's Champions League draw which is less than an hour away.
CQN revealed on Tuesday evening that the club had switched on the city wide advertising campaign that has got the whole city talking just minutes after Celtic secured a place in today's draw with an 8-4 aggregate win over Astana.
The advertising hasn't gone down too well in Govania however with one Bear pretty sure he understands the Celtic strategy.
"The airport shop and these billboards are a massive part of what the previous poster mentioned: they are trying to portray Glasgow as a one club town. Visitors to Glasgow could be forgiven for swallowing this pash.
"They are trying to Espanyolify us. The battle for the footballing soul of our city is raging and they have big digital dragons while we have had a big Mexican catapult for months but still isn't ready to be used.
"We really need the (Sevco) board to step up their game. This is how wars are lost – in a thousand skirmishes. We need our board to start work on our own personal blue manhattan project. Lest this becomes the norm.
For all our sakes, Mr King and co. Fight!"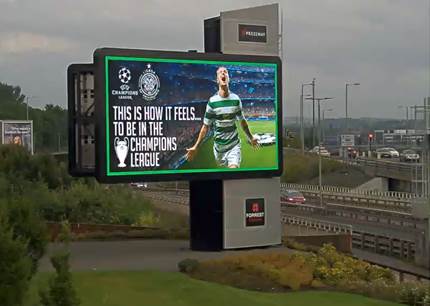 And another one gets rather upset when the Celtic fans perform the 'Glasgow's Green and Whyte" routine…
"Boils my p**s when they do their Glasgow's green and white chant at their CL games. It's all part of their chip, chip strategy. They are indeed out to portray Glasgow as a 1-club city. We have a lot of ground to make up to get back to our rightful place at the head of Scottish (and Glasgow) football."
Bless them!
NEW CQN PODCAST – PAUL DYKES PRESENTS WITH FORMER CELTIC CAPTAIN ANDY LYNCH AND SPECIAL GUEST PAT STANTON
Click Here for Comments >