KRIS COMMONS hopes his emergency loan deal with Hibs will kick-start his career at Celtic!
The 33-year-old midfielder played his first game in 10 months in the Easter Road club's 1-1 draw at Morton at the weekend.
The former Scotland international said: "I was injured when Brendan Rodgers came in and he knew I was going to be out for another couple of weeks.
"He knew he needed to know his squad for some important Champions League qualifiers and he said to me: 'Listen, you're injured and I know you will work hard and train hard. The door is never shut at Celtic. But if you are looking for regular first-team football, then I might struggle to give you that at Celtic.'
"But he never said I was finished at the club. I just knew I couldn't play week in, week out. I had to have respect for that.
"It was no longer a given that I would be playing week in, week out.
"Listen, I never want to leave Celtic. They will have to kick me out the door. Once my contract is up, that's the way it's going to be.
"I've spent six of the best years of my career at Celtic, winning trophies, winning a player of the year award.
"For me, it has been an absolute roller-coaster ride that I don't want to get off.
"I'm going to take this loan period day by day, game by game. I'm going to work hard in training and play my part in these next four weeks.
"You never know what might happen. But I'm not looking beyond that at the moment.
"Neil Lennon has done me a favour and asked me to come and play in these games. I've been happy to oblige.
"It's a good few weeks for me and obviously, with Celtic heading out to do some international training, it gives me an opportunity to keep training.
"And there is nothing better than playing football in matches rather than just doing the training.
"All I'm planning are these four weeks ahead."
*We have some additional signed copies of That Season in Paradise – Ten Months of Celtic Heaven – signed by Lisbon Lion Bertie Auld. We are posting all orders this week first class and straight away, order today and you'll receive your books or DVDs tomorrow.  Our copies of The Winds of Change have also been signed by Davie Hay. Shop now at
www.cqnbookstore.com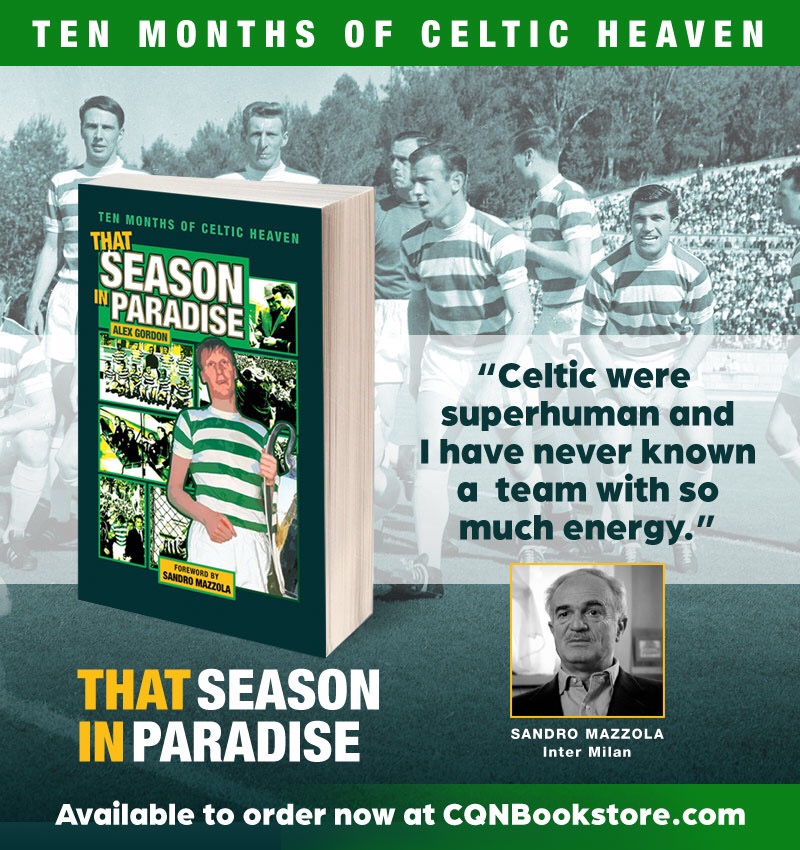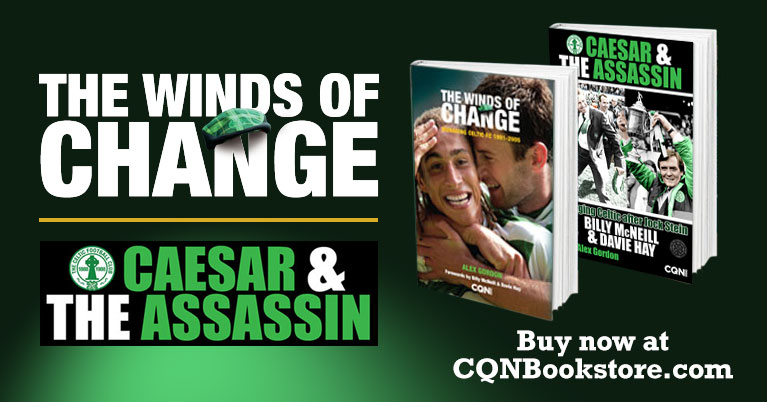 Click Here for Comments >