PETER LAWWELL was quite emotional. It was April 21 2021, just two months before he completed 18 years of service as chief executive of Celtic.
Author Alex Gordon was in the CEO's office at Celtic Park that crisp, grey afternoon.
He recalls: "We were chatting about his incredible journey at the club. I had met Peter for the first time in January 1996 when we were both on the Benefit Committee for Mike Galloway, the player whose career had so cruelly ended in a car crash in August the previous year while he had been on loan at Leicester City.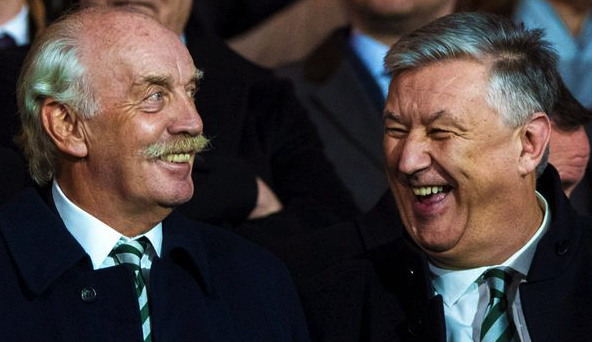 DOUBLE TAKE…Celtic powerbrokers Dermot Desmond and Peter Lawwell.
"There were many late-night meetings at the ground back then. I recall it was a cruel winter, but the committee members, with QC Len Murray as chairman, conscientiously turned up to put together a game for Mike to bring some financial aid for the player.
"I telephoned Kenny Dalglish, who was Director of Football at Blackburn Rovers at the time, to enquire about his availability for the match scheduled on Sunday March 3. He promised to get back to me once he had looked at his schedule. The following day, he called me on my mobile.
"Kenny was as good as his word. He agreed to play for an All-Stars Eleven against the current team. The match duly went ahead, around 30,000 fans turned out for a good cause.
"Like everyone else involved back then, Peter was a committed Celtic fan. No-one would have dared to envisage what was around the corner for the man who was entrusted with the finances for Mike.
"So, a quarter of a century later, as I shared a pot of tea and some digestive biscuits in his office, we were reminiscing about our first meeting and how life had taken some strange twists and turns.
"There was a knock at the door. A secretary handed in a brown paper carrier bag.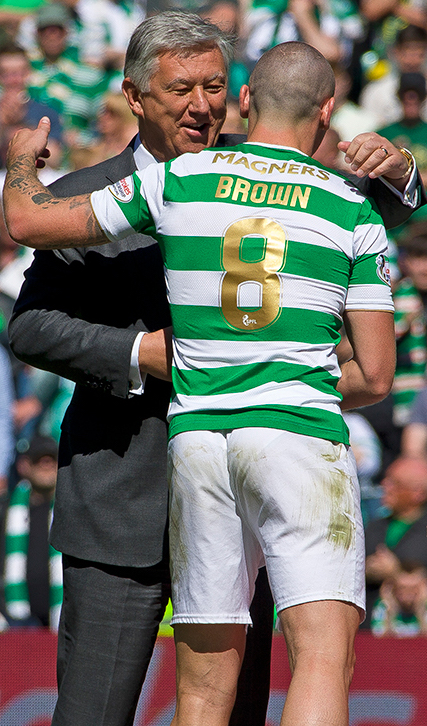 THAT'S MY BHOY…Peter Lawwell with skipper Scott Brown after Celtic's sixth successive title on their way to a record-equalling nine.
"Unannounced, a fan had dropped off a small gift for the CEO who, in that instant, momentarily allowed his veil to drop. The contribution had been clearly well received. It was an unguarded split-second and I could see how much the kind and impromptu gesture meant to him.
"It was a fleeting, unrehearsed circumstance, no cameras to catch the moment. In that brief occurrence, Peter Lawwell realised how much an anonymous supporter had appreciated his work at the club."
Naturally, there were bumps to be confronted on such an extraordinary odyssey and the season of 2020/21 was one of the most wretched in the history of the club. There were some over-reactions and recriminations that did not shed a kind light on anyone.
We were all monumentally disappointed on how that campaign played out. None more so than the club's chief executive.
Gordon added: "I am well aware of things Peter has done for those among the Celtic family. I know he has gone out of his way to assist former players, for instance, but he would not thank me if I ever went into print about these deeds.
"They were done in his own time away from the glare of publicity. He never solicited applause for these endeavours.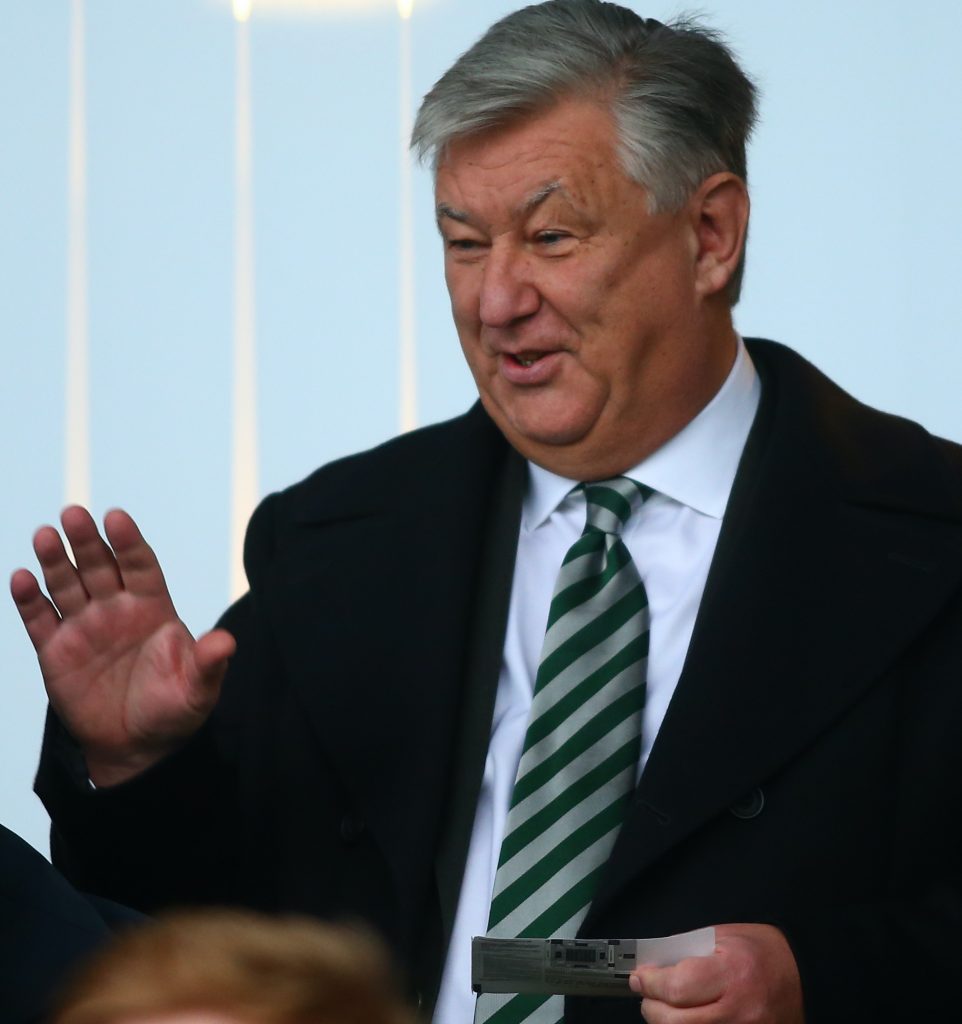 A WATCHING BRIEF…Peter Lawwell prepares to take his seat for a game against St Mirren in Paisley in 2020.
"At the same time, Peter has never sought to deflect criticism. I know of several instances when he accepted the culpability for incidents which had nothing to do with him.
"His intellect and decency would not allow him to point fingers. Presidents and Prime Ministers would ruthlessly sacrifice trusted aides in such circumstances. That was not a route Lawwell would consider travelling.
"He would absorb the ill-advised comments and respond: 'What is best for Celtic?' And the matter would be closed."
The same Peter Lawwell sat in the Hampden stand last Sunday as chairman of the club after returning to succeed the retiring Ian Bankier at the turn of the year.
The League Cup was handed to Callum McGregor after the well-merited 2-1 triumph over their Ibrox opponents and, once again, no-one could have blamed the Celtic chairman for allowing himself a quiet smile.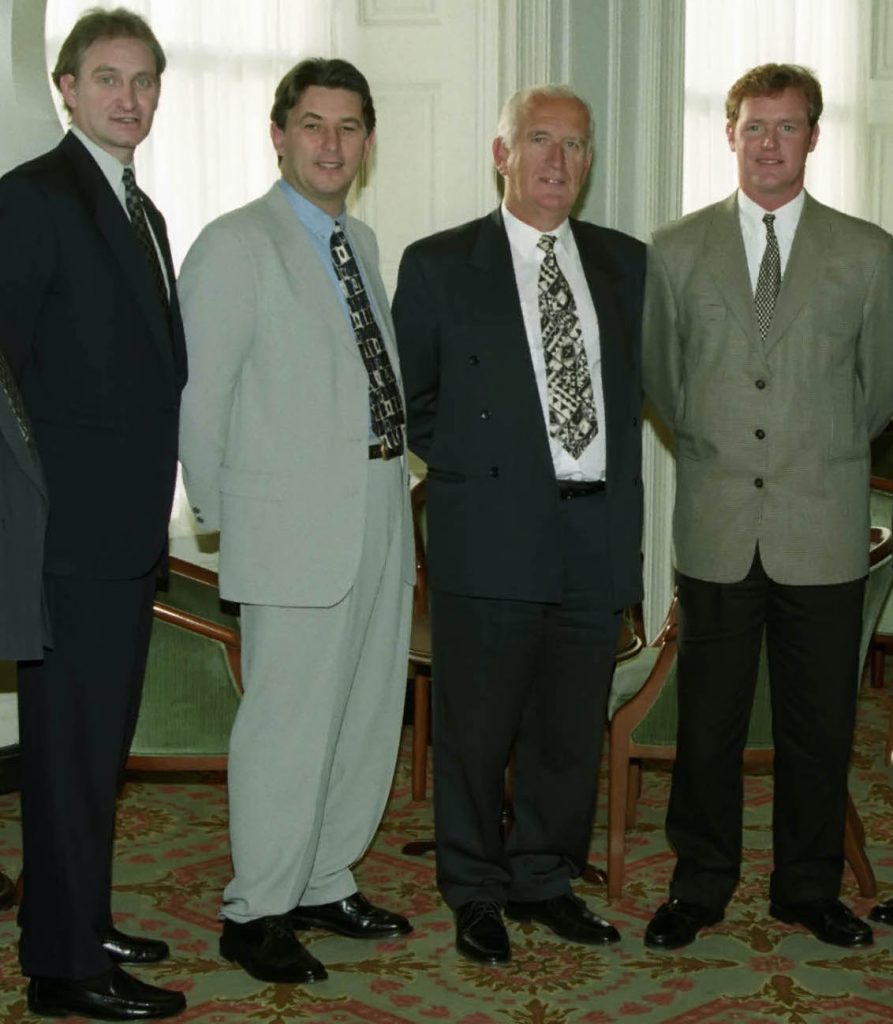 FLASHBACK…Peter Lawwell with Benefit Committee chairman Len Murray and author Alex Gordon on the evening they presented the cheque to Mike Galloway in 1996.
There were no blaring headlines to trumpet the achievement, but the victory marked Lawwell's personal THIRTIETH trophy success since he came on board as successor to Ian McLeod as chief executive in 2003.
He presided over twenty-nine trophies in his 18 years as CEO – including thirteen titles, the phenomenal quadruple treble and the last 16 of the Champions League on three occasions.
The thirtieth honour was achieved at the national stadium on a bright, brisk February afternoon and the considerable feat went unnoticed among the celebrations. It was a day for manager Ange Postecoglou, his players, backroom staff and the supporters to bask in the exhilarating afterglow of another trophy success.
Peter Lawwell would not have wanted it any other way.
Click Here for Comments >