MOTHERWELL'S trim, little ground of Fir Park was bathed in sunshine on the Saturday afternoon of May 7 1966 – EXACTLY  fifty-seven years ago today – when something special was about to happen and leave an indelible print on Scottish football.
In another CQN EXCLUSIVE, author Alex Gordon, whose fifteenth Celtic book is entitled '50 Flags Plus One,' sets the scene for a historic occasion.
Alex, a former Sports Editor of the Sunday Mail, recalls that marvellous afternoon: "I was in the old enclosure at Fir Park that day. I was 14 years old and had absolutely no idea that so many Celtic players who performed that historic day would become personal friends. That would have been a dream too far.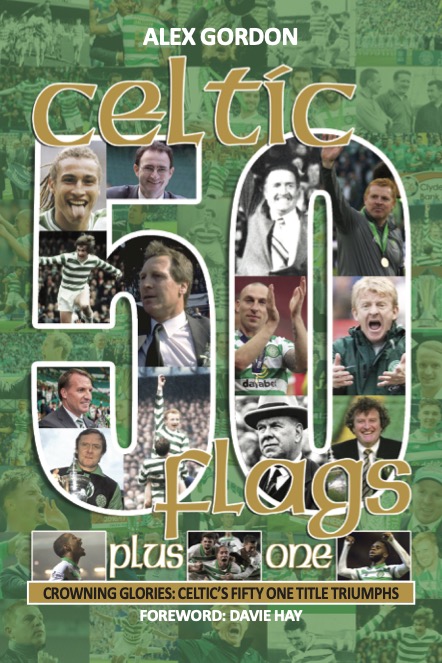 READ ALL ABOUT IT…Alex Gordon's fifteenth book, '50 Flags Plus One', which covers Celtic's 51 title triumphs.
"All I was concerned about that afternoon was watching Celtic win to clinch the title. I didn't remember too much about the previous triumph – I was two at the time!
"Celtic were already as good as champions even before the kick-off. They had beaten Dunfermline 2-1 in midweek which just about made certain, but, as ever, there was the most outrageous mathematical possibility they could be caught. On the same night Celtic beat the Fifers, Rangers played their last league game of the season and beat Clyde 4-0. That put them on 55 points – the same total as Jock Stein's men.
"Goal average and not goal difference counted back then and Celtic had scored 105 goals and conceded 30. The Ibrox side had scored 91 and lost 29. So, Motherwell would have to beat Celtic by an avalanche to prevent that flag from flying over Celtic Park.
THE WINNER…Bobby Lennox races in ahead of Motherwell defender Matt Thomson to clinch Celtic's first title in 12 years – and the first of the original nine in a row.
"There was a lot of nervous tension around the place – at least, there was where I was standing – but I don't recall Ronnie Simpson being asked to do too much by the Motherwell forwards. We could never have guessed that the same Celtic backline of Jim Craig, Billy McNeill, John Clark and my big mate Tommy Gemmell would form the rock that would help the club win the European Cup in Lisbon a year and eight days later.
"I recall Bobby Lennox racing around and menacing the Well rearguard all day. Perhaps no-one had told the Buzzbomb that the title was as good as in the bag.
"Bobby Murdoch and Bertie Auld were joined in the middle of the park by Charlie Gallagher, a player who was greatly under-rated, in my opinion. Obviously, Jock Stein wasn't prepared to go gung-ho on this occasion. Better to be safe than sorry, I suppose.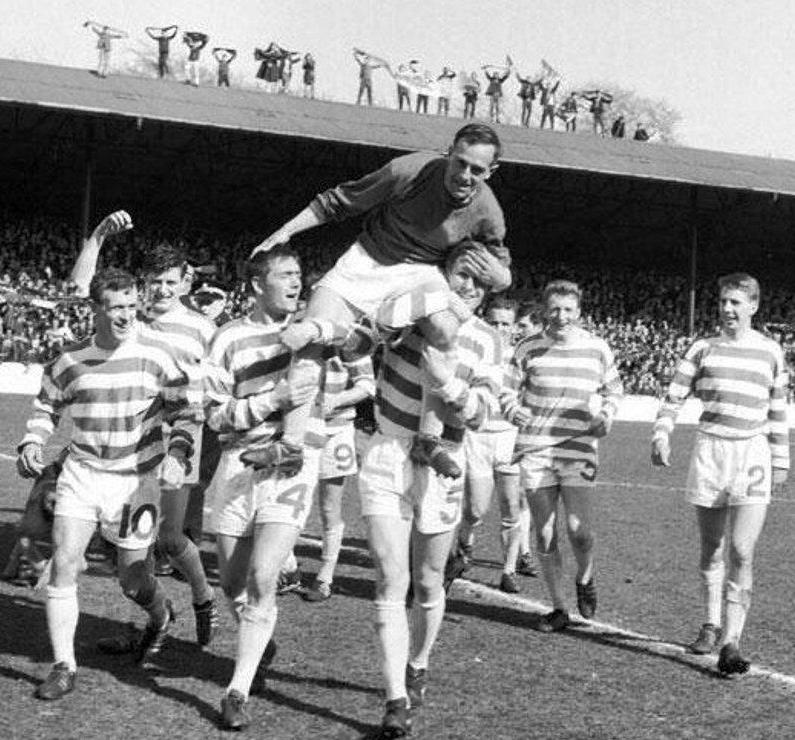 GRANDSTANDING…Ronnie Simpson is held aloft by Bobby Murdoch and Billy McNeill as the joyous Celtic fans celebrate on the Fir Park enclosure roof.
"Jimmy Johnstone, I recall, worked really hard and Stevie Chalmers, like Lennox, never gave the Motherwell defence a minute's peace. Anyone dwelling on the ball in their half, suddenly had Stevie and Bobby swarming all over them.
"There was only a minute to go when Celtic claimed the only goal of the game. Remember, at this stage, the flag was in the bag and there was no possibility of a mathematical comeback.
"And, yet, Jim Craig stormed down the right wing as Wee Jinky took the left-back for a walk. Cairney, as our right-back was nicknamed, wasn't quite as flamboyant as his colleague on the left, Big TG, but he did set up a mountain of goals for the club with his unselfish running up and down the right wing. Ask anyone who played alongside Cairney and they will tell you he was an athlete and one of the fittest players at the club, if not THE fittest.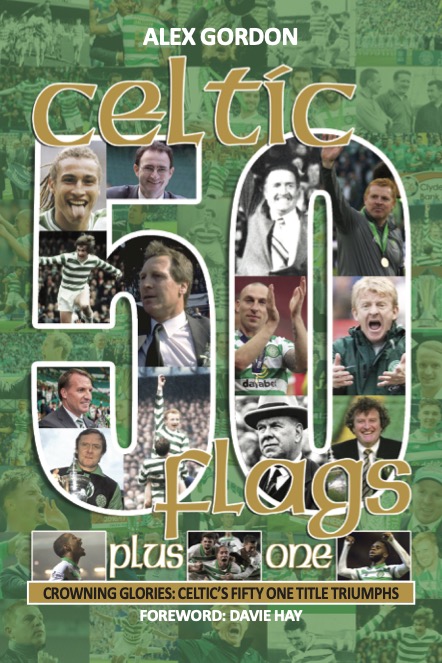 "You had to feel sorry for left-sided defenders when they faced Celtic back then. Wasn't it enough they had to try to keep Wee Jinky in check? They might have thought they were getting on top of things and then Cairney would come thundering into view.
"Anyway, on this wonderful occasion, the right-back got to just about the corner-flag before passing the ball inside. As ever, Bobby Lennox was in his favourite position around the six-yard box.
"The Buzzbomb first-timed it, keeper Peter McCloy was caught off-guard and the trophy was about to be bedecked in green-and-white ribbons for the first time in what seemed like an eternity.
"It only dawned on me afterwards that the championship success allowed us entry into the European Cup for the first time in our history.
"But that's another story for another day!"
* DON'T miss the big-name EXCLUSIVES – only in your champion CQN.
Click Here for Comments >