CELTIC legend Tommy Burns took centre stage when Billy McNeill's team of all talents clinched the league title in a rousing 3-2 triumph over Dundee United at Tannadice on this day on April 22 1981.
The Parkhead outfit were on the brink of the club's 32nd championship as they travelled to Tayside for what turned out to be an epic encounter against Jim McLean's team.
CROWNING GLORY…Tommy Burns claimed a memorable 1981 title winner at Tannadice.
In another CQN EXCLUSIVE, author Alex Gordon opens his book files to set the scene with an edited extract from his fifteenth Celtic tribute book, '50 Flags Plus One', the inside story of how the Hoops won 51 untainted titles.
Enjoy the countdown to a triumphant trip to Tannadice from season 1980/81.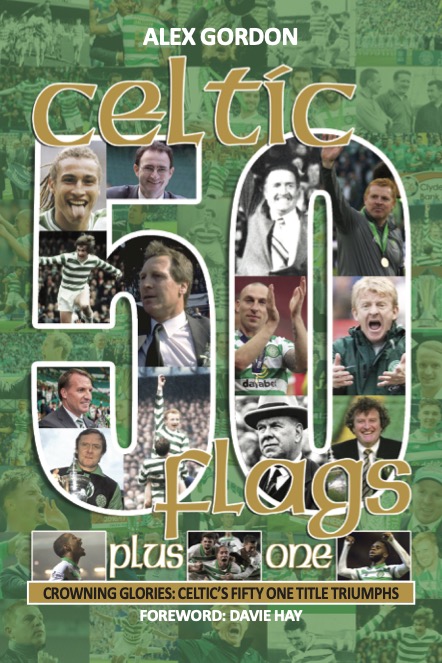 ON Saturday April 18 1981, a wonderfully-constructed move involving Davie Provan and Frank McGarvey and a well-executed finish by Charlie Nicholas saw Celtic overcome Rangers 1-0 in Govan.
Magnanimously, beaten rival gaffer John Greig conceded: "It is a bit ironical that Celtic should clinch the title at Ibrox, but they are entitled to the headlines because it is always a tremendous achievement to win the championship."
Victorious manager Billy McNeill wasn't singing from the same hymn sheet, though. "We haven't won anything," he said with emphasis. "It's not over yet and I will not allow any of my players to think otherwise. There's work to be done."
Ibrox could only house a crowd of 36,000 with construction work being carried out, but the Celtic fans certainly enjoyed the occasion. It was a disciplined display from the champions-elect with McNeill baffling his opposite number by playing Roddie MacDonald alongside Tom McAdam in the middle of the rearguard leaving Roy Aitken free to sweep up around them.
HIGH AND MIGHTY…matchwinner Tommy Burns is carried on the shoulders of Johnny Doyle after his title-clinching goal at Tannadice in April 1981.
It worked a treat and Pat Bonner was rarely troubled. The only goal arrived in the fifty-sixth minute and it was fashioned by Provan on the right who teased two defenders towards him. He slotted the ball between them and hared towards the box. He played a slick one-two with McGarvey, tapped the ball sideway to his right and Nicholas arrived bang on cue to flash a shot low past Jim Stewart.
McNeill added: "I thought we played very well and we were always in control of the situation and that's why I made the changes I did. They paid off and we deservedly won the game with a great goal."
With three league games to be played, Celtic were top on fifty-three points while Aberdeen sat behind them on the same amount of matches, but six points adrift. Rangers, after thirty-four outings, were thirteen points off the pace. So, despite the well-meaning felicitations of John Greig, Celtic had not clinched their thirty-second flag in Govan.
The leaders had a goal difference of + 48 while the Dons had + 37. It would take a collapse of catastrophic proportions to prevent the title from making the trip from the north east of the country to the east end of Glasgow, but, while it was mathematically possible to be caught, Billy McNeill, like his predecessor Jock Stein, steadfastly refused to take silverware for granted until the cleaners were looking out the Brasso in the trophy room at Parkhead.
The delay in the inevitable was a matter of four days when Celtic, who had been knocked out of both domestic trophies by Dundee United, took on Jim McLean's men at an unseasonably chilly Tannadice on April 22.
TRIUMPH ON TANNADICE STREET…Billy McNeill bounces out of the dug-out at full-time as Celtic overcome Dundee United 3-2 to win the 32nd league title.
A point would have been enough to see Celtic crowned the nation's best team for the third time in five years, but, as ever, Billy McNeill's desire was for his side to win it with flair and a bit of a flourish. He got it on Tayside that evening. Murdo MacLeod opened the scoring with a soaring header in the second minute after Davie Provan had set him up with an inspired angled cross from deep on the right that eliminated two United defenders.
Wille Pettigrew snapped onto a half-chance to hit the equaliser, but Frank McGarvey, with his twenty-ninth goal of the campaign, knocked one over the line from four yards after Tom McAdam had nodded down a corner-kick from the immaculate Provan.
Then came the goal that was fit to win any championship. Just before the hour mark, Murdo MacLeod, beavering away and busy as ever in the middle of the park, surged over the halfway line to push a pass in front of Tommy Burns on the edge of the box.
OH, DANNY JOY…Celtic skipper Danny McGrain is carried shoulder high as team-mates Davie Provan, Charlie Nicholas, Murdo MacLeod, Mike Conroy, Roy Aitken and Tom McAdam celebrate.
In a brief spellbinding moment, the midfielder bamboozled an entranced opponent, performed a perfect shuffle of which the great Muhammad Ali would have been proud, took the ball to his left foot and lashed an unstoppable effort wide of Hamish McAlpine. Tannadice erupted.
Paul Sturrock pulled one back, but that title was on its way the moment Burns' drive exploded high into the net.
At full-time, Billy McNeill congratulated his backroom staff, offered a cuddle to substitutes Roddie MacDonald and Johnny Doyle, stood a moment to drink in the scene with the Celtic support in full voice and then followed trainer Neil Mochan along the track to the dressing rooms at the faraway right-hand corner of the rocking stadium.
The travelling fans, on a bitterly cold evening with a freezing mist threatening, refused to leave the ground until their heroes returned. And they did to a tumultuous reception. Danny McGrain was carried shoulder high and Billy McNeill, too, found himself whisked high by Roy Aitken to accept the acclaim. Assistant boss John Clark was similarly treated by Murdo MacLeod.
An incredulous United gaffer Jim McLean said: "With supporters like these, how can you fail to become champions? They are just incredible. I give Celtic credit for playing really well and beating us, but these fans look as though they are part of the team."
It was the first time anyone had ever heard the Tayside chief saying something nice about opponents.
The title was handed over to Danny McGrain the following Saturday as the newly-crowned champions went through the motions against Kilmarnock and shared the points in a 1-1 draw. The only thing memorable about a low-key encounter was a flashing twenty-yard free-kick goal from Davie Provan. The season ended in Paisley with a 3-1 loss to St Mirren, but no-one cared a jot.
When the dust had settled on an indelible campaign, with Celtic title winners with seven points to spare, Billy McNeill, sitting in the manager's office at Celtic Park, offered a dreamy smile and said:
"You've got to aim for the sky. If you only get to the clouds, you've not done too badly."
Click Here for Comments >