EXACTLY forty-one years ago today, Celtic were on the brink of the club's 33rd championship victory.
Billy McNeill was in charge after returning to his first love to take over as manager from his fellow-Hoops legend Jock Stein in 1978.
In another CQN EXCLUSIVE, author Alex Gordon recalls the season where the club's greatest skipper chased the elusive championship in his fifteenth Celtic book, '50 Flags Plus One'.
Here is an edited chapter from the tribute publication.
Please enjoy.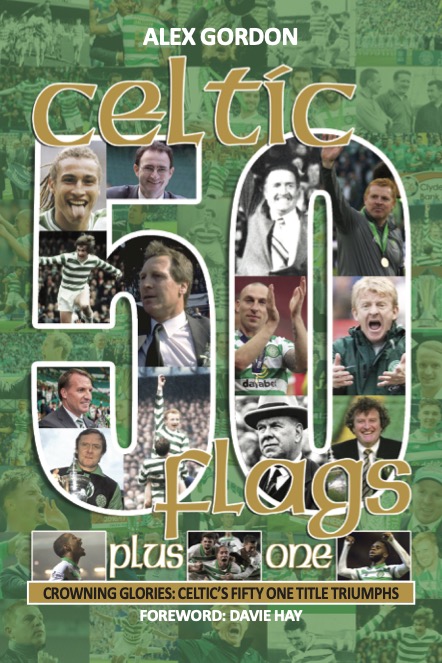 BILLY McNEILL was ninety minutes away from guiding Celtic to the club's first back-to-back championship triumph since 1974.
He had played during the conclusion of Jock Stein's nine-in-a-row heroics. Now he was standing in the Celtic dressing room with his players assembled in front of him and the destination of the club's thirty-third title was within touching distance.
It was Saturday, May 15 1982 and it was crisp, bright afternoon in the east end of Glasgow. St Mirren would provide the opposition, durable foes who were sitting a comfortable fifth in the Premier League.
The situation was clear-cut. If Celtic lost by a goal and Alex Ferguson's Aberdeen side won by five, the title would be wrenched out of the Parkhead trophy cabinet and delivered post haste to Pittodrie. The Dons were also at home that day with Rangers their visitors. Coincidentally, St Mirren had been Celtic's opening-day opponents when the group sections of the League Cup kicked off season 1981/82. Billy McNeill wouldn't have need reminding of the final score; the Paisley side won 3-1.
In the week running down to the game, McNeill had continually emphasised to his players not to even think about what may – or may not – happen in the north east of the country. "Do your job and the title will remain here," he repeated often enough.
THREE AND EASY…striker George McCluskey slides in goal No.3 in the title victory over St Mirren with future Celt Billy Stark getting a close-up view.
In these situations, there is always the what-if? factor. The Celtic manager was no different from any other human being in these moments. A bad bounce of the ball, a misplaced pass, an unintentional blunder, an inexplicable refereeing decision, a mistimed tackle, a red card, an injury. All these thoughts invaded McNeill's subconscious. In public, though, the team's leader was his usual positive, charismatic self. "We only need to play the way we've been playing all season and the trophy has got our name on it."
But there were problems preying on the manager's mind. He was setting up a Celtic team without the considerable striking talents of Charlie Nicholas and Frank McGarvey, both injured and in the stand that afternoon when McNeill would most certainly have preferred them stripped and ready for action.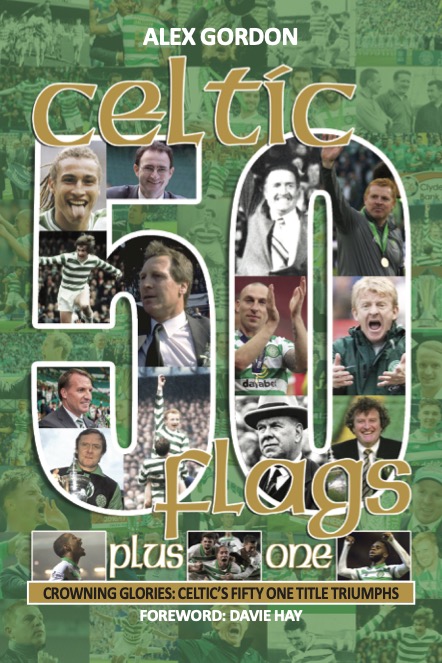 As ever, he prepared his players immaculately, working on their psyche, stressing their strong points and, of course, mentioning the little matter of a partisan sell-out crowd of thousands who will be willing them on from first kick to last.
The first-half at Celtic Park provided an anxious forty-five minutes. Billy Thomson, in the visitors' goal, had been dealing with everything that had come his way. He hadn't been exactly over-worked, but he had been going about his work with confidence and Celtic knew they would have to earn their goals on this day.
McNeill fretted somewhat in the dug-out; a transistor radio was keeping the manager and his backroom abreast of what was happening with Aberdeen and Rangers. As he headed for the dressing area at the interval, it was goalless in Glasgow, but he was also aware the Dons were winning 4-0 at their place.
The Celtic players, naturally, were curious of events elsewhere. McNeill had no intention on bundling additional pressure on his team. Years later, he recalled: "I told them I hadn't heard anything and pointed out that it didn't matter, anyway. It was what we did on the day that would determine everything. We had our destiny in our own hands. I wanted them to focus completely on the second-half."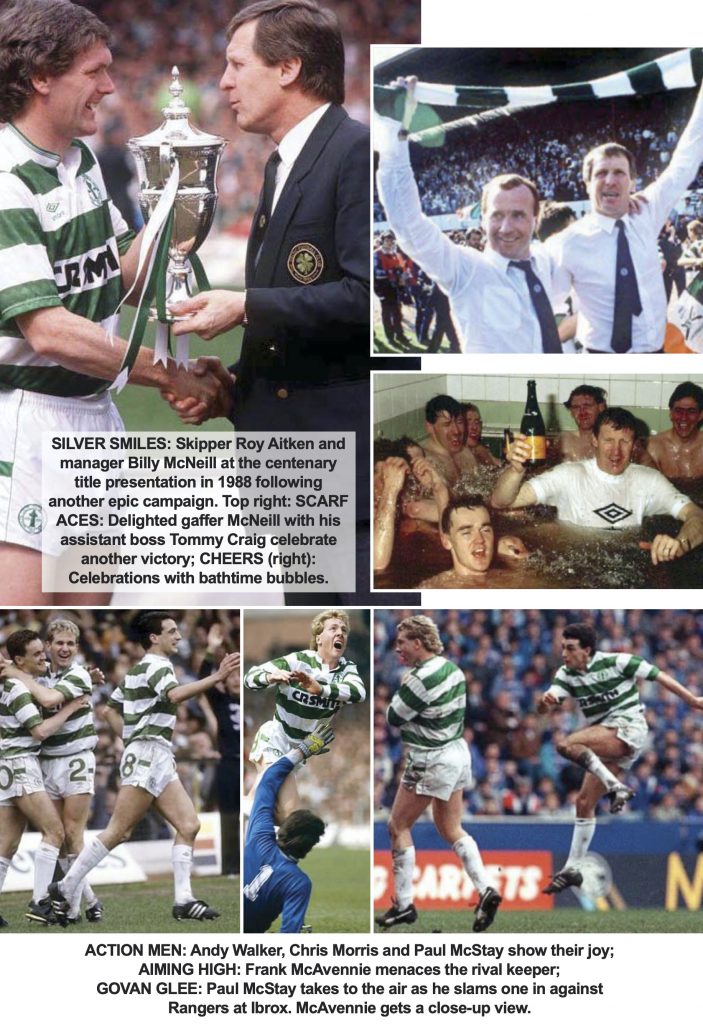 McNeill could afford a smile at the recollection. "I deliberately kept them in the dark and, just as they prepared to leave the dressing room, someone on the staff came in. Before I could prevent him from breathing a word, he blurted out: 'I see Aberdeen are beating Rangers 4-0'. I could have strangled that guy!"
McNeill could sense apprehension engulfing the room. The players realised they were in a somewhat vulnerable position. Now there were only two goals in it. Celtic could concede one and Aberdeen could score another to take their tally to 5-0. That's all it would take.
"I could see my players looking at each other," said McNeill. "I had to lighten the mood immediately. I chipped in: 'Well, you didn't expect any favours from that mob from Govan, did you?' That did the trick. The players had a wee laugh and, shortly afterwards, they were back out on the pitch knowing what they had to do. And that was to win. Aberdeen could score ten and it wouldn't have mattered a jot."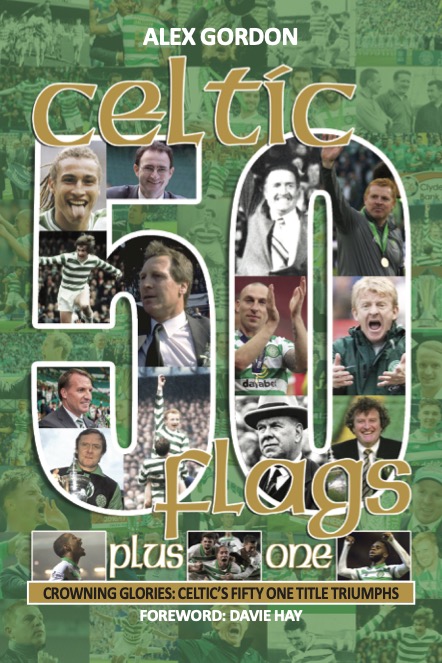 After an hour, it was still a scoreless stalemate. In the absence of Charlie Nicholas, who had suffered a broken leg in a meaningless reserve fixture, and Frank McGarvey, the goalscoring onus had fallen on the shoulders of George McCluskey. Young Danny Crainie had been promoted from the reserves to play alongside McCluskey, but it was hardly an ideal situation.
In the sixty-third minute, in a typical surge from midfield, Murdo MacLeod powered forward, slipped the ball to Tommy Burns, by far the most majestic player on the field, and he set up McCluskey. The striker took aim and zipped a drive beyond Thomson into the far corner of the net.
With the pressure easing, Celtic's fast flowing passing game came more into evidence. Davie Provan, all poise and grace, menaced on the right, MacLeod and Burns dovetailed imposingly and a young Paul McStay was looking extremely accomplished, too, with some subtle promptings. A second goal would go a long way to lifting the tension which was only too prevalent on the terracings.
PARADISE…Billy McNeill is all smiles after another title success.
Ten minutes after the breakthrough, Tom McAdam sauntered forward as Provan prepared for one his trademark deft corner-kicks. The ball was duly delivered, McAdam's timing was perfect as he headed past Thomson. Defender Davie Walker scrambled frantically on the line in an effort to clear the danger, but referee Eddie Pringle, in a perfect position, immediately awarded the goal. A whoosh of joy surged around the ground.
Three minutes later and anything Aberdeen might be able to conjure against Rangers was rendered completely irrelevant. The elegant Burns swooped onto the ball in the middle of the park, breezed past two challenges, rolled a pass to McCluskey and he cracked a left-foot drive past the despairing Thomson.
A beaming McNeill immediately saluted the team's followers. "These fans of ours are something special. I can't claim to have seen every set of supporters in the world, but ours are the best.
"All they want is the opportunity to display their feelings for this club and I'm so pleased for them that everything worked out perfectly."
*DON'T miss the big-name EXCLUSIVES – only in your champion CQN.
Click Here for Comments >