CELTIC edged to within one triumph in their astounding nine-in-a-row title sequence EXACTLY a year ago today when they travelled to take on Hibs at Easter Road.
By Jock Stein's admission, it "had been the most difficult to win" before a 3-0 victory cemented the crowned in Edinburgh with Dixie Deans claiming a double and Kenny Dalglish the other in a capital performance.
In another CQN EXCLUSIVE, author Alex Gordon opens his book files to spotlight an extraordinary campaign which is covered in full in his tribute publication, '50 Flags Plus One', a salute to the club's fifty-one titles during their glorious history.
With another championship on the horizon, we hope you enjoy this walk down memory lane.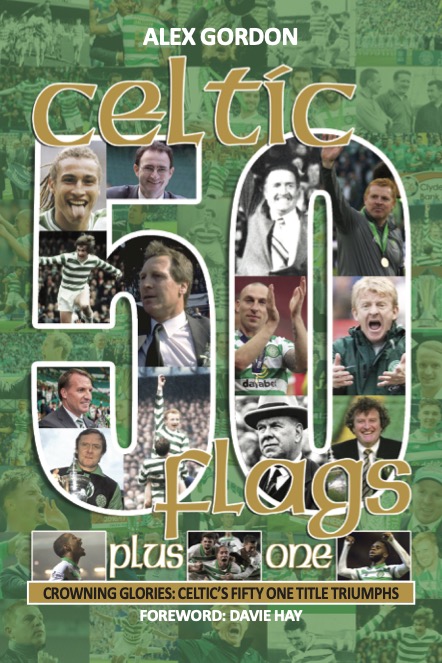 READ ALL ABOUT IT…Alex Gordon's fifteenth Celtic book, '50 Flags Plus One'.
BIZARRE is the only word to describe Celtic's kick-off to the 1972/73 campaign and the club's quest for an eighth successive crown.
For a start, only 11,560 fans bothered to stir themselves from their armchairs on a Saturday evening to watch the understated curtain-raiser against Kilmarnock at a sunny Hampden Park on September 2 1972.
With Celtic Park's renovations still ongoing, Jock Stein's team had to move into their temporary home in Mount Florida. The match had a 7pm commencement because Queen's Park had fulfilled a Division Two fixture on their ground earlier in the afternoon. The meagre turn-out was one of the worst attendances in decades for a Celtic 'home' game at the start of a campaign.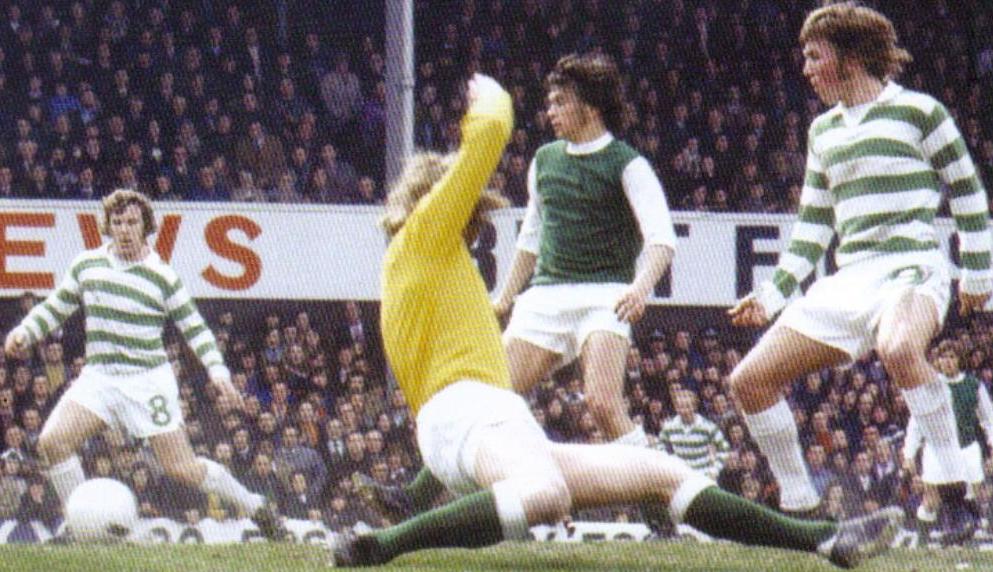 DIXIE AT THE DOUBLE…Celtic's prolific hitman Dixie Deans prepares to score the first of his duo as Kenny Dalglish gets a good view with Hibs keeper Jim McArthur stranded.
Celtic also went into the confrontation in the knowledge they required a win of three goals or more to go back to where they left off the previous season. Rangers had already faltered at the first hurdle with a 2-1 loss against Ayr United at Somerset Park. The champions knew what was in front of them and duly dismantled a Rugby Park side 6-2 with a blistering four-goals-in-thirty-four-minutes blast in the opening half.
It spoke volumes of the quality and professionalism of the players in a stadium virtually bereft of atmosphere that they kept their focus firmly on the prize. Ally Hunter, who would join the Parkhead men later in the campaign, was the opposition's star man with a series of astonishing saves after his team had come so close to being swept away by a green-and-white hurricane during a rollicking beginning.
The unfortunate keeper was picking the ball out of his net in only the third minute after his team-mate Jackie McGrory deflected in a cross from Harry Hood. Penalty-box pirate Dixie Deans plundered the second two minutes later and Hood got on the scoresheet ten minutes afterwards.
There was a brief interlude while Jim Cook netted a header beyond Denis Connaghan, but Deans zipped in a fourth before the interval. Hood nodded in a fifth, Eddie Morrison replied and Bobby Murdoch brought the scoring to a halt with a penalty-kick seven minutes from time.
SO NEAR…Kenny Dalglish gets in ahead of Hibs defender Erich Schaedler, but just misses the target with Jim McArthur helpless.
So, after a mere one-and-a-half-hour's worth of football, Celtic were at the summit and were already two points ahead of Rangers, who, in their centenary year, had been loud and brash with their promises throughout the summer. They had a wretched start to the season with three defeats and a draw from their first four league games.
Among the losses was a 3-1 hammering from the champions at the national stadium in front of a restricted gate of 50,500 with a noon kick-off on September 16. Kenny Dalglish scored in two minutes, Jimmy Johnstone doubled the advantage in seventeen minutes and Lou Macari, a bubbling menace, turned in a third shortly after the interval.
The visiting fans had long since departed by the time John Greig scored with virtually the last kick of the ball to be greeted with ironic cheers from those of the Hoops persuasion.
Allan Herron, in the Sunday Mail, wrote: "This Hampden shoot-out at high noon turned out to be a public flogging for Rangers. The scoreline is a giggle." Fellow-scribe Malcolm Munro, of The Evening Times, opined: "It's crisis time at Ibrox – and anyone who says otherwise is being less than realistic." John Downie, of the London Times, offered: "So comprehensively did they dominate Saturday's midday league match at Hampden Park that Celtic's score could well have reached double figures."
Taking all this on board, it is nothing short of bewildering, then, to look at the climax of the season when Celtic were tasked with a game against Hibs at Easter Road on April 28 to secure their eighth consecutive flag and the club's twenty-eighth in history.
Jock Stein declared afterwards this championship, secured by a single point, had been "the most difficult to win" in the glorious sequence.
CAPITAL SHOW…Jock Stein and Bobby Lennox embrace at the final whistle as assistant manager Sean Fallon prepares to join the celebrations.
In the penultimate league fixture of the campaign, Celtic were due to face Arbroath in Glasgow while Jock Wallace took his Ibrox side to Aberdeen. The visitors to Parkhead had flirted with relegation throughout the season and would eventually finish fourth from bottom, but they were safe by the time this game came around.
There was no pressure on them and they actually played well enough to have the score locked at 0-0 by the time the interval crept around. Davie Hay recalled: "I seem to remember Big Jock had some words of caution during the break.
Basically, it went along the lines of: 'Don't bother coming back in here if you haven't won.' Thankfully, we won!"
Hay wasn't a noted goalscorer, but he claimed one in the second-half alongside Hood, Deans and Dalglish for a 4-0 victory. Transistor radios were the order of the day to discover the outcome of the game in the north east. Aberdeen had been winning 2-1 until the fading moments when Alfie Conn claimed a dramatic leveller.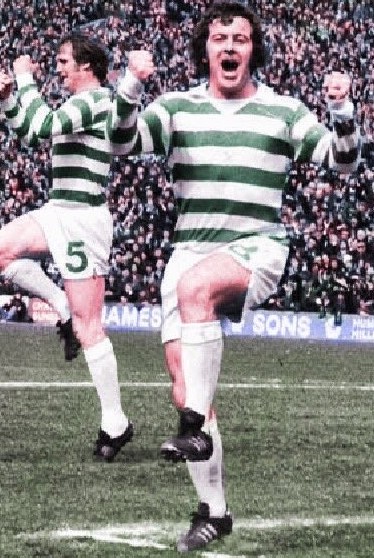 HOOP HOOP HOORAY…marksman Dixie Deans and skipper Billy McNeill dance with joy as Celtic prepare to seal their eighth successive title.
So, it was onto Edinburgh for a last-day duel with Hibs at Stein's old stomping ground of Easter Road. A draw would suffice, but Celtic had a reputation for doing things in style and, yet again, they did not disappoint.
The prolific Dixie Deans fired them ahead, Kenny Dalglish capitalised upon a blunder by keeper Jim McArthur for the second and Deans knocked in the third for a rampant 3-0 success. The flag would be flying in the east end of Glasgow for the eighth consecutive year.
EIGHTSOME REEL headlines dominated the back pages of the national press the following day.
A relieved Jock Stein reflected: "It felt just as good winning it for the eighth time as it did away back in 1966 when we clinched the first one at Fir Park. I reckon this one was the most difficult of all the championships and I thought at one time it was slipping away from us."
The full story of an enthralling and engrossing campaign is told in Alex Gordon's fifteenth Celtic book, '50 Flags Plus One'. which covers the team's fifty-one untainted title triumphs.
Fifty-one and counting!
Click Here for Comments >