CELTIC won their 28th title – and third in succession – on this date on April 30 1968.
Jock Stein's side made no mistake when they overcame Dunfermline at a pulsating East End Park to claim a trio of crowns to the club's glorious first nine-in-a-row achievement.
It was a reverberating and dramatic conclusion to a hard-fought success against a Rangers side who had spent big money in their determined to quest to end Celtic's domination.
In another CQN EXCLUSIVE, author Alex Gordon opens his book files to look at the club's 28th champonship in his tribute publication, '50 Flags Plus One', the tome which celebrates Celtic's first 51 untainted title successes.
Please enjoy.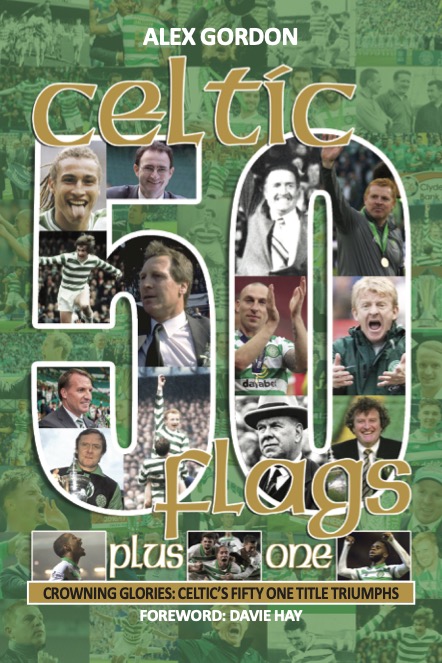 ON A BRIGHT, sunny afternoon on Saturday April 27 1968, Jock Stein, with Celtic obliged to have a day off, took his seat in the stand at Hampden Park for the Scottish Cup Final to watch Dunfermline against Hearts.
His former club had knocked out his Celtic team at the first hurdle of the competition on a grim January afternoon at Parkhead. The Fife team were favourites to lift the silverware against the Edinburgh outfit, who had, coincidentally, overcome the other half of the Old Firm in a quarter-final replay at Tynecastle.
Stein was an interested spectator along with another 56,364 onlookers at the national stadium.
Bizarrely, across the city at Ibrox, Rangers were allowed to complete their First Division fixtures that same afternoon against Aberdeen with an identical kick-off time. It was suggested they had been requested to switch the game by Scotland's powers-that-be and had point-blank refused.
CHEERS…trainer Neilly Mochan pours some bubbles into a cup for John Hughes as Celtic players celebrate their title success in the East End Park dressing room.
The reasoning behind their decision to go ahead with the scheduled fixture was obvious: if they beat the Dons they would go two points ahead of Celtic in the pursuit of the title. The champions' last league encounter had now been rearranged for the following Tuesday evening at East End Park against a team that had the opportunity to go into the match as newly-acclaimed winners of the Scottish Cup.
The pressure to succeed in Fife and lift the title on goal average would have been awesome. Assuming, of course, Rangers, who had gone through the previous thirty-three outings without defeat, winning twenty-eight and drawing five, actually chalked up a triumph over a Pittodrie side managed by Eddie Turnbull, a gruff individual who had once rejected the offer to become boss of the Govan team.
In the years before the enlightenment of advanced technology, Stein had been blissfully unaware of happenings at Ibrox as he watched Dunfermline win 3-1 with two goals from Pat Gardner and a penalty-kick by Ian Lister.
He was actually wending his way down the steep stairs at Hampden when a reporter, who had been in contact with his office, spotted him.
"Mr Stein," he yelled across the throng. "Have you heard the score with Rangers?"
The Celtic manager motioned he hadn't. "They lost 3-2," he was informed. Stein couldn't prevent a bright smile from dominating his craggy features.
Eyewitness reports insist he simply made a fist and said: "This has been a good day!" He then turned to continue on his downward trek when he stumbled and just managed to correct his balance. The ankle injury that ended his playing career had almost struck again.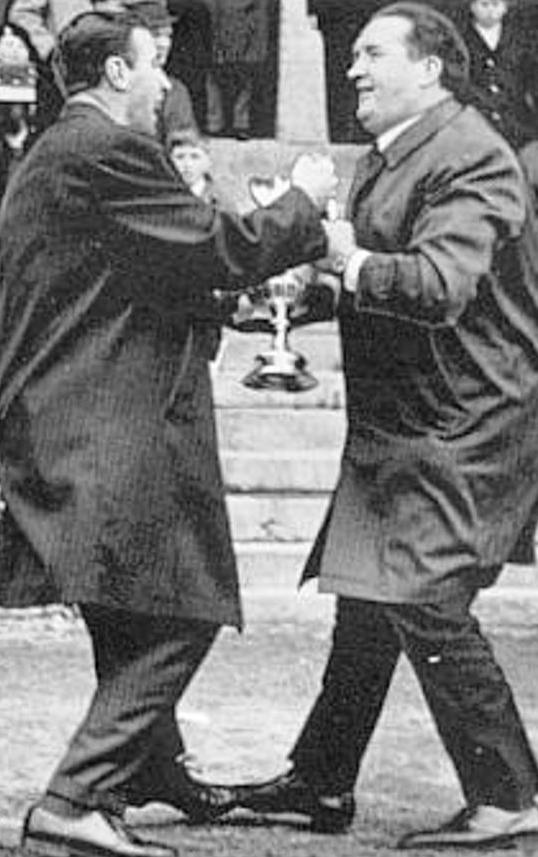 SILVERWARE STRUGGLE…rival managers Jock Stein and George Farm jokingly jostle for the Scottish Cup, won by Dunfermline the previous weekend.
So, the scene was set. Rangers, remarkably, had faltered in front of a packed home audience after leading twice, with Alex Ferguson claiming one of the goals. With the game entering injury time and tied at 2-2, the Dons sped forward in a classic counter-attack, Billy Little set up Ian Taylor and he rolled the ball beyond the stranded Erik Sorensen.
At that moment, Celtic were virtually assured their third successive championship. Only a defeat of monumental and inconceivable proportions could have prevented them lifting the flag. If goal difference had been in operation back then, Celtic would have been required to lose by thirteen goals to throw away the title. It was never going to happen.
The season's conclusion arrived amid chaotic crowd scenes at East End Park on April 30 on a fine, bright evening in Fife. Jock Stein, in the same manner prior to the clincher against Motherwell two seasons earlier, refused to accept the trophy was as good as in the Parkhead cabinet, safe and sound and under lock and key for at least another year.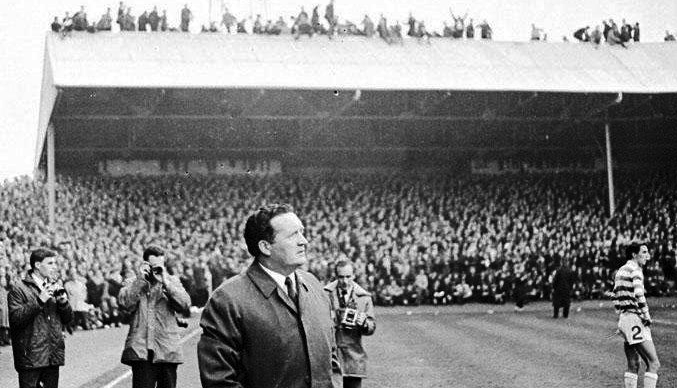 FANFARE…Celtic supporters find a novel vantage spot to watch Celtic chase their third successive title as Jock Stein and Jim Craig take a break during a lull in play.
The action was interrupted twice with fans spilling over onto the trackside and others preferred to get a better view of proceedings from the top of the enclosure and a few clung to the floodlight pylons.
Pat Gardner, the Fife club's very capable centre-forward and their Hampden hero, scored a spectacular effort to give his team the advantage at the interval. John Hughes remembered someone in the dressing room – "it mighty have been Big Billy" – saying: "Hey, Lennox, is it not about time you scored a goal?"
A reply came back: 'Give me a couple of minutes'. And guess what? Bobby had tucked the equaliser behind our former keeper Bent Martin for the equaliser and I believe it was timed at forty-seven minutes.
"Of course, Wee Bobby wasn't content with that and went on to score the winner."
Celtic had lifted their hat-trick of titles – and twenty-third in their history – with a record amount of sixty-eight points.
STOOPING TO CONQUER…Bobby Lennox heads past Danish keeper Bent Martin from close range.
HOOP HOOP HOORAY…Bobby Lennox celebrates as the ball rolls towards its destination.
The match reporter for the Daily Express was unstinting in his praise for the supreme feat of Jock Stein's team as he wrote with some enthusiasm: "Hail Celtic, proud champions of Scotland for the third time in succession."
The words belonged to Rangers' former Scotland international outside-right Willie Waddell who had returned to journalism, his pre-war profession, after helping Kilmarnock win the First Division in 1965.
He was appointed Rangers manager in December 1969.
It is doubtful if he ever uttered those sentiments again.
* DON'T miss the big-name EXCLUSIVES – only in your champion CQN.
Click Here for Comments >