TRIUMPHANT Celtic – with a little assistance from peerless Patsy Gallacher – lifted their fifteenth title on this day in 1919 when they overcame Ayr United 2-0 at Somerset Park.
Club stalwarts Andy McAtee and Adam McLean were the marksmen as the Parkhead side edged the championship by a point from Rangers.
The drama and tension of season 1918/19 is captured by author Alex Gordon in his latest Celtic book, '50 Flags Plus One', the tribute publication to the club's 51 untainted crowns, kicking off with the first crown in 1893.
In another CQN EXCLUSIVE, Alex turns the spotlight on a magnificent effort from Willie Maley's men in an edited extract from his fifteenth Celtic book.
Enjoy the never-say-die spirit of the Hoops players of yesteryear who refused to accept second best.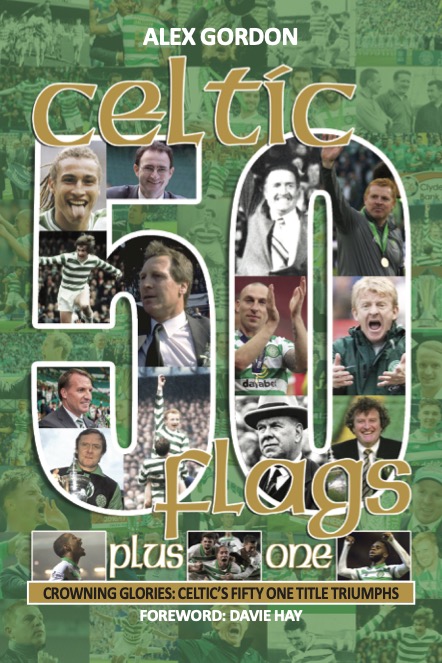 READ ALL ABOUT IT…Alex Gordon's fifteenth Celtic book, '50 Flags Plus One'
CELTIC were unlikely champions in season 1918/1919. They were a team ravaged by the requirements of the war effort with key players such as Willie McStay, Andy McAtee and Joe Dodds called up at various stages as the conflict, mercifully, edged towards conclusion. The influence of Jimmy McMenemy was also absent for a lengthy interlude as he shifted to Belfast for essential work.
Willie Maley's side had conceded their title the previous season after losing out on a two-team tussle with Rangers. They completed the campaign with fifty-five points, one adrift of their Old Firm rivals yet twelve ahead of third-placed Kilmarnock. The Ibrox club ended the term with five successive victories while Celtic slumped to a 3-1 home defeat to Third Lanark in their fourth last league outing and then contrived to surrender another point to Motherwell, again at Parkhead, in a 1-1 draw in their final match. Titles can be won and lost in such narrow margins.
In October, Celtic lost twice to Rangers – in the Glasgow Cup and the First Division – and looked well short of a team that could aspire to a fifteenth crown. In the league game against their Govan opponents at Parkhead, they were thrashed 3-0 and it didn't look as though they had the playing resources to recover.
However, someone must have forgotten to tell the inimitable Patsy Gallacher. The gutsy, temperamental, but ultimately, talent-bestowed Irishman wasn't the type to roll over and accept second best. With Patsy in the line-up, you had a chance. Willie Maley knew it, too.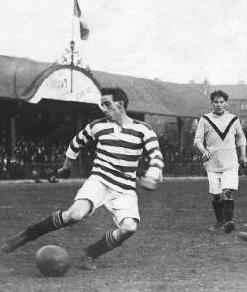 BY THE RIGHT…Patsy Gallacher turns on the tricks in a game against Airdrie at Celtic Park.
Celtic had actually kicked off the season in fine form with seven wins and a draw in their first eight league games and they also claimed a 3-1 success over Clyde in the Glasgow Cup semi-final. However, a 2-0 loss to Rangers in the Final at Ibrox appeared to dent their confidence and the morale of the players wasn't helped when they crashed by three goals to the same team in the east end of Glasgow.
Form appeared erratic as they drew 1-1 with Hearts and lost 3-1 to Motherwell in two of the following five games. On November 11, the Armistice was signed as the world tried to recover from such a sorrowful and inexcusable waste of life. At the same time, football supporters craved entertainment and excitement and two weeks into December there was particular heart-warming applause as Jimmy McMenemy, who had also overcome serious illness during his time away from the club, made his return and scored in the side's 2-0 win over Dumbarton. Willie McStay had also come back from war service that afternoon and Joe Dodds and Andy McAtee would soon rejoin their team-mates in the green and white.
The team moved confidently towards the end of 1918 with successive triumphs over Hamilton Accies (2-1) and Hibs (2-0) as they prepared for the New Year's Day fixture against Rangers at Ibrox. In boxing parlance, they had failed to lay a glove on their city neighbours in October. However, this was a more resolute and determined team on this occasion and they were well worthy of their 1-1 draw with a crowd of around 65,000 witnessing another brisk contest between two sides where no quarter was asked or given. McMenemy, revelling in his return to the football field, scored the Hoops' goal on crisp Wednesday afternoon.
How crucial was that point from the Govan encounter? Some insisted it was the draw that saw Celtic lift the title at the end of the season with the Parkhead side completing the thirty-four league programme with fifty-eight points, one more than the Ibrox club.
Celtic triumphed in their next four leagues fixtures winning against Clyde (2-0), Third Lanark (3-2), Clydebank (3-1) and St Mirren (4-0) before dropping a point in a goalless draw with Motherwell. February was a month of total success with victories over Kilmarnock (2-1), Airdrie (2-1), Hamilton Accies (4-1) and Partick Thistle (2-1).
Crucially, Rangers dropped a point in a 2-2 stalemate with St Mirren although they won their other fixtures. There were encouraging signs from Celtic, but, annoyingly and frustratingly, they were held to a goalless draw in Greenock against a Morton side that would complete the campaign in third place. In the only other game in March, a double from Joe Cassidy gave the side a 2-0 triumph over Queen's Park at Parkhead. On the same afternoon, Rangers were held in a 1-1 tussle with Ayr United at Somerset Park.
April was shaping up to be the month that separated the champions from the also-rans. Celtic had four fixtures ahead of them before the league reached its conclusion with one game in May. Willie Maley primed his players for a massive push and they didn't let him down. Clydebank were beaten 2-0, Falkirk downed 4-0, Airdrie trounced 3-0 and Hearts edged out 3-2 in a thriller at Tynecastle. The Hoops were three goals ahead in Edinburgh with a double strike from Jimmy McColl and one from Andy McAtee before the home stirred and claimed two goals from Andy Wilson ensured a thrilling climax.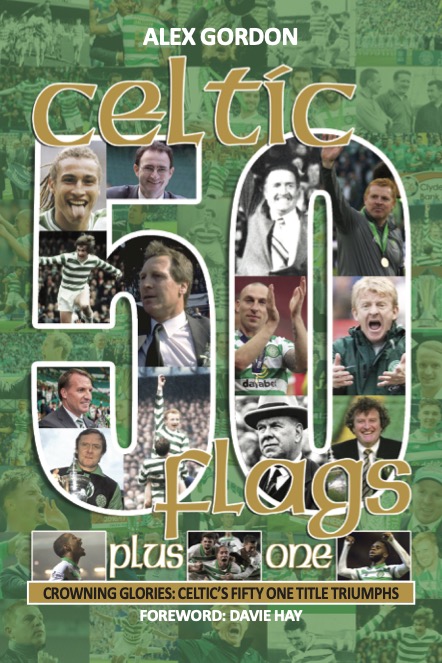 Rangers had only two games to play in April and won them both, beating Falkirk and Third Lanark 4-0 on each occasion. However, Celtic's victory in Scotland's capital gave them a one-point advantage at the top of the table and the title was in their own hands. They had Ayr United to face at Somerset Park on May 10 and they went into the arena knowing a win would complete an engrossing season.
On the same afternoon, Rangers, curiously enough, were playing Clyde at Celtic Park in a game that had been switched from Shawfield to accommodate a larger crowd and extra income.
Andy McAtee fired Celtic into a half-time lead during a tense meeting with a crowd of around 10,000 squeezed into the cramped ground. The second-half was even more nerve-shredding as news was relayed that Rangers were winning in a canter in the east end of Glasgow with the final score ending 4-0.
However, the efforts of the Ibrox side were to no avail when Adam McLean doubled the visitors' advantage and the flag was heading back to Celtic Park.
It was a justifiable reward for some true grit performances from a gutsy outfit with the mesmerising Patsy Gallacher in the ranks to sprinkle a little bit of stardust on proceedings.
Click Here for Comments >