FORTY-FOUR years ago today, Celtic staged the most remarkable comeback to claim the title in a phenomenal finale against old foes Rangers at Parkhead.
With the legendary Billy McNeill in charge in his debut season, the Hoops, with only ten men, fought against all the odds to be crowned champions.
In another CQN EXCLUSIVE, author Alex Gordon, whose fifteenth tribute publication, '50 Flags Plus One', covers the club's first fifty-one untainted titles, opens his book files for a journey back in time to the memorable evening of May 21 1979 in the east end of Glasgow.
Please enjoy!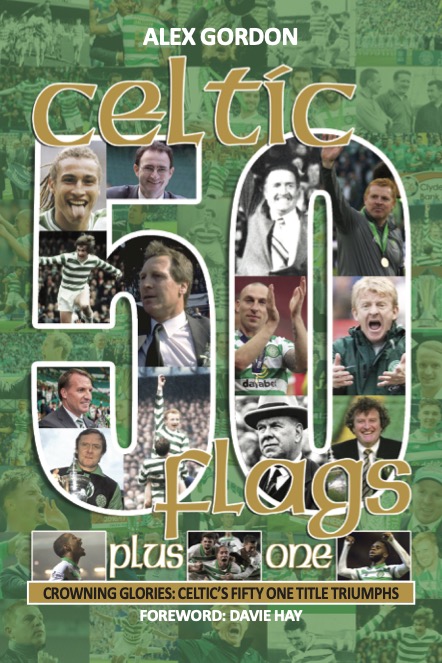 JOCK STEIN would have been proud of Billy McNeill as the Celtic manager did his best to ease the tension. 'I didn't expect us to be in this challenging position and I still say if we make it to Europe next season we will have done very well all things considered.'
That was for public consumption, inside the dressing room was a different matter. Murdo MacLeod said, 'He wanted that title, you can be sure of that. All season he had driven us towards it.'
Rangers had been relentless in their pursuit. The situation for McNeill's team was clear cut; a triumph would take the Premier League championship to Parkhead. A win or a draw would suit Rangers who still had two more games to play against Partick Thistle and Hibs. That being the case, Celtic, in McNeill's return, would have to settle for second best. McNeill was never comfortable with that mantle.
The manager recalled, 'I talked to the players as a team unit before the game. I didn't pick out individuals as I didn't think that would be fair. Jock, of course, did that every now and again, particularly with Jinky, but, then, he was exceptional, world class and could handle anything thrown at him.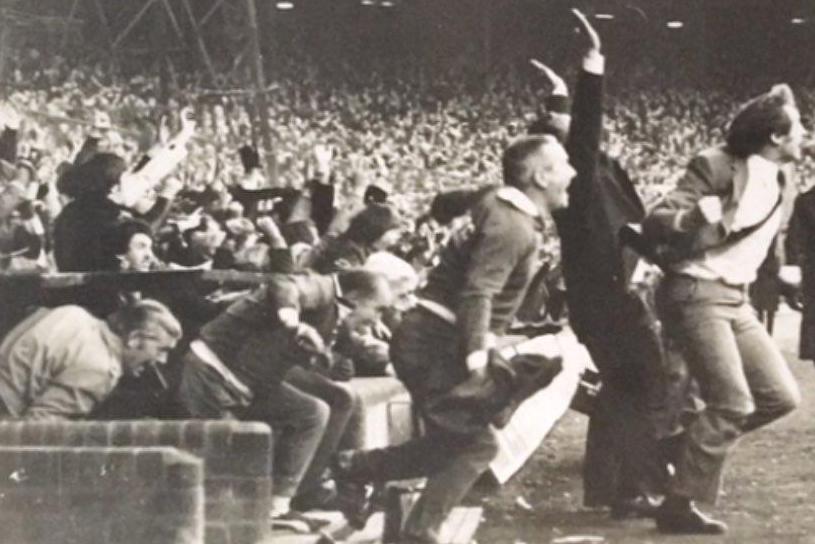 CHAMPIONS…Billy McNeill leads his backroom staff out of the dug-out to celebrate a memorable triumph as the final whistle sounds.
THREE CHEERS…Billy McNeill, flanked by skipper Danny McGrain and Andy Lynch, has a glass of champagne to celebrate.
'On this occasion, I just wanted to remind the players what we had all been through to get the club into this position. We were ninety minutes away from winning the league.
'I reminded them, "And listen to that crowd. That's your fans out there. They're worth a goal of a start." I sensed a very determined mood in the camp.'
The hottest ticket in town was for Parkhead on the Monday evening of May 21 when football's greatest and most ancient adversaries would lock horns. The scramble had been more frantic than ever with a union strike keeping TV cameras away from Parkhead. If you wanted to see this one, you had to be there. Only flickering images shot by a fan from the terracing still exist.
A thriller of epic proportions was, sadly, never witnessed by millions. As kick-off time approached, Celtic Park throbbed and pulsated, the old ground's foundations heaving and rocking, as a capacity 52,000 frenzied fans, engulfed in wild emotion, prepared to watch a spectacle that would unfold in the most dramatic of circumstances. It was a night for the strong of heart.
In the ninth minute, a deadly hush swept over the Celtic end. Rangers were a goal to the good after Alex MacDonald had knocked one wide of Peter Latchford. That goal was to trigger off a remarkable series of events as Celtic desperately tried to respond. There was no change in the scoreline, though, by the time the interval arrived.
HAIL THE HEROES…Danny McGrain is held aloft by Roy Aitken and Peter Latchford as team-mates Tommy Burns, Vic Davidson, Murdo MacLeod and George McCluskey join in.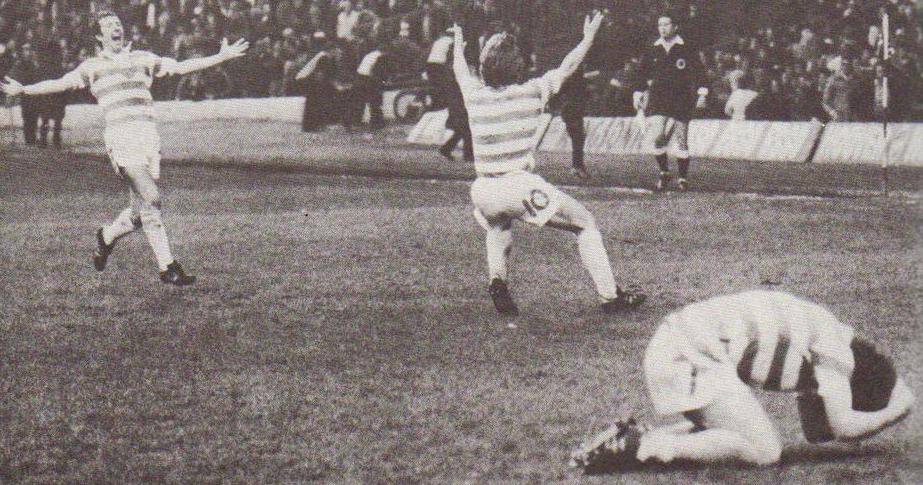 MIGHTY MURDO…it's the title clincher and Murdo MacLeod celebrates as Davie Provan drops to his knees and Andy Lynch races to add his congratulations.
Ten minutes after the turnaround, McNeill winced as he saw his side go down to ten men. Johnny Doyle was involved in a scuffle with MacDonald, both fiery characters, and the referee dismissed the Celt for retaliation. He sobbed uncontrollably as he raced off the pitch. The game restarted at a punishing pace during this rawest and most rumbustious Old Firm confrontation, a rollicking rollercoaster, one of the most nerve-shredding in memory.
Breathtakingly, Celtic drew level midway through the half as Roy Aitken surged forward to belt one past Peter McCloy. In the 74th minute the roar that went up from the east end of Glasgow must have registered on the Richter Scale; Celtic were ahead.
George McCluskey, wily and skilful, got through on the blindside to thump the ball low into the net. Two minutes later, it was 2-2 with Bobby Russell scrambling one past Latchford.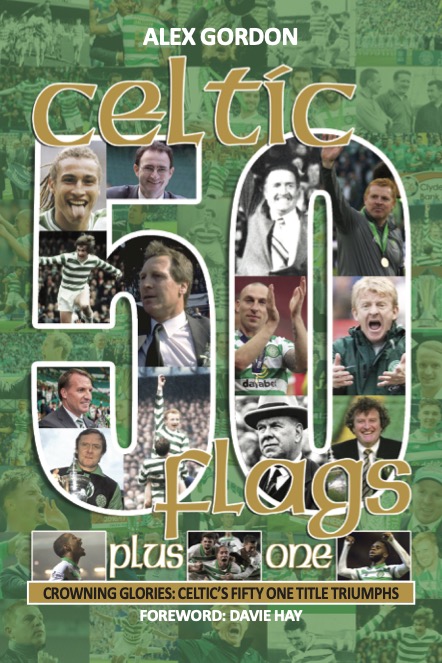 This pulverising confrontation was going all the way to the wire. Rangers sat in, obviously more than satisfied to take a point. Celtic, driven on by McNeill from the touchline, had other ideas. Six minutes were left when McCluskey fired in a dangerous low effort from the wing.
It was an awkward one for McCloy to deal with. The towering keeper got down to parry the ball up and away where it struck the inrushing Colin Jackson. The defender could only look on in horror as the clearance bounced off him into the net.
Cue bedlam on the terracings. Parkhead became a rhapsody in green and white. Could there possibly be anything left to witness in this no-holds barred, shuddering conflict?
IT TAKES TWO…full-backs Danny McGrain and Andy Lynch celebrate.
'I remember picking the ball up in midfield,' said Murdo MacLeod. 'I knew it was late in the game, but I didn't know how late. There was a pass on to either side of me with team-mates breaking forward. I just kept going. In an instant, I knew I was going to shoot, there was no chance of me passing.
'I thought to myself, "Hit this as hard as you can and, even if you miss, the ball will go away into the Celtic end and it will waste time."
'But I struck the shot really well and it went high and dipped over the keeper's right hand into the top corner. I still had no idea how long there was to go. We all geared up to go again when the referee blew for time-up seconds after Rangers had kicked off.
'I must have been the last Celtic player to touch the ball that evening. It was my best-ever night in football. I had a few memorable ones, but nothing ever touched that. No team could have stopped us even when we were down to ten men.'
A jubilant Celtic crowd brought the house down with their frenzied celebrations, a wall of noise enveloping the stadium. No-one had a thought of dispersing until their heroes emerged for a lap of honour.
'The boys deserved it,' recalled McNeill. 'It was simply fantastic. I have never seen a game like it. When George McCluskey scored to make it 2-1 for us, I just couldn't believe it. Then they came right back. One minute you're up there, the next you're down here.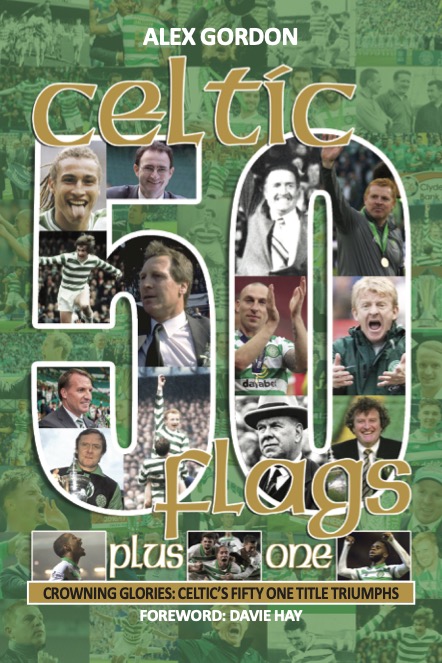 'My players would climb a mountain and then find there was another waiting for them. Our ten men did extraordinary things. To score four goals in just over half-an-hour with only ten men against Rangers was just incredible. Unbelievable.
'John Greig was one of the first to congratulate me and I really appreciated that. He was as proud a Rangers man as I was a Celtic man and he must have been hurting, but he still sought me out to shake my hand. A great gesture from a genuine sportsman.
'I was overjoyed for my players and I even had to persuade Johnny Doyle to go out there and take a bow. He didn't want to go because he thought he had let us down. Eventually, I think I threw him onto the pitch!
'All of my players, including Johnny, were heroes.'
Click Here for Comments >