TOMMY BURNS, a genuine Celtic legend, passed away eight years ago today.
He was mourned by thousands, an iconic figure who united fans from all clubs.
Davie Hay devoted a chapter to his dear friend in his 2009 autobiography 'The Quiet Assassin' and has given CQN permission to re-produce an extract from it today.
TOMMY BURNS: AN INSPIRATION
Tommy Burns approached me at St.Joseph's Roman Catholic Church in Clarkston and said in a matter-of-fact manner, 'The cancer's back.'
There was no preamble, no warning of the information he was about to impart. To passers-by, we could have been two former Celtic managers discussing the previous day's game. How do you react to such shattering news?
Tommy, of course, had
already been disgnosed with the awful disease and it appeared it had gone into remission. Now, after a chance meeting between us, Tommy had told me the news I didn't want to hear. Sadly, one of our last meetings was at St.Cadoc's RC Church in Newton Mearns when we were in attendance for the christening of our grandchildren, Louis and Cole.
When I looked at Tommy I saw before me an extremely courageous human being whose religion had carried him through so many obstacles in the past. Sadly, on 15 May 2008, after a brave battle, Tommy Burns succumbed to the illness. He was taken from us at the age of only fifty-one.
He had so much more to contribute to life. Firstly, as a family man, a loving husband to Rosemary, a doting father to Emma, Jenna, Jonathan and Michael and a man who would have been a caring grandfather to Cole. Secondly, to all things Celtic, the club he truly loved. And, thirdly, to all of us as an inspiration.
I liked Tommy a lot and it was a privilege to get to know him so well. He was a decent man and did things with a lot of style and panache. Just look at the way he played. Just recall how Celtic performed when he was manager. Everything was done with a flourish.
What about that left foot? He could hit targets from all angles and ranges and it was evident even from a very early age that Tommy Burns was going to be a bit special. I can tell you he was a 100 per cent professional when I was his Celtic manager.
He had a temper, too, I seem to recall. If he didn't agree with you, he said so. And, like a man, he said it to your face. I've already talked in a previous chapter about taking him off during the 1985 Scottish Cup Final while we were losing 1-0 to Dundee United. He didn't agree with that decision and was swift to let me know as he walked past me to the substitutes' bench.
But he was the first to give me a hug when that final whistle went and we had won 2-1. That was so typical of the man. Tommy had such a lovely demeanour that he made everyone in his company totally relaxed. He had a good sense of humour and possessed a sharp wit, that's for sure. For me, Tommy always epitomised the spirit of Celtic and I count him among my blessings.
I know he rated our 5-0 UEFA Cup triumph over Sporting Lisbon in November 1983 as his favourite European night and I have to say it is one of mine, too. Tommy gave me a lot of credit afterwards for psyching up the team before kick-off.
We were trailing 2-0, of course, and I was emphasising the urgent requirement of an early goal. Actually, I didn't have to exactly work overtime getting the players geared up for this one. With guys such as Tommy Burns around and the determination he possessed, words were often redundant. He and the rest of the players were ready to fight their corner and I remember that being a fabulous evening of entertainment and excellent goals – one a rare header from Tommy for our first.
At the end of an unforgettable and thoroughly enjoyable experience I complimented Tommy on his display. He shrugged and said, 'I just did my bit.' You could say he was quite an unassuming kind of guy. He loved the European stage and his skills were tailor-made for this level.
Walter Smith, after picking up a league and Cup double, won the Scottish Football Writers' Manager of the Year award in 1995/96. I will always remember how he opened his acceptance speech. He said, 'Thank you for this award and for all of those who voted for me.'
There was a brief pause before the Rangers manager continued, 'But there is another man who should be here collecting this honour – Tommy Burns.'
It was a fabulous gesture from Walter Smith, a man who realised better than most what Tommy was trying to achieve and how he was going about it at Celtic, Rangers' fiercest rivals. Walter would also know the pressure that is relentless on an Old Firm boss. The demands are endless.
Walter Smith, along with Ally McCoist, would help carry Tommy Burns' coffin into St.Mary's Church, in the Calton district of Glasgow, twelve short years later. Tommy's ex-Celtic colleagues Pat Bonner, George McCluskey, Peter Grant and Danny McGrain were the other pallbearers, but the presence of the two Ibrox men merely demonstrated that Tommy Burns transcended the Great Divide in Glasgow.
Thousands lined the streets as the cortege made its way from the east end of Glasgow to Linn Cemetery on the south side of the city. There were Celtic, Rangers and all sorts of football fans present to say their last farewells to a great man. There were people there who probably didn't know the shape of a football, but they had turned out to pay their tributes. You need to be special to achieve that.
Tommy Burns was special.
Words: Davie Hay
————————————
CQN is placing advertisements regarding Resolution 12 in newspapers in England and Switzerland later this month. We are currently crowd funding this and have already had an overwhelming response. These ads are much more expensive that the Sunday Herald ad placed last year and we only have until this Friday morning to reach our target.
If you are able to contribute please do so HERE and thank you.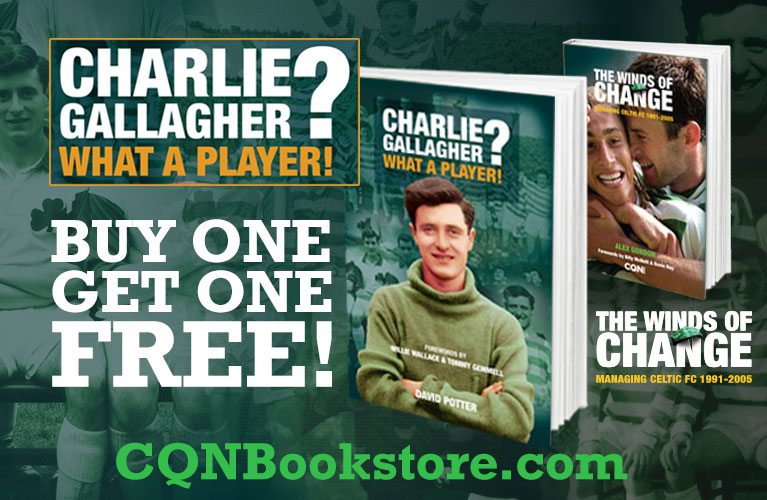 Click Here for Comments >