TOMMY GEMMELL made his Celtic debut as an unknown left-back in a First Division game against Aberdeen at Pittodrie on January 5 1963.
His first appearance kicked off a rollercoaster career that catapulted the extraordinarily-gifted 19-year-old to legendary status at the Parkhead club.
Gemmell was promoted to the top side following a 4-0 defeat from Rangers at Ibrox. He played his part in an immediate turnaround in fortunes as Jimmy McGrory's side recovered from their hammering in Govan to overwhelm the Dons 5-1 on their own territory with powerhouse frontman John 'Yogi' Hughes firing in a hat-trick.
It was the start of something good for Big TG and his team-mates.
In another CQN EXCLUSIVE, writer Alex Gordon, a lifelong friend of the iconic Celt and who co-autored Tommy's 2014 autobiography, 'All The Best', looks back at the early stages of a remarkable career of a complete one-off.
Here is an edited chapter in Tommy's own words. Please enjoy.
WEE Jimmy Johnstone often told me that I had been decorated more often than the Queen's living room. I never thought to ask Jinky exactly how he knew of the specific arrangements for the makeovers at Buck House, but I got the drift.
What the Wee Man didn't know was that there was one honour I should have won on a weekly basis – the Best Actor's award.
No doubt my former team-mates and fans alike will be surprised by this revelation, but it's time to come clean. I was never quite as laidback as everyone thought I was. It was all an act. I wasn't a bag of nerves before every game, but I can tell you the butterflies were there.
I was as much subject to normal human frailties as the next man. I just did my best to disguise it while sauntering around the dressing room looking as though I didn't have a care in the world. But, deep inside, I felt the tension. The trick was not to show it. And once you have done it a couple of times as a cocky youngster coming into the first team to mix with the big boys, then you are stuck with it for the rest of your life. It becomes unshakeable and forms your personality.
THE BIG SHOT…Tommy Gemmell demonstrates the awesome power in his fearsome right boot.
Looking back, I realise I had more front than Brighton Pier. I was never really concerned about the image. That was never a priority from someone from a housing scheme in Craigneuk, Lanarkshire. But I realised I had lumbered myself with a part to play.
I read in the newspapers that I was flamboyant, cavalier, buccaneering, flashy, swashbuckling, exciting and dashing. I don't think any other Celtic full-back in the history of the club had ever been described in such graphic, praiseworthy terms. Again, that is not being big-headed.
In the earlier days, they were defenders first and foremost. They were never encouraged to cross the halfway line. That was a massive no-no. However, that had always been my natural instinct, to get into enemy territory and do as much damage as possible. I knew I had a good shot in either foot, with my right being the stronger, and, with Jock Stein around, you were given every opportunity to get forward and attempt to create havoc.
WALLOP…Tommy Gemmell's most famous goal as he thunders in the equaliser in the European Cup Final win over Inter Milan on May 25 1967 in Lisbon.
I scored my first league goal for the club on October 28 1964, but I didn't do too much celebrating as we had just been humped 5-2 by Kilmarnock at Rugby Park. At least, I had put down my marker. It was quite awhile afterwards that Big Jock handed me the penalty-taking duties. Before me, the players on the spot were Dunky MacKay, Bobby Murdoch, Bertie Auld, Ian Young, Charlie Gallagher, Joe McBride and John Hughes.
So, I had to wait my turn before I was given the nod when we were awarded one in our European Cup first round second leg tie against Zurich in Switzerland on October 5 1966 en route to conquering Europe. I had scored in the first game in Glasgow, a 2-0 win, and I had netted again in Zurich. We were 2-0 up in that game – Stevie Chalmers got the other – and I was given the ball to complete a hat-trick over the two legs. I clubbed it into the net and that was me the No.1 choice.
I have to say I was never nervous before I took a penalty. Normally the adrenalin would be pumping because you don't often get a spot-kick in the first five minutes or so unless, of course, it is an absolute stonewaller. So, I was mainly into my stride by the time we ever received an award. I felt sorry for the goalkeeper before I took a penalty. He had no idea where I was going to place it for one very good reason – I hadn't a clue myself.
THUMP…Tommy Gemmell thunders in an unstoppable penalty-kick against Rangers keeper Erik Sorensen at Ibrox.
My secret of a good penalty-kick was simple; hammer it as hard as you can, get it on target and see what happens after that. I had a fairly good record, even if I do say so myself. I think I missed three out of thirty-seven attempts and I believe I hit the keeper on two of those occasions. They weren't quick enough to get out of the way!
Being a Celtic player was simply wonderful. The public might never have believed it, but Celtic and Rangers players actually got on quite well with each other. Wee Willie Henderson was a particular friend of mine. Bertie Auld, Willie Wallace, myself and a couple of others used to go to Reid's Bar on Hope Street in Glasgow after a game on a Saturday.
It was owned by Partick Thistle chairman and SFA President Tom Reid and a lot of footballers used to hang out there. They had an upstairs bar where you could get a bit of privacy. Normally we would be joined by the Rangers contingent of Wee Willie, Ronnie McKinnon, Davie Provan and Willie Johnston. It was all very affable, I must say.
TWO OF A KIND…Bertie Auld and Tommy Gemmell on their way back from training at Barrowfield.
Jock Stein abhorred alcohol, as we all know, so it may surprise a few that the Celtic players were allowed a drop of whisky before every game. Okay, it wasn't enough to cater for a party. In fact, it was only a quarter bottle of whisky and it was kept out of sight in the shower room.
Big Jock never allowed anyone else into the dressing room apart from the players and staff, but on the off-chance someone did enter his exclusive sanctum, there would never be any booze on display. However, if the players fancied a nip before kick-off they could go and have a quick snifter with the boss's blessing.
I'm not a whisky drinker, but I had a swig one day to test out its therapeutic qualities. That was a one-off. I never touched it again. A lot of the other players didn't bother, either, but that bottle was almost always empty before we left to take the field. I'm not pointing any accusing fingers, you understand, but Ronnie Simpson seemed to make more visits to the shower room than anyone else. Read into that what you will.
Ronnie was a great character. Do you know the only two members of the Lisbon Lions squad who smoked were the goalkeepers, Ronnie and John Fallon? And, before them, the only other bloke I saw smoking at Celtic Park was Frank Haffey, another goalkeeper. Bertie Auld would often be photographed with a giant cigar after a trophy triumph, but I doubt if he ever smoked it. That cigar probably followed him throughout his career and was never lit!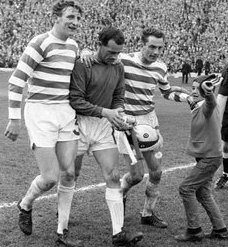 HAMPDEN HEROES…Tommy Gemmell, Ronnie Simpson and Stevie Chalmers after the 2-0 Scottish Cup Final win over Aberdeen in 1967 – one of the silverware sweep in a memorable season.
Jim Craig flummoxed Big Jock. Our manager could never understand why our right-back had a profession outside football. Jim, of course, was a dentist and combined both trades fairly well. How many dentists do you know who have a European Cup winner's medal in their possession?
The man known to us as Cairney must be unique. Cairney? Back then, there was a Scottish actor called John Cairney who starred in a TV series called This Man Craig, so we simply switched names.
To be honest, I don't think Cairney ever received the praise he deserved. I'm probably to blame to a certain extent. The supporters would see me bombing up and down the left flank and, if I was lucky, walloping in a goal or two. Scoring goals wasn't Cairney's forte, though. What he provided was remarkable athleticism on the right. He didn't go on eye-catching mazy runs, but he certainly contributed to the cause.
Jim was the University-type. I'm sure he thought the rest of his team-mates were half-footballer half-imbecile. He probably believed an amoeba had more brain cells than the lot of us put together. I never tired of telling him he wasn't the only one who possessed grey matter in the team. I had won the Dux medal at Wishaw High School Senior Secondary, after all.
GOVAN GLEE…Tommy Gemmell celebrates a Celtic goal against Rangers at Ibrox along with team-mates Bobby Murdoch, Bobby Lennox and Bertie Auld.
Billy McNeill would give his team-mates dog's abuse during a game if he thought it was merited. If you surrendered the ball needlessly with a slack pass you could expect to get it in the ear from Big Billy. In fact, every individual in the Celtic team would give a colleague pelters if it was deserved.
That was the type of team we were. We all wanted to be winners and no-one was shy about firing out a verbal volley if we thought somebody was falling short of the required standard. It didn't do us any harm, did it? We could spend an-hour-and-a-half shouting and bawling at each other, but it never carried on into the dressing room afterwards. Not once.
You hear all sort of stories about bust-ups among players in the privacy of their sanctuary away from prying eyes, but, no matter how heated it got during a game, that wasn't the case with us. Sure, there could be a word or two, but that was all.
LEGENDS…Tommy Gemmell and Billy McNeill proudly parade the European Cup to the Celtic fans.
Big Billy was Jock's general on the park, but he realised he was surrounded by players with the same positive outlook. Billy got it in the neck every now and again, too. No-one was immune. We won as a team and we lost as a team. People can look at the surviving Lisbon Lions today and see us all getting on well with each other. They may think that is merely for the public's consumption.
Believe me, that affection we have for each other is genuine and has lasted well over four decades. My wee pal Willie Wallace may now be living on the other side of the world in Queensland, Australia, but we still keep in touch.
That wee bugger will telephone me in the dead of winter to tell me he is enjoying a barbeque in his back garden. Now that's what I call a friend.
It was a minor source of irritation to some players that Big Billy was getting a tenner a week more than the rest of us. Jock's secretary revealed this to me once and I took it up with the manager. At first, Jock, who was always very careful with Celtic's cash, denied the claim.
I couldn't drop the secretary in it, so I wouldn't disclose my source of information. Jock then twigged that I knew something I shouldn't. He dropped the charade. He said, 'Billy gets more because he is the captain.'
IF THE HAT FITS…Tommy Gemmell poses outside his beloved Celtic Park.
I hasten to add that no-one at Celtic was thinking of walking out, taking strike action or anything as drastic as that over the issue. However, I pressed the matter with Jock, in the nicest possible way, of course. Remarkably, he relented and said, 'Ach, I'll have a word with the board about it. Away you go now.' He waved his big left paw at me once more.
About a week later, Big Jock called a team meeting at Parkhead. Our crafty manager didn't mention that he had a wee wage 'negotiation' with yours truly.
'I've got some good news for you,' he said. 'I think you are well due a pay rise and I have presented the case to the chairman and the board of directors. They have agreed to give you all an extra fiver a week starting immediately. I think you're worth it.'
My team-mates were delighted at their unexpected windfall – £5 was a reasonable bit of money in those days – and I was pleased, too.
So was Big Billy, who was still getting a tenner a week more than the rest of us!
Click Here for Comments >