JOCK STEIN once acclaimed a youngster by the name of Tony McBride as "better than Jinky" at his age.
It was a remarkable testimony to a teenager who was such a Celtic fan he had no hesitation in knocking back the advances of Matt Busby when the Manchester United manager and his chief scout arrived at the family home in Glasgow to try to lure him to Old Trafford.
The wily old Scot, a former miner like Stein and Liverpool boss Bill Shankly, arrived armed with flowers and chocolates for Tony's mother and a bottle of good Scotch for his father. It was always an excellent way of making a first impression on parents. Tony wasn't interested, though.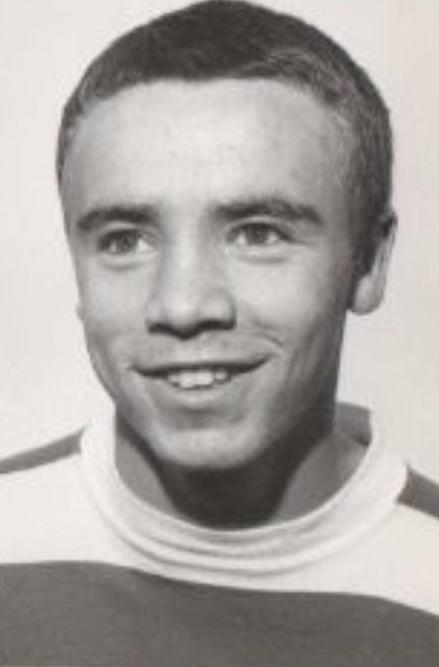 HOPEFUL IN THE HOOPS…Tony McBride as a teenager at his beloved Celtic.
He had just played for Scotland schoolboys in a 2-0 victory over their English counterparts at Wembley and the offers were flying in following a Man-of-the-Match performance. Every top club in the UK wanted Tony, but there was only one destination for the forward – and that was his beloved Celtic.
Author Alex Gordon, who has written fourteen Celtic books, including the acclaimed tribute to Billy McNeill, entitled 'In Praise of Caesar', takes up the story: "Tony was in the same year as me at school in Castlemilk, the huge housing scheme in Glasgow. We attended St Margaret Mary's Secondary School. We weren't in the same class, but we played football together, I was a budding goalkeeper and Tony was anything he wanted to be.
"He normally played inside-left, but could have played anywhere in the side he was so good. I am aware time can lend enchantment to memories, but Tony was a wonderful talent. He had everything. He was a tough character and I really do mean hard. He wasn't the tallest, but his torso could have belonged to a boxer. He was unshakeable on the ball, he possessed a powerful shot, had vision to make passes others could only dream about and he could tackle. He dominated games at that level. In short, Tony ticked most, if not all, of the boxes.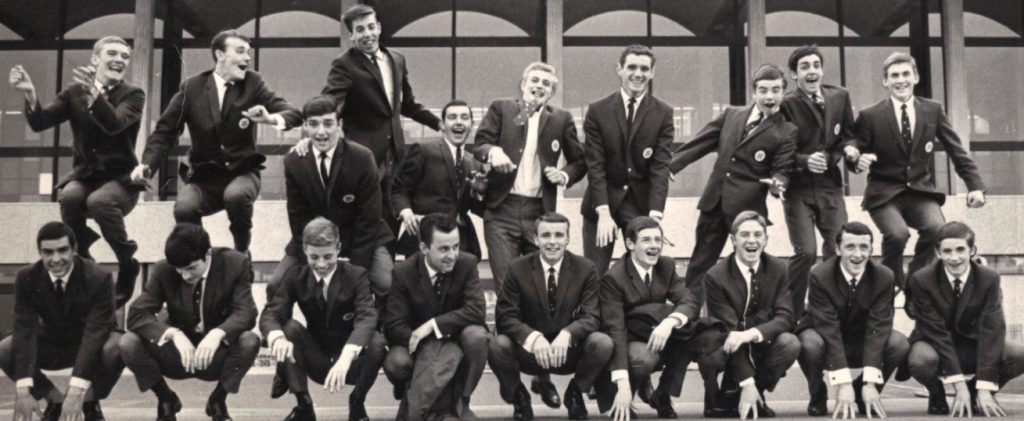 JUMPING FOR JOY…Tony McBride  (third from the right, back row) with the Celtic Quality Street Gang as they prepare to fly out for a youth tournament in Italy. Davie Hay is extreme left in the row with Kenny Dalglish wide right.
"So, why have legions of Celtic supporters never heard of Tony McBride? He was part of the Quality Street Gang, the glorious parade of young Celtic talent that came through the ranks at Celtic in the sixties as so well chronicled by Paul John Dykes in his superb book of the same name.
"We are talking about the likes of Kenny Dalgish, Davie Hay, Danny McGrain, George Connelly, Lou Macari, Paul Wilson, Vic Davidson and Jimmy Quinn. And Tony McBride.
"We know what happened to the others, but my old school chum never made a first-team appearance. On the day he was set to make his debut – after Big Jock's ringing endorsement of his qualities – his appendix burst and he was whisked off to hospital. He should have been centre stage at his favourite team realising his dream of playing for Celtic.
"That pretty much summed up Tony McBride's luck. There are many reasons why his name is not feted by the supporters. Let's just say his lifestyle choices were not the best.
"Reluctantly, Jock Stein released him. It must have been a devastating blow for a teenager who it has to be admitted was a bit of a wild spirit. A couple of days after he had been told he had no future at the club, I was making my way into Celtic Park with a few friends for a league game against Aberdeen. It was a crucial match, as I recall, and I received a tap on the shoulder from someone behind me.
"I turned to identity the individual and there was Tony, with a giant green-and-white woolly scarf around his neck. He wasn't allowed to play for Celtic, but he was still going to support them. He had a big smile on his face. That was Tony McBride.
"I was with Davie Hay at Linn Crematorium yesterday, Saturday November 23, to say farewell to an old pal. Tony had passed away peacefully in his sleep nine days earlier.
"It was a pleasure knowing the guy and it will remain a sadness that Tony McBride never lit up Paradise with his dazzling qualities. A genuine case of what might have been.
"Rest In Peace, Tony."
Click Here for Comments >