GIFTED 19-year-old midfielder Joe Thomson has agreed a new two-year deal with Celtic.
The highly-rated youngster made his competitive debut last season in the second-half of a 3-1 victory over Dundee United at Tannadice.
Thomson started pre-season training with Brendan Rodgers' first-team at Lennoxtown and admitted he was delighted to commit his immediate future to the Hoops.
Speaking to the official club website the player said: "I was pleased to get offered the deal and I have to now keep my feet on the ground, keep focused and not get ahead of myself then just show people why I've been offered the deal and then kick on.
"First and foremost, I need to try to get the manager's eye in training. It remains to be seen if I need to go on loan or not to do that, but I'll just give 100 per cent in every session and game.
"I've trained with the first team a couple of times before they went away for pre-season and the training seems very good. It's a high intensity and everyone is working hard.
"Although I only played 15 minutes on my debut last season, I learned a lot from it. It was a lot quicker than it was at Under-20s and even in the pre-season friendlies it was still a lot faster and a jump up, but that's one I want and need to make if I want to get anywhere."
Thomson added: "The manager, Brendan Rodgers, started out as a youth coach and worked his way up, so he's someone who knows what it's like to work with younger players and he'll give all of us good advice, feedback and tell us what we need to make it.
"Hopefully, he'll give myself and a few other lads a chance.
"I'm very thankful to Ronny Deila for giving me the chance to make not only my competitive debut, but for giving me a chance in the pre-season friendlies.
"However, there is a new manager now and it's a new start, so I have to do well to try to impress him.
"I just need to progress as a player and if I can work on the aspects that I know I need to improve on then, hopefully, I can make a real push.
"If not, maybe I need to go out and play some form of first team football, but that's hopefully going to be here."
——————————
ONCE UPON A TIME IN THE KINGDOM OF GOVANIA
Let's all laugh at Rangers, let's all laugh at Sevco…the story of the two Ibrox clubs told brilliantly by CQN poster Mea Culpa and illustrated by Cartuja. This is a fantasy story book for grown-ups and is the funniest thing you will read all year!
Once Upon a Time in the KINGdom of Govania is an Escape Goat Production for Celtic Quick News and Internet Bampots.
Available to order now exclusively from 
www.cqnbookstore.com 
– copies arrive this Friday! If you're going on holiday soon take this to read on the beach…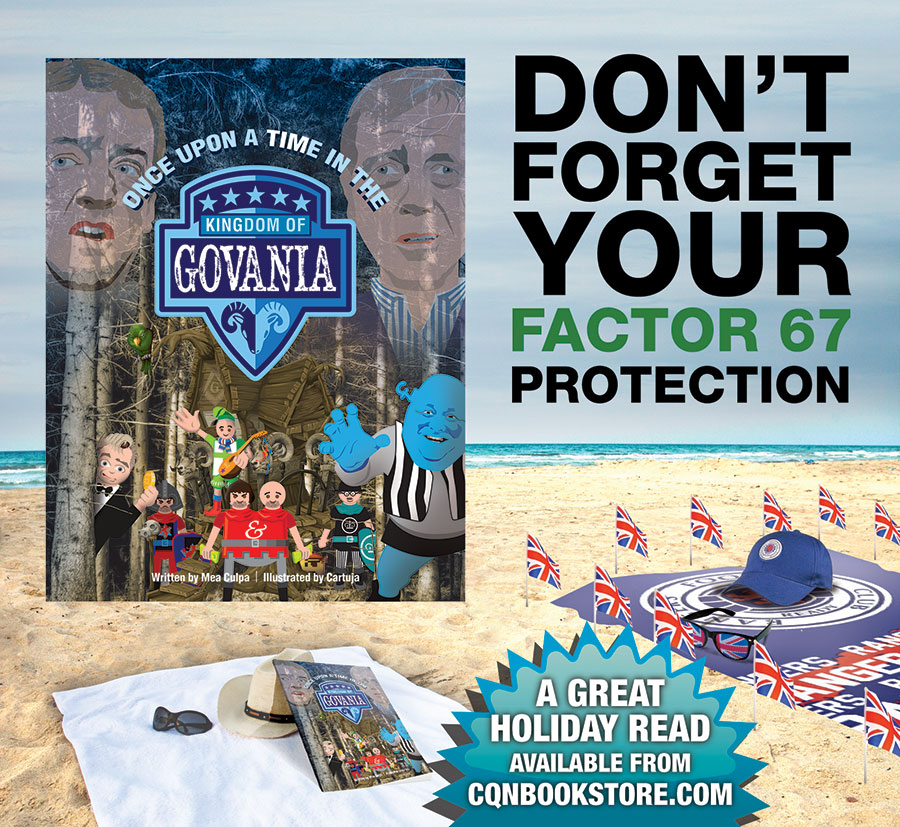 Click Here for Comments >