BRENDAN RODGERS has admitted Kieran Tierney needed a mere two days to show him he was going to be a top-class footballer.
In the first week of pre-season training at Lennoxtown, the Celtic boss has been discovering the abilities of his new players.
Tierney has already persuaded him of his outstanding talent. Rodgers was looking forward to seeing the teenage left-back who earned rave reviews last season after taking over from Emilio Izaguirre.
The Hoops gaffer said: "I saw in the first two days I was in charge that Kieran Tierney will be a top player.
"He's a 19-year-old kid and probably before the start of last season no-one would have heard of him.
"But I can tell you that I know from my experience of working in England in the middle section and at the top end of the league, that this kid will be a top player. For sure. Absolutely 100 per cent he will be.
"Having worked with young players – and lots of them – and seen them grow and develop into top stars, there's no question about that.
"What stood out about him? Just about everything. His attitude and he's quicker than what I thought. I had only seen him on the telly in highlights and clips, but when you see him close up, he's a super athlete. He's strong, quick, balanced, aggressive, has a wonderful left foot and will get better.
"Of course, he still has bits where he could improve, but he defends well, he's hard to beat, he wants to go forward, he's a good size and he has personality."
Rodgers added: "I have to say, from being in England for so long and working in the Premier League, I grew up seeing top Scottish players. I looked at Allan Johnston the other night, he would probably never remember it, but I recall being at Manchester United as a young player when he was there. He was 13 and now he's like me, old and starting to lose the hair a wee bit.
"But I was at Liverpool and down through the years they have had a wonderful tradition of Scottish players, so the talent is there.
"Socially, things have changed now as well and things are different because of that. But there is no doubt the country has talent, it is just about honing it and making it work.
"Some of the young kids here in the training sessions, with the intensity and tempo, deal with things really well.
"That was two training sessions I put on at the very top level of the game. So, it is still very early and it's not all about the talent.
"You also need to have to have the personality to succeed. That will help determine whether your talent is wasted or not."
Tierney said: "I went to over to Tenerife for 10 days and then across to the Isle of Man for TT week. That was great and the weather there was outstanding.
"I went to see Rod Stewart, too, and what a guy he is. He put on a terrific show for which I had front row tickets, it was perfect.
"It was good to have some time off during the close season, but the hard work starts now.
"Everybody is buzzing just to be back in training and we all want to start kicking a ball again.
"I'm well aware that I'll need to work really hard in pre-season to try and impress the new manager.
"We met with him on Monday and it went very well. He was showing us what he thinks and what he wants us to do. I spoke to him for a few minutes and I am sure I will speak to him more over the coming weeks.
"It was great when we heard he was coming in as the new manager because has great experience of working with young players and he's a Celtic fan, too.
"I think it always helps a lot if you know what the club is all about and he does."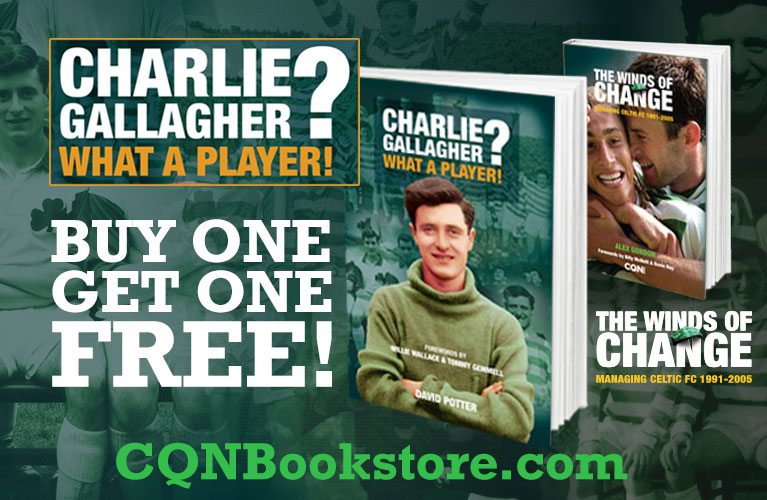 Click Here for Comments >