FORMER Celtic loan star John Guidetti has been given the boot by Celta Vigo.
The Swedish international striker rejected a permanent move to the Hoops after his 15-goal loan season from Manchester City in 2014/15.
He opted for La Liga after quitting the Etihad giants at the end of his contract, but things have gone disastrously wrong for the 25-year-old frontman.
Guidetti hasn't started a game in the first half of the campaign and has failed to score a solitary goal in eight appearances as a substitute. He has played a total of 105 minutes in the league.
He has now joined struggling Alaves on loan until the end of the season.
I'm very happy to join the club @Alaves. I look forward to playing for the team and I'm very honored to be the first Swedish player selected by the club. ⚪️ #deportivoalaves #goazenglorioso pic.twitter.com/Rrq4UUW3FZ

— John Guidetti (@superguidetti) January 8, 2018
The former Parkhead fans' favourite said: "I play, I run and I always try with all my heart.
"I like to help my team-mates and the team to win games.
"I want to win everything – football, cards, Monopoly. If I do not get it, I get very angry."
He added: "I'm very happy to join the club and I look forward to playing for the team.
"I am very honoured to be the first Swedish player selected by the club."
Guidetti, who has also played for Feyenoord, Burnley and Stoke City, is out of contract in the summer and effectively his career at Celta Vigo is over.
Alaves are 18th in La Liga after their 2-0 defeat at Athletic Bilbao at the weekend.
The CQN Podcast: A Celtic State of Mind (EP28) with former Celtic director Tom Grant
Paul John Dykes and Kevin Graham are joined by Celtic's ex-director, Tom Grant, who offers a fascinating insight into the running of the club in the 1980s and 1990s.
Tom Grant explains exactly why Celtic refused to complete the Mo Johnston transfer in 1989, and lifts the lid on audacious efforts by Billy McNeill to recruit Peter Beardsley and Steve Bruce.
Tom Grant also dissects his relationship with Fergus McCann, and the impact of the 'Celts For Change' movement in overturning the 'family dynasty' board in 1994.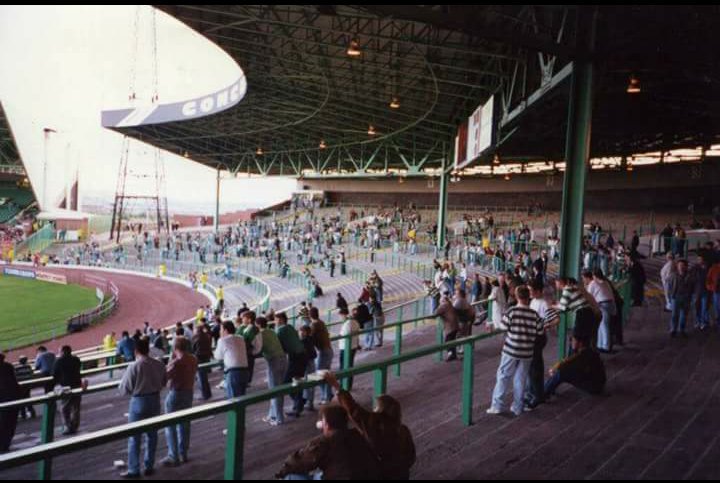 Microgaming's Football Star Slot Is Keeping Their Fans Thrilled
It has been a while since we've seen a truly five-star new football-themed slot, but as ever the Microgaming team has come up trumps. Anyone can score and win in Football Star online slot machine, but fans of the world's most popular sport will truly delight in the amazing match day atmosphere this game provides. As would be expected this is a highly polished slot game with cutting-edge graphics and overall presentation. Yet it also has a generous payout and reward structure that will more than satisfy players hoping to hit a quality jackpot. So without further ado, let's take a closer look at what makes Football Star quite possibly the best football slot on the market.
Classic Microgaming Production Values
It's no secret that Microgaming are have been the leading slots game development company for the best part of nearly two decades. Key to the Isle of Man based company's success has been an almost supernatural knack of delivering the best looking and most atmospheric playing experience. The theme behind Football Star is a packed out match day stadium with all the thrills and spills from the pitch translated into the classic five reel, three rows format.
The presentation is absolutely gorgeous and works just as well on a smartphone screen as it does on a larger tablet or PC. As the match continues there's a near constant flow of new animations and effects to simulate how quickly fortunes can change over 90 minutes. An interesting feature that we'd like to see more of is the gasps of the crowd as a player just misses out on a big return, and of course, the roars of delight as a star striker converts a glorious chance.
Players will notice that just like a real game of football, there is an uncanny sense of momentum depending on how your 'team' has been performing. This is a slot that when it's hot is going to delight any slots fan – it doesn't have quite that feeling of randomness that often seems typical from lesser quality production companies.
A Very Generous Bonus System
So far it's more than reasonable to say that after a half hour or so playing Football Star, even the most demanding player is going to be having a ball (forgive the terrible pun!). However, it's even easier to enjoy a quality slot when it happens to have a very generous selection of bonus and jackpot opportunities.
Thanks to an intricate combination of Rolling Reels, Stacked Wilds, and an all-important Striking Wild (representing an opportunity to strike on goal) players are rarely going to be waiting long for a chance to make a return. The reward system may sound confusing but in fact, serves to add to the football theme. Players can choose to take an easy opportunity to make a quick yet limited return, or instead take their chances by sticking with the Rolling Reels to score a goal of the season.
A Top Quality Medium Variance Slot
This slot does allow for a generous and regular payout system that seems to actually be more frequent than the advertised 95-97% (nothing not to like there!). However, we would warn new players that to hit the big bucks you really need to maximize the potential whenever you see the 'wild' Football Star logo appear on one of your reels. That's the only way to hit the maximum 250X jackpot – which when we consider that the accepted bets vary between 0.5 and 50 can result in quite amazing payouts.
So overall there's very little to criticize about Microgaming's Football Star. It is a superlative game that goes a long way towards filling a surprising gap in the online slots market. Even players who may not even enjoy football will find it tricky to ignore the quality of the presentation and overall gameplay that is on offer here. Once again, it appears that the Manx company has produced yet another screamer of a slot – and long may it continue!
Click Here for Comments >