CELTIC travel to Perth on Saturday morning for the lunchtime kick-off as they aim to break the British record that Willie Maley's Celtic side set between 1915-17.
McDiarmid Park if of course the last ground in Scotland where Celtic suffered a defeat. Indeed Celtic have played in England a few times, over in Dublin and in Belfast without losing.
You have to go back to the second last game under Ronny Deila, when the league was already won and Celtic travelled to Perth on a lovely May evening. Leigh Griffiths gave Celtic an early lead but Celtic ended up losing the game 2-1, partly due to Stefan Johansen kicking the turf instead of the ball inside his own penalty area and in doing so he gifted the Saints a goal.
It didn't seem that important at the time and no-one would particularly remember the incident, if it were not for the fact that Ronny's side beat Motherwell 7-0 on trophy day 2016 and then Brendan Rodgers took over for the next 60 games and has managed to avoid defeat in any of them.
So St Johnstone will be looking for a record of their own on Saturday, by book marking Celtic's record equalling British record with two home wins against the Scottish Champions.
"We still go into Saturday's game thinking we can win," St Johnstone manager Tommy Wright said today.
"We have always been capable of throwing up surprise results and Saturday is no different."
Wright's side gave Celtic a fright back in February before Celtic, aided by a wonder goal by Moussa Dembele, fought back to take the points. But it was one of the few real scares Celtic got last season, the other one that springs to mind is the 2-0 to Motherwell half time scoreline from Fir Park last December. Again Celtic found a way that day to get the three points.
But Wright reckons he knows how to get something against Celtic.
"The key to anything you do against them is what happens when you get the ball," he stated.
"You have to be prepared to take the ball and be prepared to play against them.
"If you defend well but keep giving the ball back to them, eventually they will wear you down and very quickly, if they get that first goal, they can score two or three in a short space of time."
That's all well and good but an more immediate concern for the supporters making their way to the early kick off is actually getting there on time. There are major roadworks on the A9 leading up to the ground and the slip road at the Garden Centre, which is usually used by the traveling supporters buses is closed.
There is a diversion in place, effectively continuing to the next roundabout then doubling back towards the stadium. Reports locally are saying that is causing chaos and delayed of up to an hour.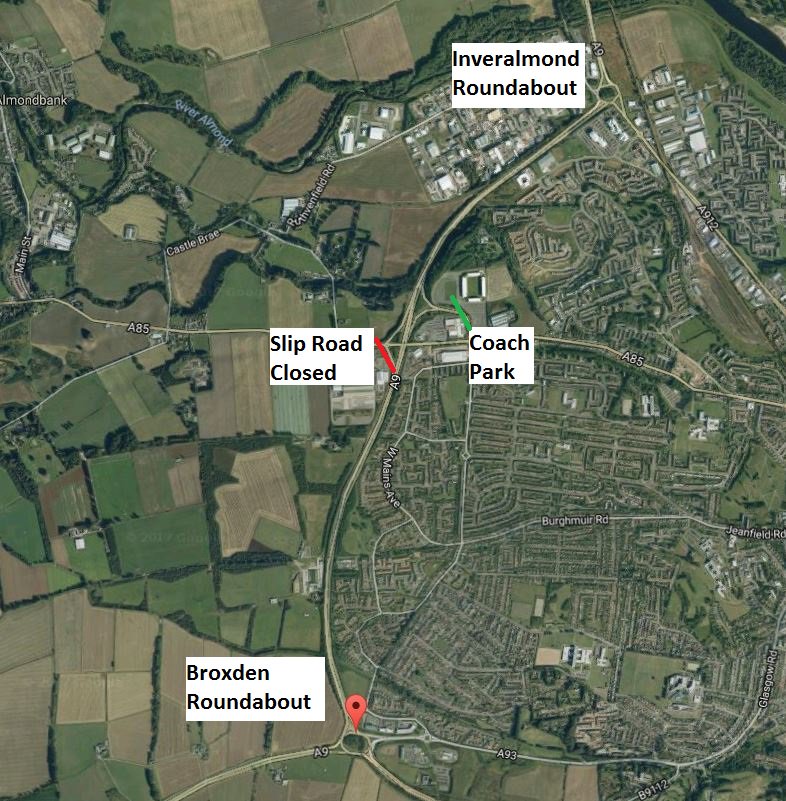 Celtic's SLO John Paul Taylor with in Perth today and posted a warning about this on social media.
"Just returned from Perth, major road works means all vehicles must use inveralmond roundabout, allow an extra hour.
"I've been told of cases where it's taken 45 mins to get from the Broxden Roundabout to the Stadium," he wrote.
Celtic supporter Michael Dickson confirmed the scale of the problem facing the supporters buses this Saturday.
"I live in Perth and the roadworks are causing havoc! Sound advice from John Paul Taylor," he stated.
Some alternative routes suggested are as follows:
"Folk should take A912 Perth city centre when they get to Broxden Roundabout – much quicker," Slimshady suggested.
"Down past the broxden roundabout turn left at second roundabout and head through letham. Will come out down next to BnQ accross from ground," reckoned Shaun Ward.
Be early Bhoys and Ghirls and be good Celtic.
Oh and talking about John Paul Taylor, the Celtic SLO shared this message he received from a Bayern Munich supporter who travelled to Glasgow for the match on Tuesday evening.
ORDER BRENDAN RODGERS – THE ROAD TO PARADISE WITH A FREE GIFT INCLUDED FROM CQNBOOKSTORE.COM
Brendan Rodgers – The Road to Paradise is available now from CQNBookstore.com – the first 100 orders received will come with a free gift.
Click Here for Comments >