JOHN 'YOGI' HUGHES made his Old Firm league debut as a raw 17-year-old winger back on September 10 1960.
The club's eighth highest goalscorer with 189 strikes became a veteran of the world-famous fixture and often took centre stage against the men from Ibrox.
Former fans' favourite Hughes, who passed away in August last year at the ege of 79, revealed all about his experiences to author Alex Gordon in his best-selling autobiography, 'YOGI BARE: The Life and Times of a Celtic Legend', which was published in 2014.
In another CQN EXCLUSIVE, we print an extract for the club great's memoirs.
Please enjoy!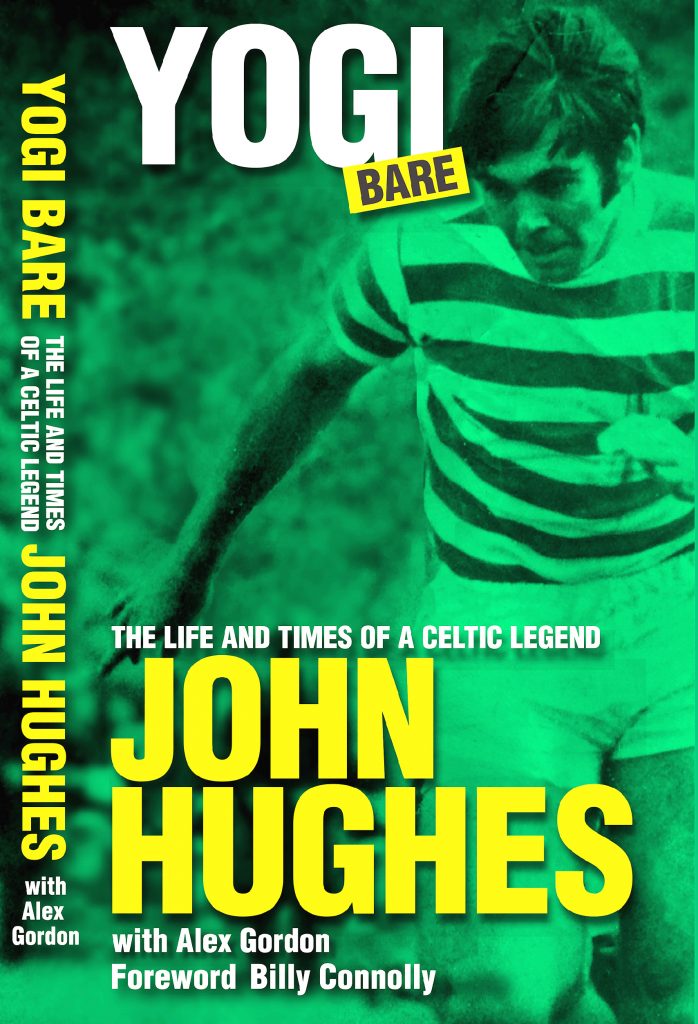 MEETINGS with Rangers could often produce fireworks and I will never forget my first league appearance in these fraught fixtures on an unforgettable – for all the wrong reasons – Saturday afternoon on September 10 1960.
I was 17 years old and absolutely bursting with anticipation before the confrontation. Manager Jimmy McGrory didn't have to fire me up for the occasion. I ran out onto the park to be greeted with a packed crowd, one half green and white, the other predominantly blue.
That's the way they did it in those days. Rangers got half of Celtic Park for their supporters and we had a similar arrangement for our fans at Ibrox. I have to admit it was an extremely strange occurrence when one team scored and one half went doolally with delight and the other was cloaked in silence.
On that particular day, I looked around the Celtic dressing room and saw colleagues such as Dunky Mackay, a superb right-back who was ahead of his time. He liked to push forward, but that was frowned upon by the less-than-gifted backroom staff who were hardly blessed with tactical genius. God help the full-back who dared to venture across the halfway line.
UPS AND DOWNS…the story of Celtic's 5-1 collapse against Rangers at Parkhead in September 1960 as winger Alex Scott races away from grounded centre-half John Kurila.
Paddy Crerand, already a Scottish international, was in the right-half berth while the celebrated Northern Ireland captain Bertie Peacock was on the left. A bloke called John Kurila – nicknamed 'Gorilla' – was in between them at centre-half. He did his best to live up to his nom-de-plum.
Stevie Chalmers, pacy, direct and alert, was in attack alongside John Divers, a player who was completely under-rated at the club. I found myself lining up at outside-left.
I knew all about the Rangers right-back and skipper Bobby Shearer. He was known as 'Captain Cutlass' and I don't think that was a testimony to his elegant footballing skills.
He was the type of defender who could pass the ball about one hundred yards. I was soon to find out that he would try to reach the same distance with an opposing winger.
DENIED…John Hughes sees a close-range shot blocked by Rangers keeper Billy Ritchie in a 2-2 draw in 1961.
Bobby was a lovely guy off the field, all very friendly and suchlike. On the pitch, he was an animal. The Ibrox stalwart would sidle up to me and whisper in my ear, 'Try that again, son, and I'll break your leg.' Nice to meet you, too, Mr Cutlass.
However, it wasn't Rangers' stocky wee right-back who made the biggest impact on me that afternoon. That honour fell to Harold Davis, a lump of granite masquerading as a right-half. He was known as 'a real Rangers man'. I reckoned that meant he would kick lumps out of his granny in the Ibrox side's cause.
It must be said that Davis had such limited footballing ability that he never won a single Scotland cap and those were the days when it seemed you just had to walk through the front door at Ibrox to have international reckoning thrust upon you.
My goodness, even the pedestrian Shearer represented his country four times. Mind you, one of those occasions was the 9-3 defeat from England at Wembley in 1961, so that might tell you all you need to know. (We'll overlook the fact that Celtic's Frank Haffey was in goal that afternoon.)
Davis was seen by some as a war hero after fighting in the Black Watch Regiment during the Korean War in the early fifties. He was injured after being hit by shrapnel and was hospitalised for about two years. Apparently, his disability pension was still valid while he was turning out every week for Rangers. Interesting, that.
TWO VERSUS ONE…teenager John Hughes takes on Rangers defenders Eric Caldow and Doug Baillie at Ibrox.
Anyway, he was 27 years old when I faced up to him in the east end of Glasgow that September afternoon and it seemed to me that he believed it might be a good idea if yours truly ended up in casualty for a lengthy spell.
It breaks my heart to recall that game, but Rangers trounced us 5-1. As a matter of fact, Stevie Chalmers got our consolation goal in the last minute to prevent that reverse being our biggest loss to the Ibrox side in the Twentieth Century. I wouldn't have wanted that stain on my CV.
I was reminded how painful such an emphatic Old Firm defeat can be, physically as well as mentally, at one stage during the second-half.
Sadly, it was a one-way procession towards John Fallon and it appeared the likes of Ralph Brand, Jimmy Millar and Davie Wilson were queuing up to take pot shots at our exposed goalkeeper. Rangers were leading 4-0 when someone managed to get the ball out of our half.
I turned to chase it when I suddenly felt this sharp pain in the pit of my stomach. Harold Davis had just delivered a punch to my solar plexus that Floyd Paterson, the world heavyweight boxing champion at the time, would have been proud to claim as one of his own.
THE END OF THE ROUT…John Fallon is left helpless as Harld Davis slams in No.5 in an afternoon to forget for Celtic at Parkhead in September 1960.
It wasn't an elbow or a shoulder charge or even a push; it was a sneaky punch delivered as hard as possible by the Korean war 'hero'. I went down in a heap, the wind completely taken out of me.
The referee either didn't see it or didn't think it warranted a foul on our behalf and took no action. So, that was my first meeting with Harold Davis, an individual who was fighting in Korea while I was still at my Coatbridge primary school.
I didn't look for any special dispensation or consideration while playing for Celtic as a raw youngster, but neither did I expect a belt in the guts from a so-called model professional. I learned there and then that you had to grow up very swiftly in this no-punches-pulled – literally – environment.
The Rangers player would never have realised it, but he did me a massive favour with his pathetic and devious act. It made me understand I would always have to stand up and be counted in the frantic, hell-for-leather atmosphere of a Glasgow derby, where, clearly, no favour was asked or given.
Lesson learned.
* TOMORROW: Don't miss another Celtic v Rangers EXCLUSIVE from Big Yogi – only in your champion CQN.
Click Here for Comments >