CELTIC were forced to play TWO games in the ONE day as they clinched their thirteenth league title back in 1916.
It was on this day, exactly 107 years ago, Willie Maley's proud Bhoys lifted the flag in the most bizarre of situations.
The heroic tale is told by author Alex Gordon in his fifteenth Celtic book, '50 Flags Plus One', a tribute publication to the club's first 51 untainted title successes.
Here is an extract from the chapter covering that historic day.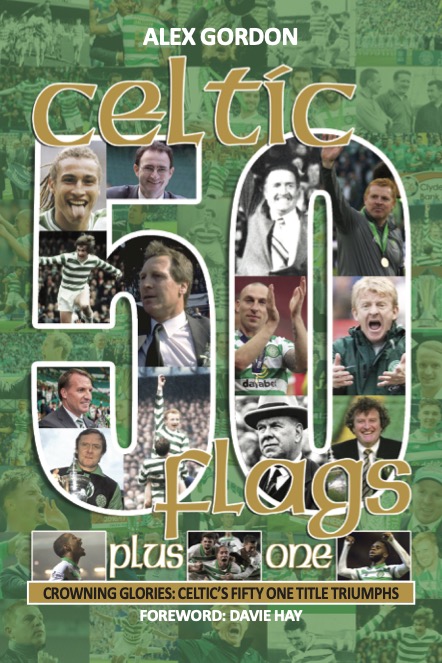 CELTIC claimed their thirteenth championship in the strangest of circumstances when they were forced to play two games in the same day – and won them both.
Couldn't happen today, but season 1915/16 could hardly be held up as a comparison as a war raged on and conscription had been introduced.
The stamina of the players was put severely to the test on the Saturday of April 15 when, for the one and only time in the club's history, they were required to play Raith Rovers in the east end of Glasgow in the afternoon and make their way to face Motherwell in the evening.
A daunting double task, but one that may have been a little more comfortable by the fact the Lanarkshire club had a fixture against Ayr United to fulfil that afternoon, as well.
The unusual situation arose after the original Fir Park game had been postponed from its March 23 date because of adverse weather conditions.
There was no chance of authorities allowing it to be played on a Sunday, so it would be a case of two into one having to go and the last team standing to be declared winners as both sets of players attempted to squeeze ninety extra minutes out of their exhausted limbs.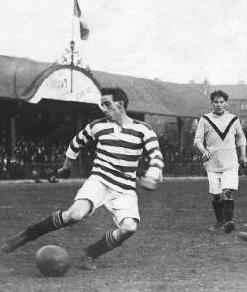 ON THE BALL…Patsy Gallacher turns on the style in a game against Airdrie.
Peerless Patsy Gallacher got the ball rolling in the first match when he rose to the occasion in his usual tantalising fashion and fired in an unstoppable hat-trick in a 6-0 triumph over the Fifers. Joe O'Kane, with a double, and Joe Dodds chipped in with the others.
Celtic were in fine fettle for the forthcoming quickfire challenge. Manager Willie Maley made only one change for the evening kick-off with Joe Cassidy replacing O'Kane.
They emerged victorious after a pulverising performance with Jimmy McMenemy, Joe Dodds, with a penalty-kick, and Johnny Browning scoring the goals that earned them a 3-1 win.
It really was a triumph in the face of adversity, but the Celts, laudably, stood up to be counted and no-one could deny them their tag as worthy champions of Scotland.
At the start of the campaign, they had emphasised their ambitions by racing through the first ten fixtures with an impeccable record which included a 2-1 Glasgow Cup Final success over Rangers in front of 70,000 spectators at Hampden.
Displaying truly heroic courage, Jimmy McMenemy and Joe Dodds turned out that day, despite both having a brother recently killed in the Battle of Loos. Challenging times produced remarkable characters.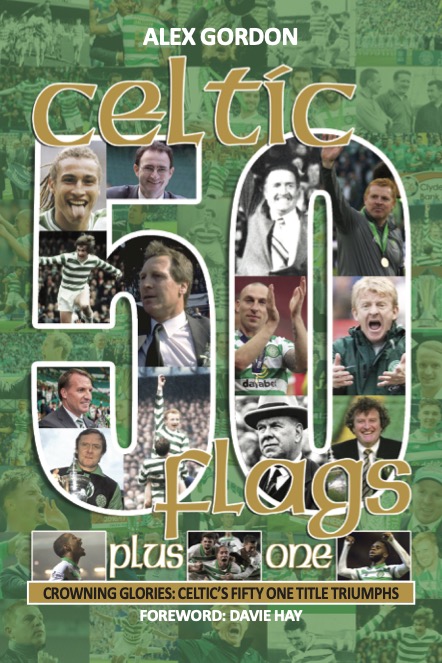 READ ALL ABOUT IT…Alex Gordon's fifteenth Celtic book, '50 Flags Plus One'.
As the team left 1915 behind, they were vying at the top of the league with Rangers. The New Year's Day encounter in the east end of Glasgow ended in a 2-2 stalemate with 40,000 watching the action. There seems little doubt the home side were out of luck.
They were leading 2-1 through goals from Andy McAtee and Jimmy McColl before Alec McNair deflected an effort beyond the helpless Charlie Shaw for the equaliser.
Rangers, it was noted in The Glasgow Herald, were "a vastly inferior side and indebted for partial success to fortune which bore no resemblance to their play."
It added: "The referee was successful in his efforts to be just and impartial, so when he gave a free-kick when a penalty-kick seemed the obvious decision and disallowed a goal to one home forward for an apparent infringement by another, these decisions resembled the play of the home team as being excellent and unfortunate from a home point of view.
"Seldom does one find two such unevenly matched teams finish level."
Celtic won their three March fixtures, beating Kilmarnock 3-0, Hamilton Accies 5-1 and St Mirren 5-0. There was a hiccup on April 1 with a goalless confrontation with Morton at Cappielow.
However, normal service was resumed with a 2-0 victory over Falkirk and the title was on its way a week later with the historic double-header against Raith Rovers and Motherwell.
In the end, Celtic lifted the titles by eleven points.
It was a fairly emphatic – and unique – way to deliver the thirteenth flag.
Click Here for Comments >