CELTIC yesterday strolled past Stranraer and will take their place in this evening's Scottish Cup draw. Leigh Griffiths and Calton Cole got the goals but unsurprisingly the post match coverage has focused on the events not on the pitch but on the terracing as an element of the away Celtic support acted in a manner that had manager Ronny Delia calling for an end to behaviour that he believes will get Celtic a bad name. 
The Celtic buses en route to Stranraer were stopped at Girven by Police Scotland and any alcohol on the buses was removed and poured away – much to the annoyance of those who brought the booze onto the buses.
It should be noted that it is an offence to bring alcohol onto supporters buses in Scotland – a consequence of previous generations of football supporters bad behaviour.
Indeed most of those involved yesterday were not even born when the 1980 Scottish Cup Final victory for Celtic over rivals Rangers ended in a pitch invasion and riot. After that booze was banned from Scottish football.
The kick off at Stranraer was delayed as flares from the Celtic supporters, behind a large Ultras banner, were thrown onto the pitch creating a dangerous smoke cloud which can cause serious health issues for asthmatics.
Speaking after the match Ronny Deila said this:
"We don't want this. It's something that is making a bad reputation for the club.
"So this is absolutely something we need to get stopped.
"It is not positive for anybody and we, as a club, don't want to have anything to do with this.
"It's not my job – but I'm a part of this club.
"We've talked about it a lot and we have to get it away from this club.
"I'm not from here so I don't know what kind of sanctions we could face.
"But what I can say is that it's important we follow the rules – and that people are safe when they come to football matches.
"That is why we have football as a cultural thing that everybody can be part of.
"Safety has to be the most important thing in every game we play."
Celtic are currently awaiting their fate from a UEFA charge after the latest flare incident occurred in Turkey at the 1-1 drawn match against Fenerbahce.
The wider Celtic supporter is also less than impressed with the continued use of flares by the Celtic Ultras which includes the Green Brigade. It should also be noted that the issue isn't restricted to Celtic 'Ultras' and on the same ground last season Dundee United supporters also let off flares on their Scottish Cup match.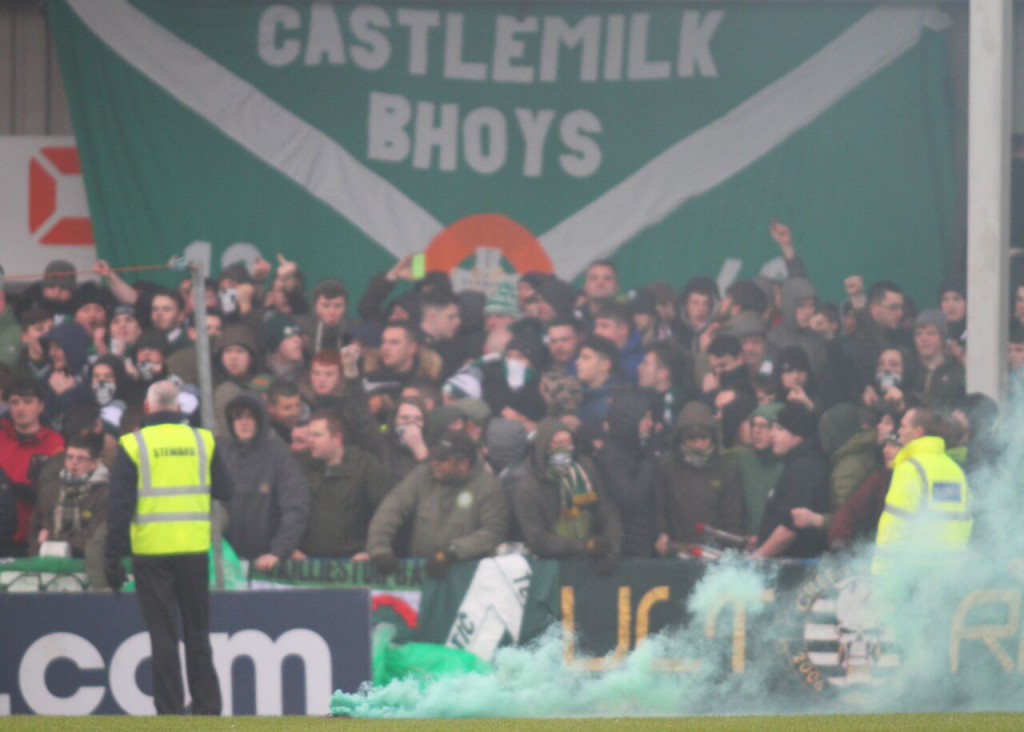 Writing on the CQN Magazine Facebook page, hoops supporter John Mcginley had this to say:
"We don't need this gb mob they think they are bigger than the club, the club has been going since 1888 till now, you're gb followers or hangers on bring shame on the club on a regular basis since 2006 ! Sort it out or get to ! Our decent fans don't need this."
Dean McCabe was concerned about the health implications and accused those who continually set off these flares as being selfish. He said:
"Other fans, with conditions that can be aggravated by the smoke from these flares have asked for it to stop…this should be enough, but there are some fans who care about nothing other than their own wee world…not about the club who will pay fines or other fans who have to deal with the criticism and the smoke. Utter selfishness."
Patrick Conway had this to say to the flare throwers:
"These so called 'fans', if they truly care for our great club, should just STOP – plain and simple!"
Gary Chapman was just as blunt, saying:
"Bottom line is that flares are dangerous and have absolutely no place at a football game. Does someone have to get hurt before you see sense?"
Neither Mahatma Coat and Colin Dolan can see the point in setting off flares at football matches:
Mahatma commented:"What is the point of setting off flares??? It's idiotic and an embarrassment to all true Celtic fans."
Colin said: What is the point, what was achieved, every time the club is fined, it's about time the guilty were forced to cough up rather than cause those around them to cough up or the club!
Craig Govan reckons the flare throwers are cowards, saying:
"A bunch of cowards covering up their faces ffs what will it take for this to stop somebody to lose an eye or worse?"
Helen Loughran had this to say:
"I absolutely hate this , if for no other reason than the utter feckin joy it gives the smsm and other "non partisan " commentators . This isn't defiance it's acting like a bunch of total tits . Grow the f*** up."
One 17 year old Celtic supporter who attended the match emailed CQN from the supporters bus on the way home:
"Some Celtic supporters in the West Stand let off multiple smoke bombs, flares and streamers. The antics of this section amongst the away support began to attract the attention of Police Scotland – with the first flare seeing two Constables attempt to obtain the individual responsible. However, due to the sheer number of supporters in between, no one was arrested.
"As the game progressed and more flares were set off and rebel songs were being sung , so the Police began to turn their cameras towards the West Terrace. The songs and flares continued and the Police, with the help of stewards, stood in front of the small Terrace, blocking the view of all in front few rows. Despite this, the group, in defiance, continued to sing, although, it should be noted that they wouldn't know what's happening on the pitch due to the wall of bodies completely obstructing their view. Many of these supporters simply turned their backs to the game and continued to sing various songs, including rebel songs."
The BBC's Sportscene programme tried to widen the charge list from Stranraer accusing the Celtic support of 'sectarian singing', something that simply did not happen. Republican songs were sung – something that Celtic are against – and in Scotland these songs are almost certainly deemed to be 'Offensive' under the recent legislation. So 'Offensive' (to some) singing – maybe. Sectarian singing? No. The BBC should really know the difference.
Click Here for Comments >