I get confused with these de Boer boys, one was decent, one was very good, was it one or both who borrowed money through a Rangers Employee Benefit Trust? Who cares, what's important is that many more than just de Boers took money through EBTs, leading to an unsightly liquidation.
It's surprising, therefore, to read the Ajax manager refer in his media conference to the consequences of those EBTs, namely "the loss of Rangers". The price, Mr de Boer, is an honest, clean, game, where everyone respects the rules. No one hides documents from HMRC, the SFA or SPFL. No one goes through the indignity of having their instructions to shred their contract read out in court.  No club would live in fear of having to submit ALL required information to a league Commission.
The price is a clean game and we are thankful for it.
News that Scott Brown is out for several months was an enormous blow. Added to the suspensions of Nir Bitton and Stefan Johansen and we are totally without central midfielders. Charlie Mulgrew has been out for 10 weeks and may limp onto the field, but this will, without doubt, be an emergency line-up.
Despite that, there's no Surrender Monkeys here. Celtic are never stronger than when they're underestimated, an no one underestimates opponents quite the way Frank de Boer did yesterday.  Bring it on.
Mike Ashley, why do they prod him with a stick? Don't make statements which he can and will easily refute.
Bucketeers!
I watched and read the response to the Foundation Sleep-Out event earlier this month. Celtic fans do things in the name of our club which continues to astonish. If you've not gotten involved yet, you can do so on Saturday.
Before the Hamilton game the Foundation are having their annual Christmas Appeal Bucket Collection. Come along early, pick up a bib and bucket, and get a free ticket to the game. It's great fun, a great cause and a wonderful way to pay a bit back to the ethos which brings you to Celtic Park.
Thanks to all who've bought The Winds of Change, a great read for anyone who lived through the great changes in our club from Liam Brady to Martin O'Neill.
Alex Gordon picks up the story in 1991 as Liam Brady replaces Billy McNeill and the Celtic support were about to have their boast of being 'faithful through and through' put to the ultimate test as barren years followed.
Eight Celtic managers, if you include Kenny Dalglish, sat in the Celtic dugout as our manager with some being much more successful than others. The book ends with Martin O'Neill leaving but there was time for CQN to add a note about the events of November 4, 2015 so that the reader can appreciate the task Celtic faced in these years, playing opponents with a loaded dice.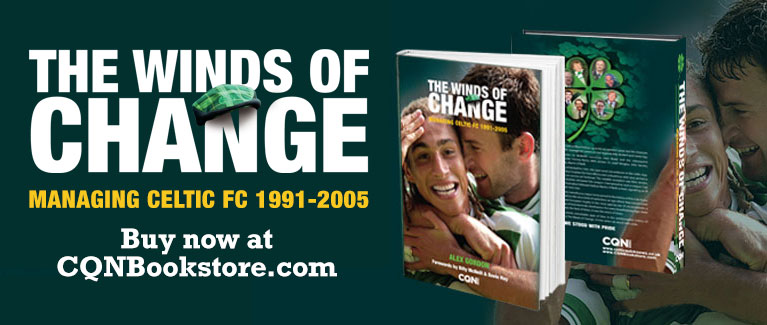 Click Here for Comments >