Celticrollercoaster sent me this incredible story of how he added Kenny Dalglish and Roy Aitken's signatures to the Celtic tops being auctioned for the Walk with Shay campaign. King Kenny, showing his legendary affinity with the fans…………..
This is part three of the story. You can find part one here, and part two here.
Club Captain No 8. Kenny Dalglish-September 2015
I had been chasing Kenny for a while with no success. I had tried to tweet him with no response and then tried his daughter, Kelly Cates who did respond but effectively palmed me off saying that I should contact the club. Which club I thought? Kenny even turned up at my kids' school one day as part of the McDonalds football programme, but I found out afterwards, which was obviously too late.
So, I decided to speak with Tommy Boyd and asked for his help to try and get in touch with my first ever boyhood hero. I remember when he left Celtic in 1977, how heartbroken I was and how much I despised Liverpool for daring to buy my hero.
I said to Tommy, I would meet Kenny anywhere to make it easy, to which Tommy cheekily replied, "So you will go anywhere for Kenny, but I had to come to you?". Tommy's humour is always first class, just like his help. Tommy got hold of Kenny and explained the situation to him, and Kenny agreed to sign the tops on his next visit to Scotland. I thought excellent, that's another Captain nearly sorted, not realising the hard work I was still to go through to obtain Kenny's signature on both tops.
A couple of weeks passed and I received a text from Tommy on the Saturday, to say Kenny was playing in a celebrity golf tournament in Archerfield on the Sunday and would sign the tops. Tommy was just waiting for Kenny to confirm his tee off time. I looked up Archerfield and thought North Berwick, that's a nice round trip of 180 miles! I then looked at the golf course website and thought "Wow"
Kenny never did phone to confirm his tee off time, and Tommy told me just to drive up as Kenny was expecting me. This worried me slightly that I was going to turn up unannounced. I was about to set off for Archerfield, when my lad Declan said "Do you think Kenny will sign my top?" I said "you never know, do you want to come and meet him?" Declan's face lit up and off we set! I now had 3 tops to get signed. We were 30 minutes into the journey and I decide to stop my journey to phone Archerfield to explain my position. Turning up unannounced just didn't sit right with me.  The hotel could not be any more helpful and put me through to the clubhouse and I found out that Kenny's tee off time was 3pm, so there was no way I was going to make it in time. The tournament organiser, then suggested that I come up around 7pm and then we could grab Kenny as he came off the course into the clubhouse. I thought perfect and thanked the organiser for her help.
We arrived at Archerfield on time and having driven through the illustrious grounds, we parked up and headed for the clubhouse, passing a fleet of black Maserati's, which were to be used to ferry the guests from the clubhouse back to the hotel.  I caught up with the organiser and she invited Declan and myself to sit in the club reception and wait for Kenny to come in. So, there we were, sitting in the reception, waiting to see my boyhood hero, the man that would light up the world with that smile, every time he scored a goal. What could go wrong?
Kenny eventually came into the clubhouse, and I approached him calling out his name to get his attention. He turned around briefly, but continued to walk away. It was on the third shout that he stopped and I told him that Tommy Boyd had spoken to him about signing a couple of tops. Kenny stunned me by his response when he said "I'm signing one top only". So here I was on the back foot and racking my mind of how do I get the second top signed? In my mind, I had already parked my poor son's top down as a "no hoper". Strange thoughts go through your head at times like this. I was thinking perhaps I could copy the signature on the second top? Of course, you dismiss these thoughts in an instant, but it doesn't stop you thinking them.
I went on to say to Kenny, "But, it is for a wee baby with cerebral palsy". Kenny took the home top from me and said "You're taking a liberty" and went onto say "Who shall I make it out to?" I said to him, that we were auctioning the home top with all club captains' signatures, so just need him to sign it. He said "It's worth more, if I dedicate it to someone". I thought "Lying bassa", but kept my counsel and said "Could you just sign it please with your name only?" Kenny eventually signed the home top, shook my hand and moved to walk away. At the same time, I am now thinking, right how do I get the second top signed?  I need to find a common ground. I blurted out "I'm off to London on Monday, to see Big Roy Aitken!" This sparked an interest in Kenny, and he says "Big Roy, where's he nowadays?" Not sure if this was a trick question, but I mucked up the answer by saying "Saudi", to which Kenny answers, "Naw he isne, it's Dubai!" I thought bollocks, in this split-second I have mucked it up.  I quickly rescued the situation by showing Kenny, the text messages from Roy. He says "So you are going down to see Big Roy, give me the second top?" and duly signed it. I think magic, two down and look across to see Declan's excited but anxious face.
Am I going to let my son, down? Think CRC! Think! Again, he shakes my hand and moves to walk away again.  I say to him; "Does your Mum and Dad still drink in Stamperland Social Club?" Kenny looks surprised at my comment and says "Naw, that was Marina's Mum and Dad! How did you know this?" I come out with the killer line.  "They used to drink occasionally with my Mum and Dad…Would you mind signing my son's top and dedicating it to Declan, please?" "Sure" says Kenny.  He signs the third top, this time with his smile that I remember from his goal scoring days, and shakes my hand for the third and final time. Eventually I have to let him go! Where on earth, I pulled that rabbit from the hat, was beyond me, but job done. We got there in the end, once we got Kenny warned up, but it was a very hard shift indeed!
Club Captain no 9: Roy Aitken – September 2015
As I mentioned before, we would target a couple of Captains at the same time trying a number of different sources. Roy was always going to be a difficult one to find. I had googled and found out that he had gone across to Dubai to be David O'Leary's assistant at Al-Ahli in September 2013 from an article in The Scotsman, but I had no idea if he was still there. I decided to email Paul67 and asked him if he had any leads for Roy Aitken or Paul Lambert, who we were also trying to track down. Paul can back with a phone number for Roy Aitken that he managed to acquire from a journalist that spoke previously with Roy (probably in relation to the article I had picked up on about Roy), but he had no idea if this was still a current number.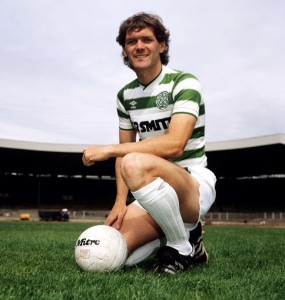 l decided to text Roy, with details of what I was doing and waited for a reply. A week went by and nothing. It was a Friday afternoon (This was always the day I seemed to gain inspiration) in July, and I thought right let's take a chance and phone the number. It seemed to ring for an eternity and then a voice answered. It was Roy, I recognised his voice, I reckon I had a couple of minutes to grab his attention and explained that I needed his help. Roy said "No problem, drop me a text again, with your email address and I will respond with my address and we can courier the tops across to Dubai and then back to you!" I thought brilliant and was on cloud nine.
My memories of Roy as a player started to flood back.  When I was a kid, my family would mostly go on holiday to Butlins in Ayr, and the football coaching sessions were taken by a lower league footballer ( I am sure it was an Arbroath player at the time, but his name escapes me) and on the final day, a Celtic footballer would also appear and both would take part in the exhibition match on the skating rink ( yes I kid you not, a skating rink!) with the two teams consisting of the "players of the week". There would also be a photo opportunity with the players and family. Bobby Lennox used to take part and then passed the mantle onto Roy Aitken. In the last year my family had gone to Ayr, I had managed to be selected to play in goals for one of the teams (probably due to a complete lack of decent keepers), and we won 5-4 with me saving a free kick from Roy. Yes, my CQN 5s skills were developing early.
Two or three weeks passed since my last contact with Roy and there was still no further reply. It was a Friday night and I was in the kitchen with Mrs CRC and we got onto discussing the tops and she asked if there was any word from Roy, and I said no. I went on to talk about my disappointment with Roy probably harnessing my memories of Roy as a kid, being a friendly loving guy. You tend to forget at times, that people have other things to do in their busy lives and it is not always about you and your needs! As I continued to talk about this, my phone buzzed as I had received a text. Incredibly, it was from Roy, and it read, "Marc, I may be across in the UK in August, so it may be easier to get the tops to me then. Be in touch!"  I thought incredible, Roy's ears must have been burning but he restored my faith once again in people and again heroes!
August, came and was about to disappear over the horizon, and I had heard nothing from Roy, so I decided to send him a text asking him if he had managed to firm up his plans about coming to the UK. At the same time, Plan B was forming thanks to another CQNer Greenlion2, who was also now helping us with this quest. He had been in touch with Joe Miller who was potentially going out to Dubai soon, and there was a potential that he could meet up with Roy.
Anyway, a couple of days later Roy came back to say he was going to be across the next weekend and would be staying in the Jumerah Carlton Tower Hotel in Knightsbridge, London and I should send the tops down marked for this attention.  Having discussed this with Andy F, we decided that it was too risky to send the tops with eight signatures (Kenny had not signed at this time!) on them through the post.  So a decision was made that I would fly down to London with the tops.  Brilliant, there I was ready to fly to London the following Monday to meet up with Roy. It was also this weekend, that Tommy Boyd had been in touch re Kenny, so had I posted the tops down to Roy as originally planned, I would have missed the opportunity to meet Kenny.
So, my diary was sorted Sunday, Archerfield and Kenny; Monday, Knightsbridge and Roy. Two days, two Club Captains! Assuming, everything went to plan, only Lambo and Jackie to get!
I was like a big kid all day Monday and flew into Gatwick from Glasgow with the tops secured in my hand luggage, and got the train into London, and hopped on the tube to get me close to Knightsbridge. I had arranged to meet Roy at 5pm in his hotel, so had some time to kill. Scotland were also playing Germany that night, but I was not going to be back in time to catch the game, but this was more important.
As I headed towards the hotel. I had to cut through Belgravia, which was Embassy land. I think I must have passed 10-12 different embassies. I arrived at the hotel reception, which welcomed you with a harp player playing her eloquent tunes, I thought, "Roy's obviously doing okay for himself". I phoned Roy and told him I was down in reception and he said he would be down in couple of minutes! Five minutes passed, and Roy appeared and welcomed me like a friend. My memories flooded back to the jungle chants of "Feed the Bear" and "Aitken's going to get you". Here was Big Roy, a little greyer and older, like us all, and here I was in the presence of another hero. Roy said "let's get a snack" and we sat down in the restaurant. I had already eaten, so decided just to get some tea and looked at the menu. £12.50 for a pot of tea was the cheapest on the menu! Just as well Big Roy paid! .  We talked for around 70 minutes covering Shay, the Club Captains tops, our love for all things Celtic, various games involving Big Roy and indeed what Roy was now up to.
It turned out that David O'Leary had been sacked after about 6 months in charge, but the Sheik who ran the club liked Roy and promoted him to Sporting Director, whilst continuing to annually sacking his coaches. This was still Roy's current position and he told me how much he loved life out there. He also mentioned that Derek Whyte was also out in Dubai (no doubt topping up his tan! ), working in TV commentary. We talked a bit more about the other charity causes, I had been involved in, and also reminisced about Butlin's in Ayr, my free kick save (I had to get that in!) and playing football on a skating rink. Roy asked if I had been to the night for Billy McNeill, which Celtic had arranged in his honour, to which I said no. Roy had found out about it afterwards, and expressed his disappointment that Celtic had not asked him or Derek Whyte to join, as they would have made the time and effort to come across. I made an excuse for Celtic saying perhaps they could not find you, to which Roy said "Well you, a fan found me!" I took that as a big compliment.
Time was passing so quickly and I was having an amazing time, but I knew I had a flight to catch back home, so after about 70 mins, I said to Roy, "I need to go soon so I suppose I better get you to sign the tops!" Roy took the tops with the signatures to date, and ran through each one, asking how we managed to achieve them, and enquired who we still had to get. After kindly signing both tops, Roy said "Do you want a picture as well?" What a difference to the previous day with Kenny. Roy was the perfect host and Club Captain in every way.  I also had brought my son's top with me and my "Feed the Bear" book with me and Roy kindly signed them both. I thanked Roy for his time, and headed on my way back to the airport and received a text message from Andy F, "Paul Lambert is in the studios at Hampden commentating on the Scotland game". I replied jokingly, "Great, barricade him in and I will be there for 11pm".  Just two Club Captains remaining!
If you missed Part 1 or Part 2, you can catch them here
https://www.celticquicknews.co.uk/the-search-for-the-11-celtic-club-captains-part-1/
https://www.celticquicknews.co.uk/walk-with-shay-mcneill-mcgrain-boyd-brown-lennon/
Part 4, the final part to our story, will follow soon.
If you are interested in registering an interest for the forthcoming auction of the home top, which also contains the signatures of not only the last 11 Club Captains of Celtic but also our InVIncible Club Captain and all three Treble Winning Club Captains, then contact us now via:
email walkwithshay@yahoo.com
Twitter @walkwithshay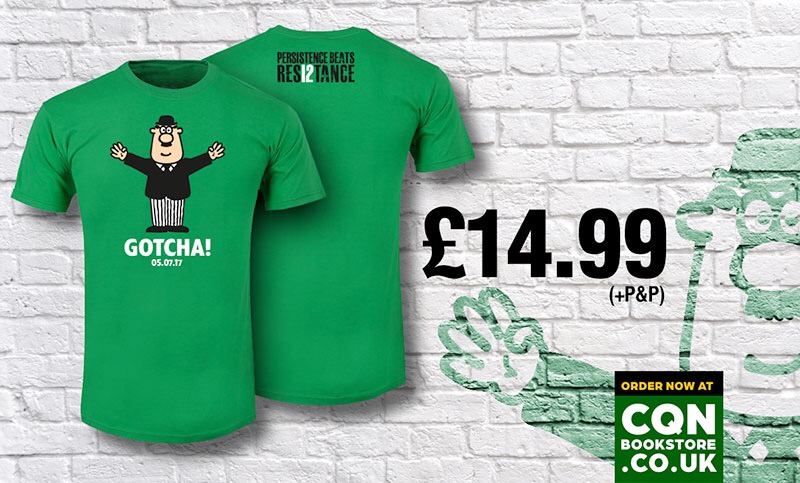 Click Here for Comments >