The Walk with Shay team sent me the next in their series on living club captains and their incredible raffle.  The first can be found here, goo luck to all participants.
"The countdown is now on for the Walk With Shay Green Raffle Army prize draw on 25th May 2017 at Paradise. There is still time left to purchase raffle tickets to win our Club Captains of Celtic Away Top, covering 53 years of our Clubs unbroken history and a host of other amazing Celtic prizes, but don't leave it too late.
Here is the next part of the club captains story"
Captain No 3: Tommy Boyd-November 2014
Tommy was an inspiration as Club Captain and still raises the bar high amongst the Celtic family as a Club Ambassador; giving up free time, and taking part in numerous fundraising events within the club and with the supporters, always taking time to talk to fans, signing autographs etc. Indeed, when we had a few beers in Mollies, he spent the entire night happily being interrupted by fans asking for photos and signatures. He obliged them all without a moan or groan. His wife told us that he loved the attention and was in his element. I had gone to the toilet at one point and a Chelsea fan who was standing next to me as we passed the time of day, asked "Who's that you're with? And I said to him joking, "Imagine, not knowing that! That's Tommy Boyd, he played for your team". I thought nothing more of it, until the boy appeared beside Tommy, ten minutes later asking for a photo.  I later told Tommy, that I had chatted him up in the toilets earlier, for him.
For Tommy's signature, I got in contact with Tommy's CQN buddy who agreed to put the wheels in motion to assist with Captain number 3.  A couple of days later, I was in the Kerrydale Bar having a pre-match beer with CQNer, TTTT. It was very busy, but who appears in front of me, as if by magic, Tommy Boyd. We had a brief chat and I said to him that I needed a favour as I was looking for him to sign the two tops. He said" Sure no problem", and gave me his mobile number and told me to call him. The next week after a call, there was Tommy Boyd in my office at work signing the two tops. Tommy still claims to this day that he was the only Club Captain that came to us, to get the Tops signed… At this point, I had told Andy F about my plans and had enlisted his support and help in the search for the 11 club captains. There was still a long way to go and I started to realise that to complete this momentous task, that I would need help.
Captains No 4 and 5: Danny McGrain and Scott Brown-May 2015
Thanks to Andy F, this was a breeze in the park, as he got in touch with Tony Hamilton, CEO of Celtic FC Foundation who agreed to help. We duly and slightly nervously handed the tops into Celtic Park for signing in due course. The tops had never been out of possession up to this date, but we knew that they would be well looked after by Tony.
Danny had taken ill at the time, so we knew he had not been working at Celtic Park, but Tony went out his way to get both Danny and Broony to sign the tops, within a short space of time. The significance and uniqueness of the tops started to dawn on everybody now involved in collecting signatures, but we still had a long way to go to achieve the dream.
Captain no 6: Billy McNeill – March 2015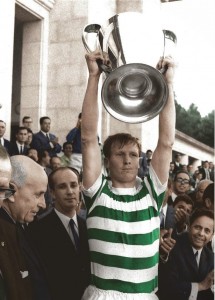 Billy, I had thought would be one of my easiest signings to obtain given his previous assistance on the Bringing Martin Home and Wee Oscar 4 Life campaigns. It was a joy to be invited into the McNeill household and for Billy to recall various Celtic stories. His wife, Liz was also lovely and they both knew my youngest daughter, Niamh who went to the nursery ran by Billy's son. In fact, there was many a day when Billy popped into the nursery with lunches for the kids and I would have great delight in telling Niamh, just who the man, that regularly brought her lunch was.
I contacted Liz via text shortly after I had come up with the idea of the tops, but there had been no response. Billy was struggling with his illness and was going through a difficult time at this period. I had sensed that all was not well, and decided to put Billy's signature on the back burner. It was actually not until the following March, that Liz got word to me, that they were waiting for me to pop in, so Billy could sign the tops. I arranged to pop in and since it was March 17th (St Patrick's day), I bought 4 cans of Guinness for Billy and some wine and flowers for Liz and took them across. You could tell that Billy was struggling, but as they always did, the McNeill's made me welcome in their house and we chatted for ages.  Billy signed one top and Liz told him that it was a poor signature. I jumped in and say it was wonderful, Billy proceeded to sign the other top. He still regaled some great Celtic stories from years ago, but you could see at times how he struggled to remember and that he had a tear in his eye when he talked about Jinky.  I gave him the four cans and he said thank you, to which he then said to Liz, "Am I allowed these?" She replied "You can have one can tonight, due to your medication".  I smiled as here was the legend Cesar being closely marked and had little or no room for manoeuvre.
Little, did I realise, that the signatures I had received that day were probably one of the last signatures given by Billy, due to his deteriorating condition which would restrict him from signing in the near future. It says a lot for the McNeill family that they had went out their way to help us, when this should have been the last thing on their minds at this difficult time, but this was the McNeills'.
Club Captain no 7: Neil Lennon-August 2015
We took a few months out in the quest for the Club Captains signatures, and started to push it again in August 2015. My Dad's friend was Neil Lennon's agent's father (less than six degrees of separation!!) and I had previously pestered my Dad to speak to him to see if his friend could help. Eventually, it all came good and I was to pass the tops over to Lenny's agent, Martin Reilly, as he was travelling down to Bolton to catch up with Lenny and Johan Mjallby. The tops were duly passed over to my Dad, with the instruction "Lenny only please" and he passed the tops over to his friend with the same message.
I got a call a week later to pick up the signed tops from my Dad's friend house, and popped in after work as he lived just around the corner. As he brought the tops out, he said there was a little problem and told me that Johan had signed the tops as well, but it was ok as he was a Captain as well. I tried to hide my look of horror and not trying to sound ungrateful and I said "Thank you, but he wasn't a Club Captain though, but never mind".  I thought "How am I going get around this one? Can I hide or cover it up, perhaps? Maybe even rub it out!" It is amazing what runs through your head at times.  I was also struggling to get hold of Roy Aitken, and a crazy thought came into my head for an instant; "Perhaps I could kid on it was Roy Aitken's autograph?". As I looked at Johan's signature more closely, I saw the number 35 next to his signature, I thought "Nope!" And dismissed the mad thought in an instant. This was going to be our Celtic kinder egg!
Part 3 to follow soon.
The countdown is now on for our amazing draw on 25th May 2017 at Paradise, but there is still time left to purchase (or sell) raffle tickets to win our Club Captains of Celtic Away Top, covering 53 years of our Clubs unbroken history, and a host of other amazing Celtic prizes.
Contact us now via:
email walkwithshay@yahoo.com
Twitter @walkwithshay
Click Here for Comments >