ANDY WALKER finally caught up yesterday as he appeared on a Level 5 platform on the same day as Ally McCoist did the same. Curiously both had a go at The Rangers.
Walker, who as recently as last Saturday, couldn't find the words to say anything negative about the Govan side. As co-commentator for Sky for the Ibrox club's Scottish Cup quarter final against Hamilton he had nothing to say about the Rangers goalkeeper's deliberate handball outside the box, which should have resulted in a red card, or indeed the joke of a penalty kick awarded to The Rangers.
Walker, of course, is never slow to kick Celtic to suit whatever agenda pays his wages.
Yet now, at a Level 5 event, things have changed. Curious.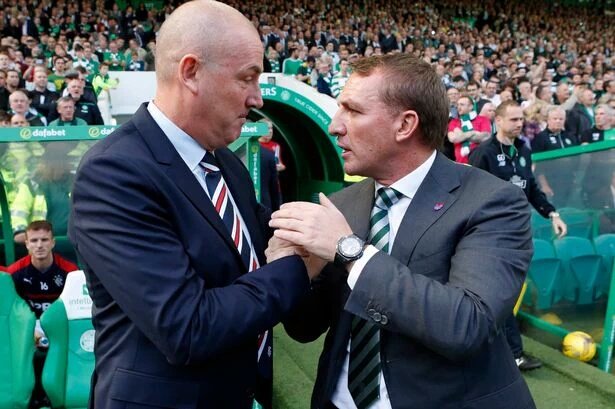 'Right now, the Celtic versus Rangers (sic) rivalry is a wee bit redundant,' Walker stated. 'I think it will be for a while. I don't think Celtic are interested in comparing themselves to Rangers (sic), being better than Rangers (sic) — that is gone. It's up to Rangers (sic) to get their act in order.
'I think the important thing for Celtic is to keep being the way that they are. They've been spending a bit of money, they've got a really good manager and he's spent a little and had a lot of success with Dembele. He's spent a lot on Sinclair and he's had a lot of success.
'Even if Brendan Rodgers was to go in the next year or two, I think Celtic's model should be to get someone in who is as good as he is and continue to try and get not just Champions League football, but just to make their mark.
'I played in an era where Rangers (IL) were really dominant and I felt we had some good players. We certainly had a bit of heart.
'We lost a number of Old Firm games. We got a draw when Paul Byrne scored and I remember winning 2-0 at Ibrox, with John Collins and Paul McStay scoring.
'We weren't as good as Rangers (IL)— but we had a bit of heart, a bit of something.
'I look at this Rangers (sic) team and would question their heart and their determination. We've had a 5-1, 1-0 and a 2-1 for Celtic so far this season. I was at all three games and Celtic were totally dominant in every one.
'I would expect the same on Sunday. The atmosphere used to help both sets of players but I just wonder if the Rangers (sic) players are a bit wary of it now.
'When I look at Rangers (sic) now, I think they are a bit weak, a bit timid. There's not a great deal of leadership on the park, never mind in the whole structure off it.
'That's why I think Celtic will win comfortably, but I'll let Frank McAvennie give you the score prediction.'
McAvennie has earlier in the week predicted that Celtic could score 7 or 8 on Sunday.
'I think Celtic will win. I think Celtic will win comfortably as they have done in the previous games. I've been impressed with the way they've played but I don't think anyone will take anything for granted.
'I think the atmosphere will help. I think the fact the players will be thinking of going through the season undefeated will also help. The thing I like about Celtic is that, even when they're two or three up, they're still hungry for more goals.
'They have scored four, five, six this season but I would imagine Rangers (sic) will come up with something to make it a closer encounter.
'I remember being part of a Celtic team which went to Ibrox in 1995 and everyone was saying we would get thrashed by five or six. We had an okay team.
'It wasn't the best Celtic team I played in but we went there and got a 1-1 draw. Paul Byrne scored a pretty sensational goal. We'd decent players: Paul McStay, John Collins, Tom Boyd and I think Phil O'Donnell played, too.
'I remember playing up front on my own, which wasn't a role I was suited to, but we went there with a game plan and gave our supporters something to cheer about. We might even have sneaked it in the end.'
Level 5 handle the PR for Ladbrokes and Sevco Rangers. Walker's comments, added together with what Ally McCoist has had to say (see HERE), would suggest that all may not be well between Traynor and King at the moment.
For Walker though, his new found frankness is unlikely to redeem him in the eyes of a Celtic support that has seen through him a long time ago.
Click Here for Comments >