"We need the supporters," says new Celtic manager Brendan Rodgers. Will you answer his call?
Celtic's season tickets sales are outstripping all other Scottish clubs by at least 18,000 as the new manager makes a call for Celtic supporters who haven't been season ticket holders in recent seasons, to come back and get behind his side for the new season.
Rodgers from the start has pointed out that one of his first goals at the club is to ensure that his side is playing in front of 60,000 supporters at every home match – and it looks like he's going to get his wish.
The Celtic shareholders leading the charge on Resolution 12 have already made their submission to UEFA and have been encouraged to do so by the SFA, as Chief Executive Stewart Regan, told the media earlier this week in response to a question relating to the Resolution 12 newspaper advertisement placed in the Tribune de Gevene by Celtic Quick News.
"Our position on that is that we have complied with UEFA requirements in the period immediately following March 2011 and clearly if there is still an issue with the requisitioners then that's for them to take up with UEFA," said Regan.
"We've said if they do that then we'll fully cooperate and comply with any requests for information from UEFA and we've provided details at UEFA for the requisitioners to make contact.
"So we believe that the matter has been communicated to those involved and they will deal with it as they see fit."
Celtic are also expected to have their own letter to UEFA in the post in the next few days.  This would go a great way to heal any divides among the Celtic support in recent times. UEFA's response on the matter would come in due course and CQN will continue to employ innovative media tactics to once again force the agenda.
Stewart Regan spoke for the first time on Resolution 12 within hours of the Tribune de Geneve advertisement appearing and journalist from around Europe are now asking questions as they sense another football scandal story may be there for the reporting on Scottish football.
Can we get 60,000 at Celtic Park for every home game next season?
We did it for Martin, now it's time to do it for Brendan.
———————————————
CQN's Father's Day offer is selling like hot cakes!
Order Charlie Gallagher? What a Player! from CQN Books and get The Winds of Change for FREE!
Order here http://www.cqnbookstore.com or click on the link below.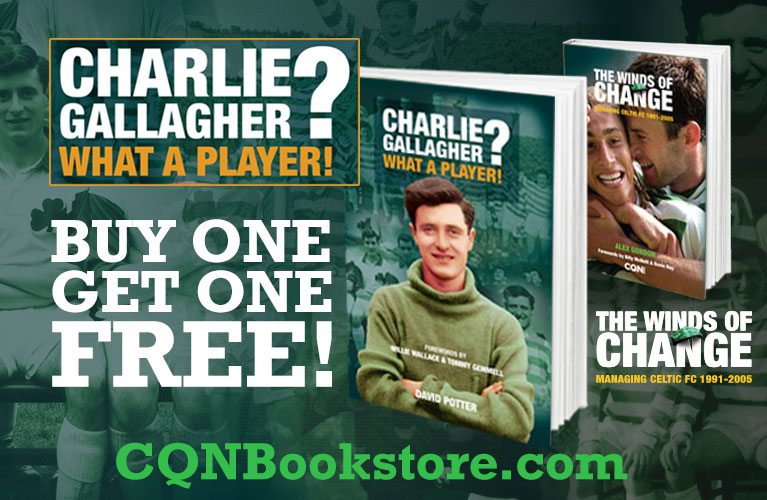 Click Here for Comments >