CELTIC boss Brendan Rodgers accused his players of performing like Under-12s during the 5-0 thumping from Paris Saint-Germain.
The Irishman highlighted his team's dreadful defending as the most expensive forward line in world football struck three times in the opening 40 minutes.
Rodgers said: "You can lose to that scoreline to that team. You have to give credit to them. This is a team that's a really special team that's been put together.
"They're going to be close to winning it, for sure. For me, the thing I said to the players, is that at this level you have to have the belief.
"Similar to last year, it may just take us a game or so to get into the competition again.
"We see and recognise the level we're at here and can perform better.
"This is a level where you have to look after the ball. You have to make the ball work for you. And in the first-half we didn't do that.
"We were playing like Under-12s at times. But it's about confidence and belief and we're obviously missing some decisive players who can help us at this level.
"But it's always going to be very, very tough. That's the reality of it. I don' t want to be too harsh on the players because this is the potential champions of this tournament we were playing.
"Where we're at – with all due respect – and where these guys are at isn't just one or two levels, it's three or four levels.
"But what we always have to do is be competitive and we weren't for that first period of the game."
—————–
Celtic endured a sobering night at Parkhead on Tuesday as they were crushed by a rampant PSG side keen to flaunt their expensively assembled talent. It was the Bhoys heaviest ever home European defeat and Neymar, the world's most expensive player, led them a merry dance. The £200 million Brazilian coolly slotted home and then teed up Kylian Mbappe, soon to become the second most expensive player of all time, to make it 2-0. An Edinson Cavani double and an own goal from Mikael Lustig completed the rout.
On the night Celtic simply could not live with the financially doped PSG's fearsome attacking triumvirate and their limitations were brutally exposed. This is what happens when one side spends "trillions" as Gary Lineker remarked, and the other lives within its means.
Nevertheless it was a chastening experience for everyone at the club, but it was not altogether unexpected.
Scottish football has modest television revenues due to the particular poor football management and lack of decent governance in the game, even the Invincible Celtic realise that they are nowhere near the level of Europe's elite. If Celtic spent £100m on transfers in the summer – money they don't have, they still wouldn't get near the PSG spending.
Celtic also lack the huge sponsorship deals of leagues like the EPL and foreign investment is not forthcoming from oil-rich billionaires as the Scottish Premiership is not a glamorous competition. Were Celtic playing in the EPL it would be a different story and they could easily establish themselves as one of Europe's top clubs, but that is a debate for a different day.
As things stand, the players will understandably be disappointed. Nobody can give them a game domestically as their unbeaten run stretches back to the 2015/16 campaign and they look dead certs to win a seventh consecutive title this season and mop up the cups too. Brendan Rodgers has assembled an exciting and talented team that is good enough to overcome anyone in Scotland with relative ease. So they must look forward to European nights with great anticipation, and it will be devastating to be picked apart in such ruthless fashion on the big stage.
However, they should not be too disheartened. After all, they lost 7-0 against Barcelona in their opening group last season – Neymar was a tormentor then too, combining with Leo Messi and Luis Suarez to devastating effect – but they turned it around in style. The players were a credit to their club after that, twice drawing with EPL giants Man City and also taking a point from German side Borussia Monchengladbach.
PSG look to be on the brink of buying 'greatness' and they certainly look a great bet at 13/2 to win the competition. It might be worth visiting a bookmaker like BetDSI, which has strong reviews, and finding some competitive odds and backing the French side to win the Champions League this season, as they have wonderful attacking options, great strength in depth and a really solid defence too.
To be fair, when the draw was made, Celtic appeared to have no chance of qualifying for the knockout stages of this tournament. To be dumped in the same group as PSG and Bayern Munich was a cruel blow, and they will likely have to scrap it out with Belgian side Anderlecht – who lost 3-0 to Bayern in their opener – to finish third in the group and go through to the Europa League.
It may upset some fans, but that actually might be a better level for Celtic to compete in, as the teams there are not so ludicrously talented or financially doped as PSG and even Barcelona. Celtic could enjoy a real run in that competition and that would be great for the club and for Scottish football.
One thing the PSG defeat did probably achieve was settle the debate as to whether the current Celtic crop form the best Bhoys side of all time, barring of course the Lisbon Lions. No would be the obvious answer there as they won the European Cup in 1967, proving themselves to be the best team in Europe, if not the world. Nowadays they are not even close and that is simply because the power has shifted to leagues where there is more money and petro-billionaires rule the roost. The club reached the 2003 UEFA Cup final too, and if Celtic could get anywhere close to repeating that feat then this would have to go down as an incredibly successful season.
Football has changed, the European Cup is no more, replaced by a Champions League which seems to be for the big six UEFA leagues and their super-rich owners to fight over.
Yes, give us the Europa League, Celtic.
——————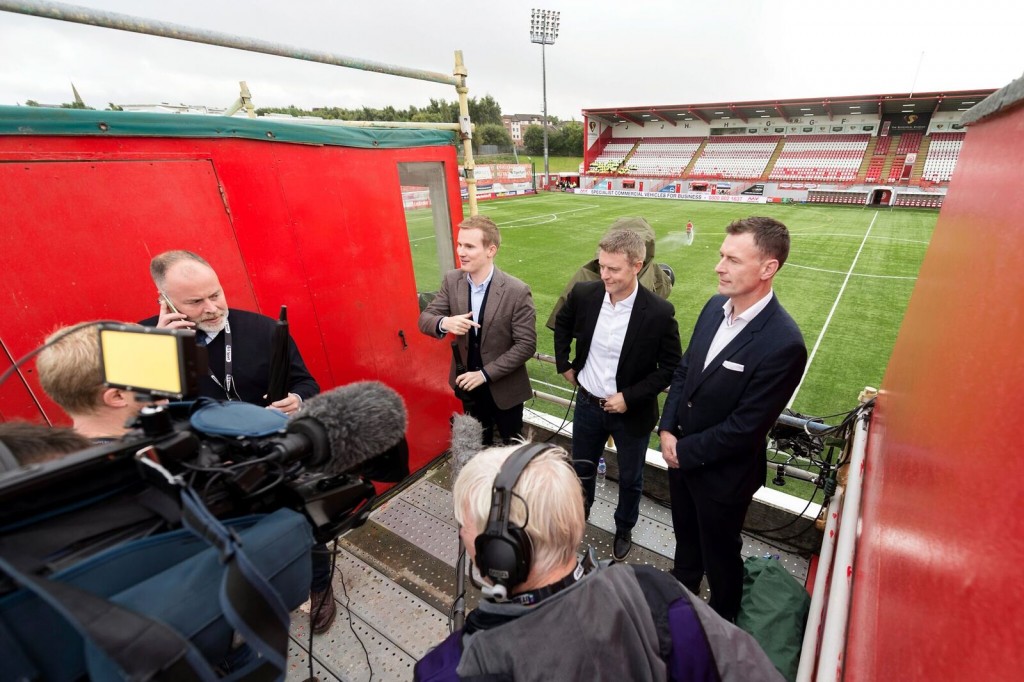 CQN went behind the scenes with BT Sport at Hamilton on Friday evening and this is all covered in the new CQN Podcast which is out today and includes an interview with Chris Sutton…
Click Here for Comments >