The siege mentality which Celtic endured two years ago now feels like a different world. The pursuit of £3.5m defender Jozo Simunovic was a significant statement of intent, but even that was mocked by many now close to the club. A critical assessment from a Balkan writer for The Guardian was enough for the club's critics to tell us how ridiculous Celtic were.
For months I endured one character repeatedly imply we had bought a crock who would never complete a season. This story had what all good conspiracy theories have, a curious fact which, when revealed, was enough to inspire fantasists.
Jozo was injured when Celtic signed him. The club sent him to London for an assessment from the top man available. The verdict was clear: the injury would heal, but while personal medical details are kept private, speculation was rife.
The truth is we did remarkably well recruiting Jozo. If he wasn't injured, we may have been priced out of the market, but we scouted him (a John Park player), got the best medical advice available and put money on the table, while others read The Guardian and pondered knee injuries.
Many have spent the last two weeks marvelling at the tacking ability of Jozo.
Lisbon Lions Raffle

Last year we got this retro Celtic top signed at an event by several Lions: Willie Wallace, Tommy Gemmell, John Hughes and Charlie Gallacher. Willie has told us he'll ask the others to add their names, when he's over later this month. I intend pinning the Original Holy Goalie before then. Former captain, Paul McStay, was also kind enough to add his name.
We're raffling the top, all proceeds will be spent on the Lions, or descendants, where appropriate. The objective is to give the Lions and their families a memento to mark the 50th anniversary of their greatest achievement. Many no longer have their medals, strips or keepsakes from that era.
£2 each, you can buy a bucket-load HERE, if you like. I guarantee you the winner will cherish their prize.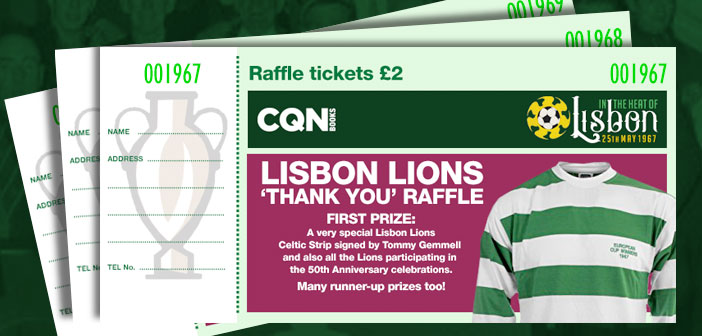 Click Here for Comments >