SCOTT ALLAN is chapping on the door for a starting slot in Ronny Deila's first eleven. Indeed after a superb second half performance against Hamilton last Tuesday many expected the former Hibs star to have started at the weekend in Celtic's 3-1 win over St Johnstone.
Allan had to settle once again for a place on the bench with Ronny Deila preferring to introduce the creative midfielder half way through the second half. Speaking to Martin Dalziel for Saturday's Official Programme Scott Allan gave an great insight into where he's at at the club at the moment and is clearly itching to get a run of starts to show what he can do. 
Allan realizes that the competition to get the nod to start is becoming increasing difficult, especially with so many players hitting top form. Reflecting on the huge win over Hamilton Allan was clearly delighted at howe that match had gone.
"In the last couple of games we've been scoring goals and we wanted to continue that"' he said. "Leigh Griffiths got a hat-trick and some of the other boys got on the score-sheet, and overall, I thought we played some lovely football. We defended well for most of that game too."
"You know what you're going to get every time you play Hamilton. First of all it's hard work. They've always been like that all the way through from the academy., so they fought to the end but they just caught us on one of those nights where everything went well for us."
With impressive victories over Dundee United (whose 5-1 win at the weekend shows just how impressive Celtic were at Tannadice the Friday before), Hamilton and now St Johnstone, Allan has watched as players have come back into top form.
"In football you can go through those periods where it's not going so well for you, but it's a sign of good players to come back from that and score a lot of goals. We're doing that regularly now and that kind of sums the team up," said Allan.
"We've gone through a bad patch but we have come out the other side and we're firing on all cylinders now."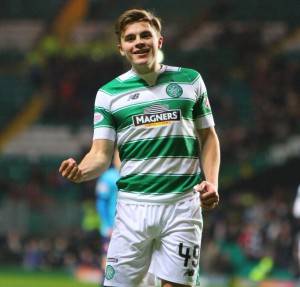 Clearly he'd love to convince Ronny Deila to give him some starts and getting a full 45 minutes against Hamilton is a step in the right direction.
"For me I just need as many minutes as possible. Getting 45 minutes (against Hamilton) is better than 20 minutes because you're not trying to do too much in a short space of time to impress the manager. You can come in and play your way into the game. It was good to get a better chunk of the game and show what I can do," Allan explained.
"I've not played a competitive 90 minutes since the the first day of the season with Hibs against Dumbarton so I've not had the match sharpness I'd like to have and when I come on I just want to try to influence the game and create chances. I feel I managed to do that.
"All I can do is come on and try to play my game by creating chances. I feel as if I've been doing that, even though I've not being playing the best football I know I can play.
"If you ask any football player, they'll tell you the same thing – you're not going to be match sharp until you get a run of three or four games so you're constantly trying to chase that when yo come off the bench.
"So you just need to try to bide your time and try to be as influential as you can when you come on. Luckily I got a couple of assists against Hamilton.
Allan certainly feels better and fitter having had a number of months training with the Champions. He said:
"I feel fitness-wise I'm probably the fittest I've ever been because of the intensity of training and the diet we have here, so I feel good with my condition.That'll improve even more with a couple of starts.
And he had some interesting observations about winger James Forrest, who has been offered a new contract by the club which, if signed, will see him commit his future at the club until 2020.
"I've played with James through Under-21 level with Scotland and we've played against each other since we were about 10-years-od when he was here and I was at Dundee United," Allan said.
"I've seen that much of him that I may as well have played with him, but I think his game suits the way I want to play. When I open, he makes the pass easy for me with the pace he's got and the runs he makes, so there is that instinctive thing there.
"We know each other's games and we've shared a room at Under-21 level with Scotland so I know what his game's about and he knows mine.
"People see his pace and the problems that can cause at any level. When you've got electric pace like his, defenders are scared of it. It makes my job easy because when you've got a player who has pace like that, you don't really need to find the man, you just need to find the space make a good pass."
Hopefully Scott Allan will get his wish by earning a starting place in the not too distant future. You get the feeling that he'd make the most of the opportunity.
* Final word on that Hamilton game – loved this video that illustrates what it would have been like being a Hamilton supporter last  Tuesday…
A few people asking over the weekend about the offer we have been promoting in the image below. If you order a copy of our excellent new book, THE WINDS OF CHANGE from CQNBookstore.com you will automatically receive a free copy of the TOTAL LARSSON DVD. Click HERE or on the image below to order.
Click Here for Comments >