TIGHTLIPPED Ange Postecoglou refused to be sidetracked by Spurs speculation as he focused on Celtic's Scottish Cup Final against Inverness Caley Thistle at Hampden on Saturday.
Reports from across the border insist the London club are preparing to unveil the Greek-Australian as their new manager as they seek a successor to Antonio Conte who was sacked in March.
But 57-year-old Postecoglou insisted he is unfazed by such links as he his attention is unwaveringly on achieving the eighth treble in the Hoops history.
Referring to the continued speculation about his future after almost two years at Parkhead, the fans' favourite said: "Somebody else was favourite last week, wasn't he?
SMILES BETTER…Ange Postecoglou beams brightly as he parades the Premiership trophy for the second successive season.
"It doesn't register. I get that people love to speculate on these things, but we've worked really, really hard to get ourselves into this position.
"For me to let my mind wander about anything else other than getting our team prepared for a big day on Saturday, it's just not who I am."
The Hoops gaffer, who has clinched back-to-back titles since revamping the squad and turning things around over two memorable campaigns, has been linked with a host of English clubs throughout the season including Everton, Leeds United, Wolves, Leicester City, Southampton and Brighton.
Postecoglou, speaking to Sky Sports, continued: "We've done this dance a few times this year, so I think the players are well aware of where my thoughts lie.
"Whatever it is, the players are really good at just focusing on what's important – and what's important is getting ready for a big game on Saturday.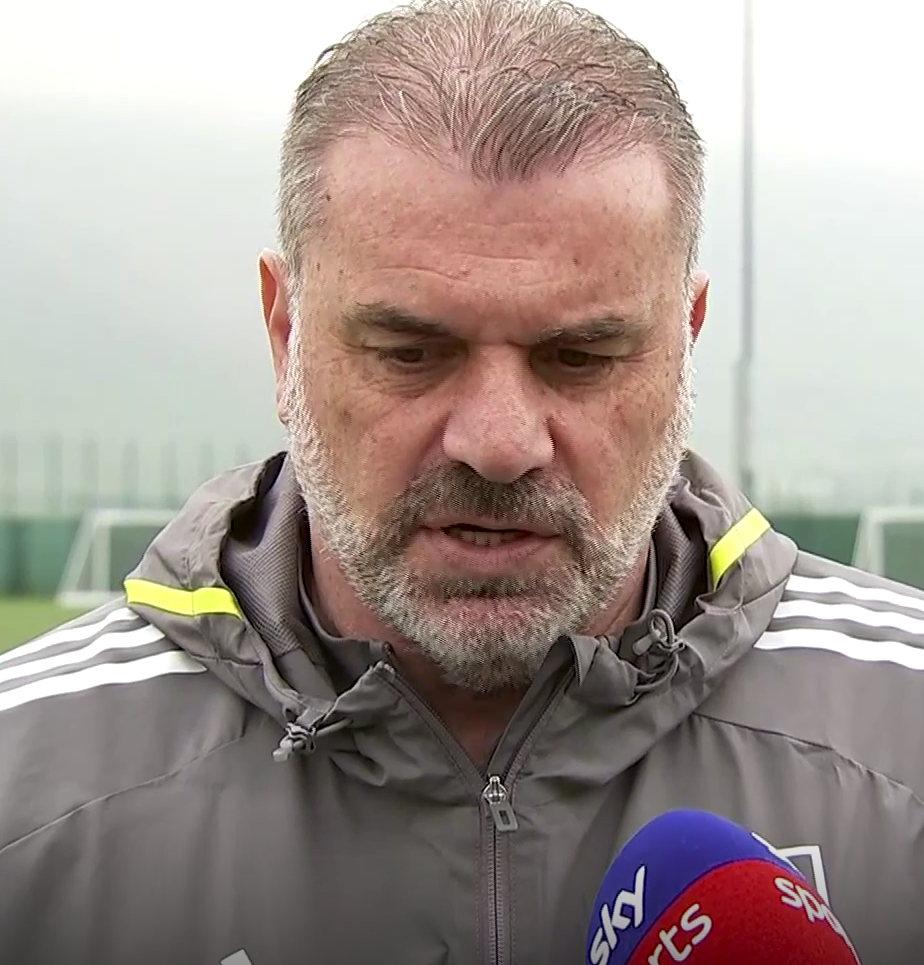 SKY'S THE LIMIT…Ange Postecoglou speaks to the satellite broadcasters.
"It doesn't enter my sphere of thinking because my role is to make sure my team is absolutely prepared for whatever the next challenge is.
"Far be it from me to say that if a Cup Final isn't enough for me to draw all my attention to that then nothing will be."
Postecoglou, who is on a 12-month rolling contract, revealed he had no plans to talk to the Parkhead board about his future.
The former Australia World Cup gaffer added: "No, because that would mean me planning, organising, thinking about anything other than Saturday.
"I understand that's your job to ask these questions because that's the role you're in, but you're not invested in this football club like I am, like the players are and the supporters are.
"For me, I woke up this morning thinking about one thing, the same thing I've been thinking about for the last seven days – we want to make sure we play well in this Cup Final and make it a truly special season."
Click Here for Comments >