BRENDAN RODGERS yesterday spoke about the potentially unsettling effect the constant transfer rumours could have on Moussa Dembele and revealed that the Scottish Champions have never received a bid from any club for his young French striker.
"My mind is that he's a Celtic player and we have not had one bid,' Brendan said.
"I don't want to keep going on about it because I think it can affect players, especially young players.
"There has been a lot of noise around Moussa for 18 months now but, let's be clear, we've not had one bid.
"He's been linked with about 16 clubs, but the bottom line is you have to play football.
"Always be ready to play and then, if a move comes, it comes.
"I don't want to go into speaking about speculation because it has been non-stop and I think it could hinder development of a player, not just Moussa.
"Obviously, there have been enquiries around him, but not one bid.
"Moussa is at a stage in his career where he needs to keep proving himself that he can play for Celtic.
"Then whatever comes from that will come," believes Rodgers who has had just about every Celtic player linked with a move from the club in the last few weeks.
Indeed last night some sites were running with a 'story' the Nir Button was going out on loan to a Turkish side due to an image the player had posted on social media. All that was happening was the Israeli was making his way to Dubai via Turkey and could't fly direct due to the Middle East tensions.
Very quickly though a story is out there and Bitton was on his way in the rumour mill alongside just about every Invincible, if these stories were all true we'd struggle to put 11 players on the park for the game against Brechin.
"It can be very unhelpful for a young player," Rodgers said on the constant transfer speculation surrounding particularly his younger players such as Dembele or Kieran Tierney, who is linked to Manchester United repeatedly on some sites.
"If you are an experienced player, you get used to it. But if you've been linked with so many clubs over a period of time, big clubs, lesser clubs, foreign clubs, British clubs, then it surely can be unsettling.
"It's not something that ends up being good for a player," Brendan said.
Brighton haven't made a bid for Dembele and are apparently determined to find out if the striker fancies a move to the south coast before making matters formal with Celtic.
Rodgers though reckons that his players can cut out the lesser clubs and when a move comes go to bigger clubs rather than leave Celtic to reach their intended destination via somewhere else.
This has been the way of things in recent transfers from Celtic before Rodgers arrived but he has noted the trend.
"Someone looked at Virgil Van Dijk and thought he wasn't at the level for Liverpool and he had to go elsewhere and then made the step.
"Wanyama went to Southampton and made the jump, Ki went to Swansea.
"But I don't agree that always has to be the step.
"If the player comes out at the right time then he can go to that level," Brendan believes. Indeed you get the feeling that Moussa Dembele has had this very same logic outlines to him over the past few days.
You will get your move, son but there's no rush and no point in going to a club below the level you can reach if you stay here just a little bit longer and develop your game at Celtic, win more trophies and enjoy your game.
It certainly looked like Dembele was thinking that his time in the Hoops was at an end when he talked slowly from the field after the recent thumping 0-0 home defeat to Sevco Rangers. Former player and now media columnist Kris Commons had a go at Dembele for this, to the surprise of some and annoyance of others.
Brendan didn't see it, he calls that kind of thing 'noise' and tends to avoid it all as much as possible. He did respond when asked about the controversy.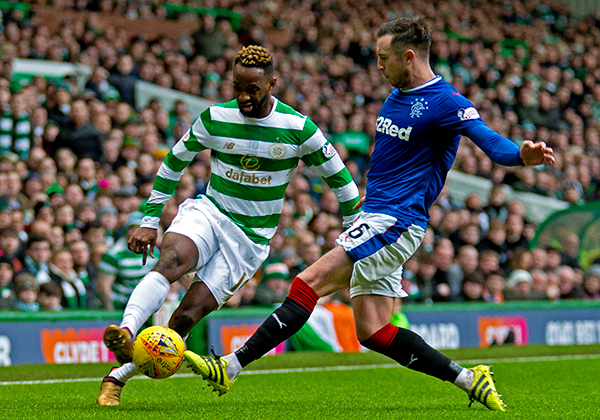 "Moussa is not that type,' Brendan said.
"It's one of the beauties of him.He's a really good boy and super professional.
'He does walk slow. The boys will tell you. He virtually breaks into a walk. He times his run perfectly for team meetings. We are all waiting to fine him for being late.
"He has this incredible knack. We don't know if he hides at the back and just steps in. But, seriously, Moussa is a very relaxed boy. He's laid back, but he's professional.
"I don't know what the noise was, but that's not the type of group I have.
Then there is the transfer rumour 'noise' which the Celtic manager takes in his stride.
"I'm quite relaxed on it. I think because of who we are and how we play, it is going to attract attention and that attention will ultimately lead to interest in players.
"You never want to lose your best players, of course. But, like I've always said, if any player goes it will be for the market value. That's where we see it."
There will be no bargains from a Celtic January sale.
The CQN Podcast: A Celtic State of Mind (EP28) with former Celtic director Tom Grant
Paul John Dykes and Kevin Graham are joined by Celtic's ex-director, Tom Grant, who offers a fascinating insight into the running of the club in the 1980s and 1990s.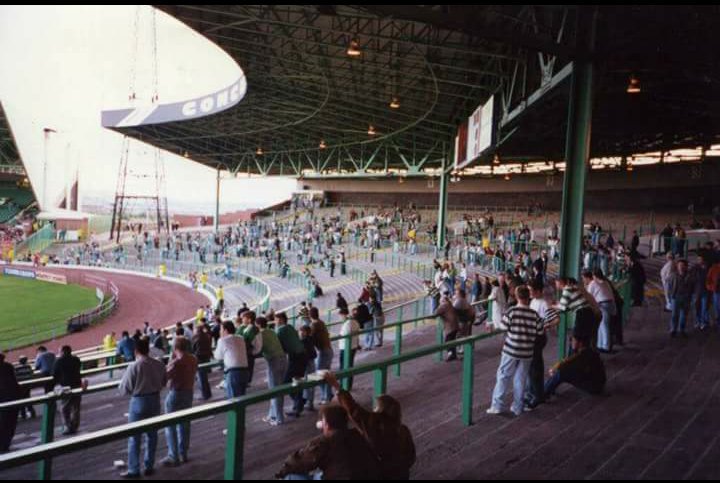 Tom Grant explains exactly why Celtic refused to complete the Mo Johnston transfer in 1989, and lifts the lid on audacious efforts by Billy McNeill to recruit Peter Beardsley and Steve Bruce.
Tom Grant also dissects his relationship with Fergus McCann, and the impact of the 'Celts For Change' movement in overturning the 'family dynasty' board in 1994.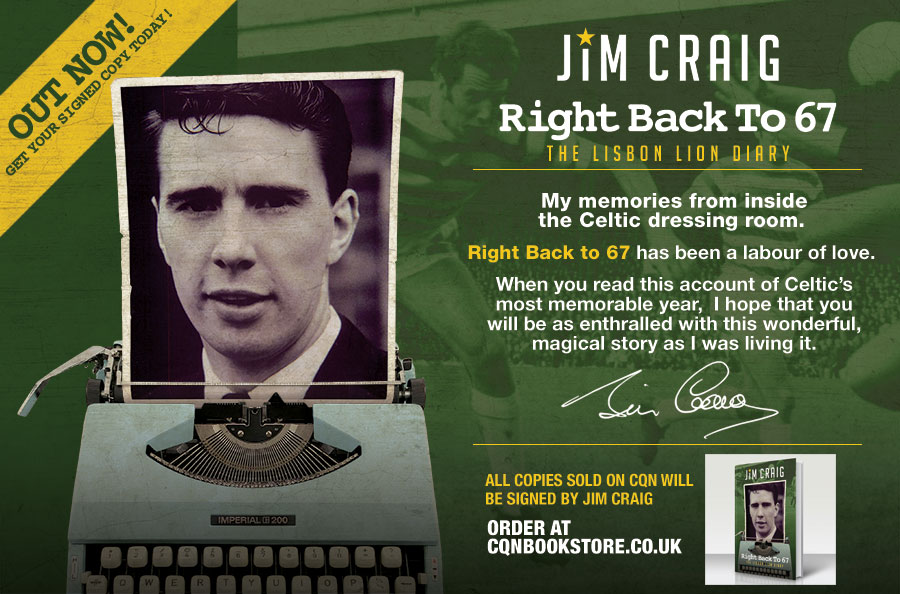 Jim Craig made two of the three goals in the 1967 European Cup Final. There's a great wee video below for you to enjoy. Get Jim's new Lisbon Lion Diary – Right Back to 67 from CQNBookstore.co.uk and you will receive a signed copy from the man himself plus a FREE copy of That Season in Paradise – Ten Months of Celtic Heaven signed by fellow Lisbon Lion Bertie Auld! Simply order Jim Craig – Right Back to 67 and the second book will be sent automatically.
Click Here for Comments >