We returned home from Seville, beaten but unbowed.
Just six months earlier, ahead of the game against Celta Vigo, only the most optimistic of us believed we would progress to the last 16. It has been 23 years since Celtic were in Europe at Christmas, a generation of meagre failure which had conditioned us to expect the inevitable.

On the road home from Seville our expectation were reset. Celtic were a respected team in Europe once more. We had beaten Celta and Stuttgart, before winning away from home in the quarter and semi-final against Liverpool and Boavista respectively- a remarkable achievement. European exploits in the follow still burn in the memory.
Two almighty games against Bayern Munich, who celebrated a 0-0 draw at Celtic Park, after scoring two late goals to recover in Munich. The home win over Anderlecht had the stadium bouncing, although we suffered an ignominious defeat in Belgium, but it was the games against Lyon which remain most vibrant in the memory.
Celtic's best Champions League goal, to date, was scored by Liam Miller, but the manner of defeat in France still stings. Lyon were awarded a controversial penalty three minutes from the end to rob Celtic of the chance to qualify for the knock out stage for the first time.
 Celtic were left with the compensation of the UEFA Cup, where they achieved one of their most remarkable aggregate results.  Barcelona were beaten by sheer heroism, not only from our established heroes but notably from David Marshall and John Kennedy, who were drafted into the team for cover.
Porto, meanwhile, progressed to the Champions League Final, which they won with far greater ease than their win over Celtic a year earlier. A complete rethink of our place in the world was needed. A year earlier we pushed the newly crowned European Champions to extra time, we knocked out a Barcelona team who had just achieved a club-record nine consecutive wins, and we had witnessed the sight of Bayern Munich player jump around like part-timers after drawing at Celtic Park.

Of course, we also waved goodbye to Henrik Larsson in the summer of 2004.
An enormous hole opened up in the club at the precise time we felt that, with just a little more, we could bring some really special times back to Celtic Park.
Then it started. "What the Celtic fans want to know, is where did all the Seville money go?" It was impossible to walk (virtually) any street in Scotland without seeing someone out wearing The Hoops, and there was all that gate money, surely Celtic had a pile of money in the bank ready to splash.
That was the version of events that was delivered by our media. Reality was a little different. Celtic lost £7m during our Seville season. The club was gambling right at the edge of responsibility. "All the Seville money" went into the pockets of the players who took us there, and more still.
Debt was escalating, we were involved in an arms race with a club who were on a path to liquidation, facing some dreadful choices. Do we follow them on the same path, hoping that something turns up? Do we say enough is enough, and suffer the consequences on the field of play?
Celtic pushed as far as they thought appropriate. Decisions on debt and spend will forever be subjective. There can be a case for a small change in budget but subsequent events have shed a different light on the madness that was, and in many places remains, football governance and finances.
Celtic's finances were not secret. They published accounts on the club web site, posted a copy to Companies House, and to circa 20,000 fan-shareholders.  It was widely available information, but it wasn't news. The 'news' was Celtic had a pile of cash from the run to Seville and were unprepared to use it to recruit the players required to push them forward.
This message was driven relentlessly, it was pernicious poison, designed to provoke turmoil in the heart of our club.
 I was going off my head at this. "Where was all the Seville money?" I was shouting at the radio but in 2004 there was not really much more you could do.
Football accounts might have been posted to tens of thousands of fans but most of them never read company accounts, so had little knowledge of the format. The football media in Scotland consisted of a couple of radio stations, a few TV journalists, two daily and two Sunday newspapers. The top journos worked across all platforms, ensuring their 'interpretation' of events, and of Celtic, achieved maximum exposure.
I arrived at work one morning and bemoaned the toxicity to Celtic of "What the Celtic fans want to know, is where did all the Seville money go?" to a friend, who happened to be a Rangers fan.
"Why don't you start a blog and explain it?" he suggested.
"What's a blog?", I answered.

He sat me down in front of a computer, brought up Blogger, and talked me through setting up a blog.  Over the next four weeks Celtic's accounts were dissected in granular detail.  Thousands came to Celtic Quick News, mostly to tell me what a dick I was, but some to share their hunger for genuine information about our club.
A decade later the mainstream media have thoroughly lost control of the football agenda in Scotland. Fan-based media is all pervasive, so much so the Scotland of 2004 was more like modern-day North Korea in media-message-management terms than modern Scotland.
The clowns who rag-dolled Celtic are now seen for what they are.
Largely ignored by the bulk of the population, they prey on a diminishing demographic, with a broken business model.
 Fans, through new-media, held Scottish football to account in 2012 when the established powers tried to change the rules to accommodate Craig Whyte's outrageous business plan.
Citizen journalism is far from perfect, in fact, it is mostly absurd, but it is democratic in access and most importantly, it's ours.
Written by Paul Brennan, founder of Celtic Quick News from Seville, The Celtic Movement available for only £9.99 plus P&P from www.cqnbookstore.com – order now to arrive in time for Father's Day this Sunday!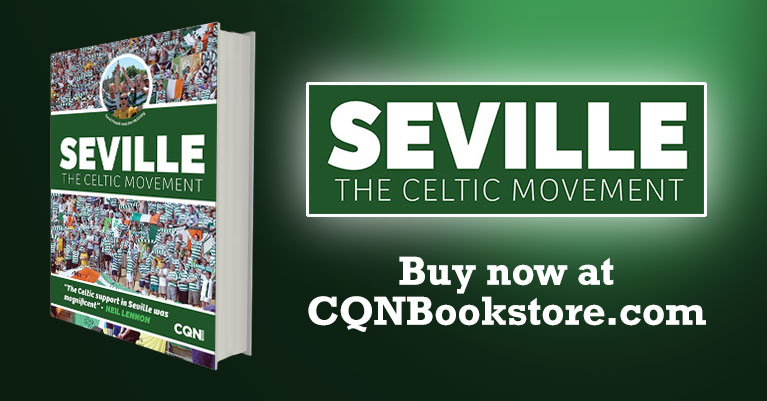 Click Here for Comments >