HERE is the full transcript of the exclusive Willie Wallace interview for CQN earlier this week…
LISBON LION Willie Wallace admits it is impossible to compare Brendan Rodgers' team with Jock Stein's all-conquering heroes.
The former striker, who has been based in Australia since the early eighties, watched his old team live for the first time this season as they overcame Inverness Caley Thistle 6-0 in the Scottish Cup at Parkhead at the weekend.
Wallace, the only player legendary manager Stein bought for his European Cup-winning line-up in 1967, was in Lisbon last week as a guest of the Hoops as they revisited the location of the club's greatest triumph.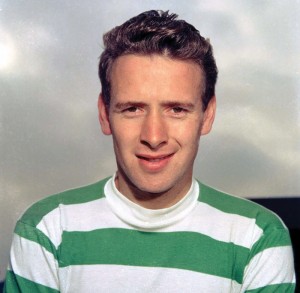 Before flying back to Queensland, the ex-Celt took the opportunity to have a first-hand look at the Rodgers Revolution.
Now 76, the sprightly Wallace observed: "Of course, I watch a lot of Celtic on the TV back in Oz.
"We get everything Down Under, but I always make sure I tune into my old team when they are being shown.
"And, yes, I am often asked by the Celtic supporters – they get everywhere, don't they? – about how such-and-such a team would fare against the one I played in that won everything in season 1966/67.
"I've had it with Martin O'Neill's team in the past and I'm now getting it with the present side.
"The truth is I believe it is not fair or possible to compare teams from different eras. It can't be done.
"Same goes for players. Literally, it's a different ball game.
"I've got a copy of a DVD that shows highlights of a Celtic game against Raith Rovers from the sixties.
"I recall it was a filthy Saturday afternoon in March and the rain had been bucketing down throughout the previous evening and all that morning.
"It was a league game at Parkhead and there was hardly a blade of grass visible on the pitch.
"The surface was simply engulfed in a sea of mud.
"There's no doubt the game would be called off today. There's no way players would be asked to perform on such a quagmire.
"For a start, it just wouldn't be safe.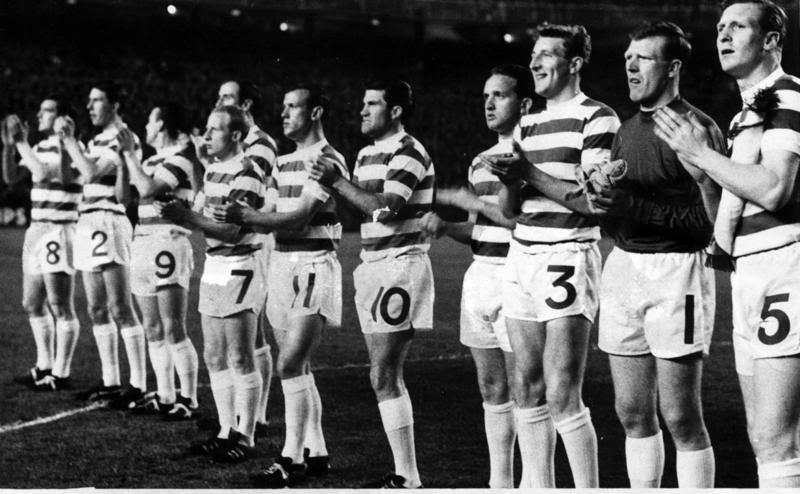 "But Jock Stein's players didn't give the conditions a second thought. There was a game to be won and we had to go out a do the business, irrespective of the underfoot mess.
"I remember that match well for a couple of reasons – the atrocious conditions and the fact we won 5-0 and I scored a hat-trick.
"That's the way it was in those days. The present-day players would never have to encounter pitches like that, but, back then, during the winter months, they were the norm.
"As I said, I have a copy of the highlights of that particular game – and a lot of others, too – and I have replayed it a couple of hundred times to fans who have visited me at home.
"Every single one of them have been amazed at the horrible pitch. They actually laugh at me. Where I live these days, they don't know what mud is!
"Seriously, the climate is so exceptional that it is unusual to even see someone wearing a jumper.
"My wife Olive and I have got hardly any heavy clothing in our wardrobe. It's all light stuff and, of course, it's vastly different from what we were used to in Scotland.
"If we want to have a barbecue here, we don't have to check the weather report. You just take it as read the sun will be out and that's what you'll be doing tomorrow.
"There's no risk if you plan for a picnic. We get rain, of course, but it doesn't last too long and once it's gone the sun comes out again and you wouldn't know it had been wet at all.
"That's why a lot of my Aussie friends are fascinated by some of my old DVDs. The Raith Rovers game is one that easily comes to mind because the diligent groundstaff always attempted to take good care of the surface at Celtic Park.
"All bets were off, though, when October and November loomed into view."
Wallace, who was the club's record signing at £30,000 when he arrived from Hearts in December 1966, admitted he had been impressed by Rodgers' team against the Highlanders.
He said: "I noticed they play an entirely different system to the one Jock used during my time.
"Now Celtic have two lines between defenders and midfielders and the front players. We weren't quite so rigid.
"However, they played well although, to be honest, I expected a bit more resistance from Caley Thistle.
"I had noted they were the only Scottish club to take a point off Celtic after that 2-2 draw in Inverness last year.
"However, when the first goal went in, there was only going to be one winner.
"Moussa Dembele scored three good goals and he looks the type of front player who will get plenty during the course of a season.
"Certainly, his team-mates were eager to set them up for him and he duly obliged by sticking away the chances that came his way.
"I also liked the look of the lad Scott Sinclair. He's a clever player who times his runs really well, is bright and inventive on the ball and he's another who will chip in with goals.
"Big Jock always impressed upon us the importance of spreading the goals around the team.
"Certainly, he might have been spoiled for choice up front with the likes of myself, Stevie Chalmers, Bobby Lennox and John Hughes.
"In fact, Stevie, Bobby and Big Yogi are among the club's all-time top 10 scorers.
"Wee Jinky Johnstone could knock in a few over the course of a season, too.
"But look at the contribution from left-back Tommy Gemmell. He claimed more goals in a year than some forwards.
"Big TG took the penalty-kicks, of course, but he could score with some spectacular long-range strikes, also.
"Need I mention a certain effort against Inter Milan in Lisbon on May 25, 1967?
"And it was the same with Bobby Murdoch. He was a midfielder who could give the ball a fair old dunt and he hit some extra-special efforts from outside the box.
"So, you don't see as much shooting from distance these days as you did back in the sixties.
"Speaking of left-backs, I liked what I saw of Kieran Tierney.
"That's the first time I've seen him in the flesh and I can see why everyone is raving about the lad.
"He's only 19, but what a smashing player to have in your team and there is no doubt he has a marvellous future ahead of him.
"And I thought Erik Sviatchenko did exceptionally well in defence. Again, it's best to see these players live because there is just so much you can capture on a TV screen. I was impressed with him, too.
"He tackled well, moved the ball out of the back with some neat passing, was steady throughout and always looked eager to get forward to
support the midfield.
"Goalkeeper Craig Gordon wasn't asked to do too much – I don't think the opposition had a direct attempt on goal all day – but he, too, looked composed.
"I read in the Aussie press that Chelsea wanted to pay around £3million for him last month.
"I'm delighted he remained at Parkhead. Quite simply, he is far too good to be a deputy to anyone.
"He is 34 and has a lot ahead of him. Goalkeepers are supposed to be crazy, but they can play on until they are about 40 while a lot of outfield players have long since hung up their boots.
"Aye, crazy like a fox!
"I know Brendan Rodgers has likened him to the former Manchester United keeper Edwin van der Sar and I can see why he would make that comparison.
"I believe the Dutchman is still the oldest player in the Premier League when he carried on after his 40th birthday.
"And look at Petr Cech at Arsenal. He's still only 34, but has played at the highest of levels for well over a decade.
"He joined Chelsea in 2004 and still looks as though he can go on for another six years or so.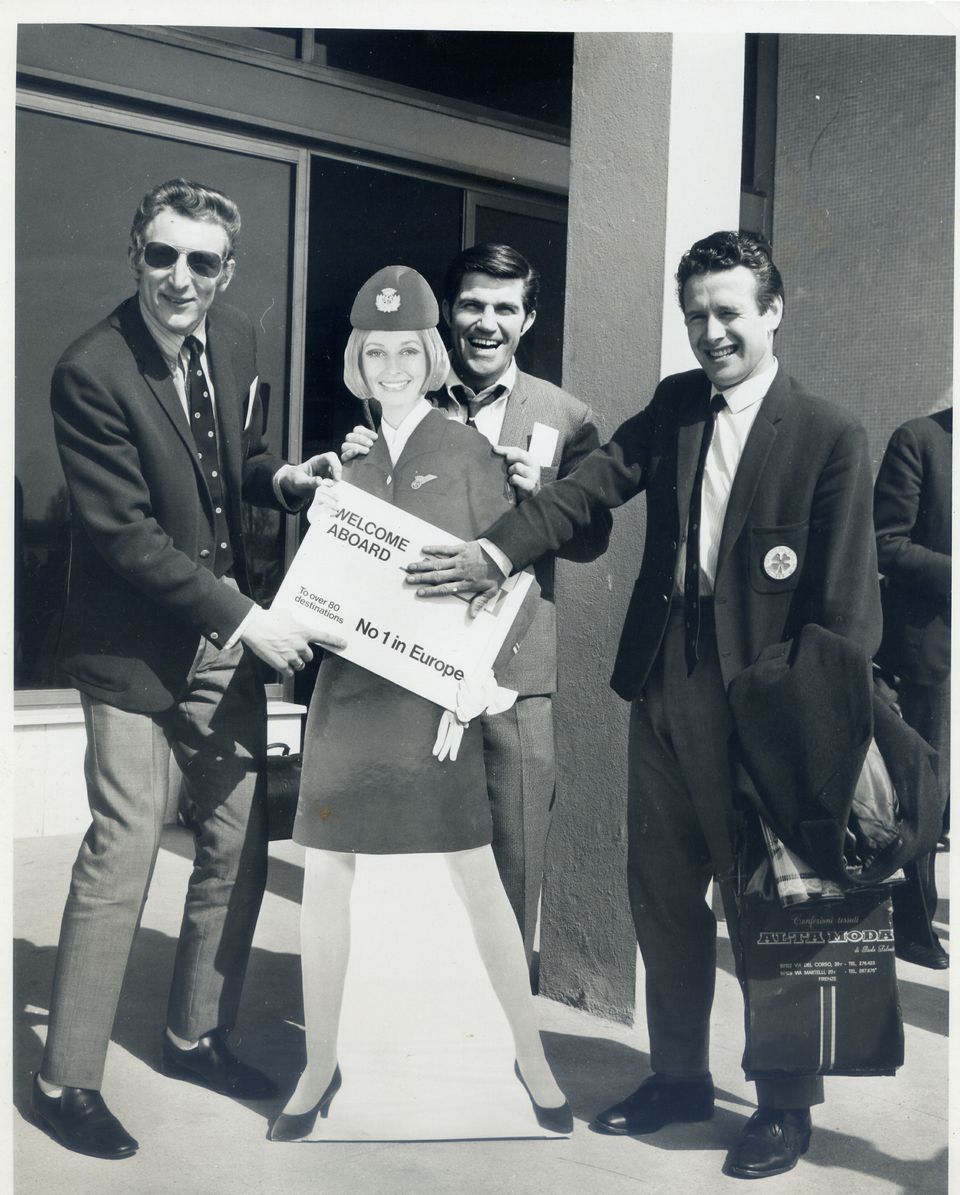 "I'm not surprised Brendan wants to get Gordon on a long-term contract. It's crucial for the team to have a safe goalie, a last line of defence you can trust.
"We had Ronnie Simpson, of course, and he played on until a persistent shoulder injury forced him to retire at 40.
"He actually arrived at Celtic from Hibs at the same age Gordon is now and look at the career he had in his latter years.
"Ronnie even made his Scotland international debut at the age of 36 in the 3-2 win over the-then world champions England at Wembley in 1967.
"We made our own history back then and it's great to see Brendan Rodgers and the lads creating new records.
"They've passed the Lions' feat of going 26 domestic games without defeat and I applaud them for that.
"As far as I'm concerned, all records are there to be broken, so well done to the present-day players. Carry on winning, lads.
"But, please, just don't ask me to compare Brendan's team with Big Jock's side!"
Willie Wallace has signed a batch of copies of That Season in Paradise – Ten Months of Celtic Heaven for CQN. Get your copy while stocks last from
www.cqnbookstore.com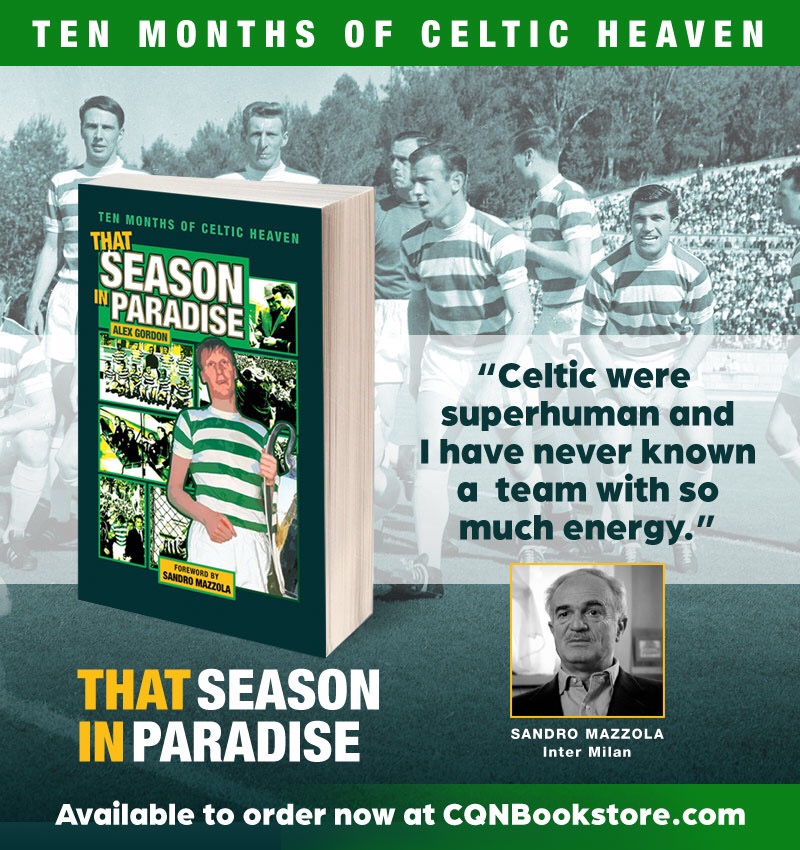 Click Here for Comments >