HERE is the forth and final batch of questions today which Tommy Gemmell answered for CQN back in February 2013.
You can catch up with the earlier questions HERE for Part 1, then HERE and then onto HERE before continuing reading below…
Q31 Henrik Larsson at his peak, would he have got into the starting line-up for Lisbon 1967? ROCK TREE BHOY
A: You only need to read this book to discover how highly I rated Henrik. But, no, I wouldn't have had dropped anyone to get him into the Lisbon team.
Here's a good wee story, though. Jim Craig was working for Celtic TV at the time and he was interviewing Wee Bertie. He asked Bertie the same question. He thought for a moment and said, 'Let's see now. I think I would have chosen Simpson, Larsson and Gemmell.' Not sure if Cairney saw the funny side!
———–
Q32: Tommy, who were the biggest cheats that you played against? Also, how good was that Benfica side which we demolished 3-0? JOHN O'NEIL
A: Easy answer to the first question – Racing Club of Buenos Aires by a mile. I talk about these poor excuses for sportsmen elsewhere, but all I would add is Sir Alf Ramsey got it right after England had played Argentina in the World Cup quarter-final in 1966.
Alf didn't hold back when he was asked about the performances of his country's opponents that day. He branded them 'animals'. Which is a bit of an insult to the wild life out there.
On the second question, that Benfica team was one of the best we had ever played. Any line-up with Eusebio in it is bound to be handy. We were brilliant the night we beat them 3-0 and my goal, as you will undoubtedly know by now, is still one of my all-time favourites.
They gave us a bit of a doing in Lisbon, though. They really went at us and it was 2-0 with only a minute to go when they tied the game 3-3 on aggregate.
We managed to get through a fairly hectic thirty minutes in extra-time before Caesar called it right when it came to the toss of the coin. Thank goodness!
Q33: Tommy,  straight from the hip. A relative of mine travelled on the team plane to the Feynoord Final. He told me all was not well on the flight over and that he thought you and Jinky at one stage threatened not to play until a bonus dispute was resolved. Is that true? And, if so, could it have affected performances in the Final? 31003
A: Absolutely not true! Someone's definitely got their wires crossed. Does your relative enjoy Duty Free before flights! There's no truth in that whatsoever.
Jinky and I refusing to play in Milan? Are you kidding? If that had been the case, Big Jock would have booted us off the plane while we were a few thousand feet up in the air.
Yes, I've heard so many stories about a bonuses row before the game, but if it happened I wasn't aware of it. We never knew what sort of extra payment we would get from the club. That was left with the directors. For instance, if we won the Scottish Cup we would probably find an extra £250 in our wage packet the following week. Pay advice would tell you what the extra money was for.
We were beaten by a very good Feyenoord side in that Final. Give them credit for the performance of a lifetime. They caught us totally unawares and were a far superior team than we expected. End of story.
Q34: Tommy, how did the team prepare for the Final in Milan and how did this compare to the preparation for Lisbon? In particular, how did both the players and manager's approach differ regarding the build-up to these two Finals? PAUL67
A: Sadly, I have to say it was night and day. We were well primed for the 1967 game against Inter Milan. Big Jock left absolutely nothing to chance.
Three years later it was a different story.
Possibly, we thought we were as good as European champions after our home-and-away wins against the seemingly 'invincible' Leeds United in the semi-final. I wouldn't say we were complacent against Feyenoord, but we might just have been a bit over-confident.
The pre-match planning just wasn't the same and it was most unlike Big Jock to under-rate opponents. On this occasion, alas, that's exactly what he did. And that got through to the players. Don't forget the calibre of the Dutch side on the night. Don't take anything away from them and a lot of people wouldn't have realised this, but they actually won the Intercontinental Cup – aka World Club Championship – when they beat Argentina's Estudiantes 3-2 on aggregate later that year.
They won 1-0 in Rotterdam and drew 2-2 in La Plata. Actually, they came from two goals down in that game to force the draw, so that surely underlines how good they were. Take my word for it, though, we would still have beaten them in a replay.
—————
Q35: Do you think that the Lisbon achievement helped the wider Scottish public accept Celtic and its supporters more than was previously the case? JOHN O'NEIL
A: Definitely. I knew Rangers supporters who applauded our European victory. Privately, of course. Their players, too, talked about our achievement. Scottish football benefited greatly from Celtic's presence. We showed the world we could play in a sporting and praiseworthy manner. We were good for Scotland and, of course, our supporters are now, rightly, recognised as among the best in the world – if not THE best.
Q36: Immediately after the European Cup Final, I took to the streets with my pals to play football. I was doing one of those commentating while I played routines. 'And Gemmell shoots' I shouted as I didn't quite connect with the ball, kicked the ground and ripped the sole off my school shoes. My mother blames you to this day. My question is, do you think 47 years is long enough to hold a grudge? PHELIM BRADY
A: I think 47 years is long enough to take your shoes to the cobblers. And, by the way, did you just say, 'And Gemmell shoots'? Shouldn't it have been, 'Gemmell shoots…and Gemmell scores'?.
—————
Q37: A question for Tommy, my favourite Lisbon Lion! Do you still think the incident with Haller was the beginning of the end as far as your Celtic playing career? ASONOFDAN
A: No, not all. Celtic frowned on one of their players being sent off while on international duty, of course, and I was punished by being dropped for the League Cup Final against St.Johnstone. Remember, I was still good enough to be selected for the European Cup Final against Feyenoord in 1970. It was December 1971 when I finally left the club I loved, so there was a lot of football played with Celtic between the Haller incident on October 1969 and when I moved to Nottingham Forest.
—————
 Q38: Tommy, I'm too young to have seen you play in the flesh, but when I hear your name the first thing that comes to mind (as well as that goal in Lisbon) is thundering long-range shots. Is that something you could always do or was it a case of mastering the technique? Also, is there anyone else in your day or the modern game who you think could strike the ball harder? THE HONEST COVER UP
A:  It was a question of practice, hopefully, making perfect. I spent around 25 to 30 minutes after the usual training sessions at Barrowfield bombarding Ronnie Simpson or John Fallon with long-range drives. I worked on the technique throughout my career. I don't know about anyone being able to strike the ball harder. It's a lighter ball, for a start.
Q39: Which player in your professional career was the toughest opponent to play against? TAMTIM
A: Jinky in training! Seriously, Bestie was always a handful. I played against him in internationals and in friendless and he was always a real threat. Like Jinky, he had the heart of a lion. There's no way the Manchester United legend was ever intimidated. A smashing wee guy on and off the pitch. And I can't forget Wee Willie Henderson. The Rangers winger was one of the top players in his heyday.
 ————
Q40: Question for The legend who is Big Tam. I wasn't lucky enough to have seen the Lions in the flesh (just a few short years ahead of my time), but it annoys me when I hear talk of Rinus Michels and Ajax being the founders of Total Football. I can only speak of the games I've seen on TV, but from the Final in Lisbon alone, I'd have to say Big Jock and you and your team-mates were the originators of Total Football. In the big scheme of things it's not a massive headache, but have you any thoughts on this and outside of Scotland do you think that performance in Lisbon has not been given the weight in history that it should have done? THE TOKEN TIM
A: The Dutch got the credit for Total Football, but, you're right, we were doing something similar at Celtic from the early days of Big Jock. He wanted players to play to their strengths and be comfortable when they were on the ball. I could have been an outside-left if you look at the way we played. Bobby Murdoch was a genuine two-footed player who could easily have adapted to life on the left. John Hughes could perform on either flank as well as centre-forward. Willie Wallace, Stevie Chalmers and Bobby Lennox could also operate in wide areas. And Wee Bertie kicked off his career as a left-winger before moving inside as a midfielder. So, yes, there was a lot of versatility in the team. Jim Craig didn't score a lot of goals, but he did an awful lot of unselfish running up and down the right wing. And what can I say about Wee Jinky? He could roam all over the place and look the part anywhere. He might have struggled at centre-half, though! I think Celtic got a lot of deserved praise throughout Europe for the way we performed in Lisbon. The name of the club may not have had the glamour of Real Madrid or Barcelona, but I think we proved once and for all on that unforgettable day that we were not a collection of country bumpkins from Scotland. We were a team of class and substance.
Q41: Question to Mr Gemmell in my best Jim White voice, 'How come you're so good?' Thank you, Tommy, for nearly a full lifetime of pointing to the Big Cup and saying to Them, 'Look what we won!' Thank you, thank you and thank you again! LEFTCLICKTIC
A: Thank you, too! Why was I so good? Very kind of you to say so. Personal accolades are all well and good, but I never lost sight of what I had to do in the Celtic team. I was part of a unit. I may have hit the headlines with the odd howitzer, but John Clark could have played as big a part in any victory in his quiet manner in the heart of our defence. He rarely got the headlines, but all the players knew what he provided on an exceptional and consistent basis. 
——–
Q42: Why can our manager not attend a match as a neutral to perform scouting duties without being attacked? TRADITIONALIST88
A: It's outrageous and completely out of order that Neil Lennon has to take dog's abuse from absolute morons who have no place in society never mind sport. The sooner we get to grips with this curse, the better. Stringent action must be taken against pests who blight our game.
———
Q43: Tommy, in his autobiography, Bertie Auld said he loved playing with you. Was he any good? TALLYBHOY
A: No, I believe he was well over-rated! No-one would have ever heard of him if it wasn't for me doing all his work on the left-hand side of the pitch. Only joking, Bertie! What a player and what a left peg. He and Bobby Murdoch were the best midfielders I ever played with. Wee Bertie was the finished article – he could tackle, pass and shoot. Not bad for a guy with only one foot!
———
Q44: I was at the 3-0 Benfica game as an 11 year old when you scored that belter. My question is, 'What was the feeling after that game, was it that we were comfortably through or did you expect a tough return leg?' VMHAN
A: We knew it would be difficult in the Stadium of Light. Okay, we were three goals ahead, but Benfica were an attacking team who scored goals for fun in their national league. And no team with a player such as the great Eusebio could ever be written off. That was a hard night in Lsbon, but, thankfully I've got better memories of the Portuguese capital.
Q45: Hi, Tommy! Will chance my arm and ask two questions! You are one of the most successful Celts of all time, but, of course, the start of your career was a time of failure for Celtic. Even as late as 1964 Celtic seemed destined for continued mediocrity. As a professional in the early, early part of your career, what were your thoughts AT THE TIME about the club, the management and your own and Celtic's future?
Also, you often played behind John Hughes in your career. Big Yogi was another of my all-time favourites, but he struggled for consistency. At his best, one of the most exciting players I've ever seen, when off form, though…Anyway, can you recall any specific occasion when John made you go WOW? (In a good way lol). JUSTAFAN
A: First up, I was chuffed when Celtic signed me. I always dreamed of playing for Motherwell, but thank goodness that never happened. Celtic may have been in a bit of turmoil at the time, but they were still a massive club. People kept referring to them as 'a sleeping giant' and I just wanted to play my part in helping to bring them out of their slumber!
I always saw my future at Celtic. I never hankered after a move and was only too willing to do what was necessary to get the club back to its rightful place at the top. Big Jock gave the place a real shake when he arrived and deserves great credit for that. There was no longer any interfering from above in team matters. It's was Jock's way or no way.
Yogi could be exciting and exasperating, but what a player when he was on form. To be fair, he was more often brilliant than not. He caused defences no end of hassle when he was on song. At times he was unstoppable. I recall his one-man show against Rangers in January 1966 when we were trailing 1-0 at the interval. Yogi ran amok in the second-half, shredded the right side of their rearguard and they fell apart. Stevie Chalmers, with a hat-trick, Charlie Gallagher and Bobby Murdoch scored in a fabulous 5-1 win. Inconsistent? Name me a player who was 100 per cent consistent.
—————
Q46: Tommy, it is great to see you are putting pen to paper. How I loved your  contribution to Celtic! Can you tell us about your earlier books about your career? PARKHEADCUMSALFORD
A: My first book, The Big Shot, was not actually an autobiography. There weren't even 100 pages in it! I was 25 at the time and there was a lot more to come. However, back in 1968, a Glasgow journalist persuaded me it would be a good idea to get some of my thoughts down in print so I went ahead with it. The second, 'Lionheart', was done over a decade ago and is a lot more rounded. But, as you can see, there's a whole load of fresh stuff in 'All The Best'. There was just so much material left over that I decided to get everything into print with this book. I've got no plans for a fourth – unless, of course, there is a public demand!
—————-
Q47: I have two questions for Mr Gemmell. Do you think that Celtic will ever appear in another European Final? And even mediocre, modern-day players make far more money than you did in your prime, do you resent this? DONTBRATTBAKKINANGER
A: I'm assuming you mean the Champions League Final. That's the big one and that's where Celtic deserve to be although, of course, the UEFA Cup Final in Seville will always be a great memory and an incredible feat in reaching that stage. What a pity we lost!
I would like to think it is possible for Celtic to grace another Final in the top-flight competition, but, obviously, it would be an extremely difficult task. I can always hope and dream.
As regards the cash flying around football at the moment, I have to say I don't resent the current players their good fortune to be operating in an era when satellite TV is pouring millions into the game. Good luck to them. When I was playing, we were earning more than the working man. Mind you, I wasn't looking for untold riches when I kicked off. I think I started with £7 and that rose to £12, then £18 and up to £25 before the basic wage was pegged at £40 while I was still a young player. Remember, too, there were bonuses on top plus appearance money. And, thankfully, we started getting a lot of win bonuses from 1965 on!
Q48: Hi, Tommy. No questions from me just a big thank you. YNWA. FRANK RYAN'S WHISKEY
A: Thank you very much, also. If I ever put a smile on your face or your fellow-Celtic followers, then I'll consider it all worthwhile.
——————–
Q49: Regarding your goal against Feyenoord in the Final in Milan. Was that one you had worked on in training? Was it knocked back to you to give you more room to score? I am surprised more teams do not use this as a way of getting more room to get the ball up and over a wall or through it as your shot did? Or were you just aiming for the referee's backside? GOOGYBHOY
A: We worked on that routine in training every day. When we were awarded that free-kick and Bobby Murdoch stepped up to take it, I knew exactly what he was going to do.
No, I didn't aim for Italian referee Concetto Lo Bello's rear end, but I have to say it was a very strange place for him to stand behind the Feyenoord wall. I've never seen a referee adopt that position since. He did a good job of getting out of the way of my shot, didn't he?
——————
Q50: Wow! Willie Wallace and now Tommy Gemmell! Anybody who saw these Celts play must smile at the memory. Why has left-back been such a weak position since you left us? Jimmy Quinn, Andy Lynch and, especially, Tom Boyd were fine and Izzy can be great, but other than that there have been some real disappointments. Oh and Big Man, thanks for scoring the first goal I ever saw Celtic – a penalty at Brockville in 1968. Do you remember it? JIMBO67
A: Naturally left-footed players aren't exactly thick on the ground, so that may be part of the answer.
I could kick with either foot, of course, which came in useful. It's a specialised position and players at full-back these days are asked to do an awful lot of work going up and down the flank. I was built for it and I believe I was fairly consistent. I hope you agree. I'm not being big-headed, but I was fairly happy with my performances in the green and white hoops.
Believe it or not, I do remember that penalty-kick against Falkirk in 1968. Like every other Celtic player I hated playing at Brockville. Games on that horrible pitch at that equally-horrible ground are embedded in my memory bank for all time. It was goalless when we were awarded the spot-kick and I simply thrashed it into the net. Willie Wallace and Bobby Lennox got the others as we won 3-0. 
—————
*We will post more Questions asked by CQN'ers and Tommy's wonderful answers tomorrow, heading to Pittodrie shortly. It is clear reading these questions that Tommy is held in the highest of esteem by the Celtic support. We can tell you that in the last few years of his life he enjoyed the company he found on CQN when we managed  to get onto the site for a read.
The last time Tommy made it onto CQN was on a late afternoon last year, appropriately enough on 25th May, when he popped on unannounced and chatted to the CQN'ers who happened to be around. He signed off as his tea was ready.
CQN has a Lisbon Celtic shirt, the last one signed by Tommy, and so far it has also been signed by Willie Wallace, John Hughes and Charlie Gallagher. Paul McStay also signed it when he popped in for a coffee and a chat when he was over from Australia. Willie Wallace will take this very Celtic shirt and get ALL the Lisbon Lions who are participating in this month's 50th Anniversary to sign it too.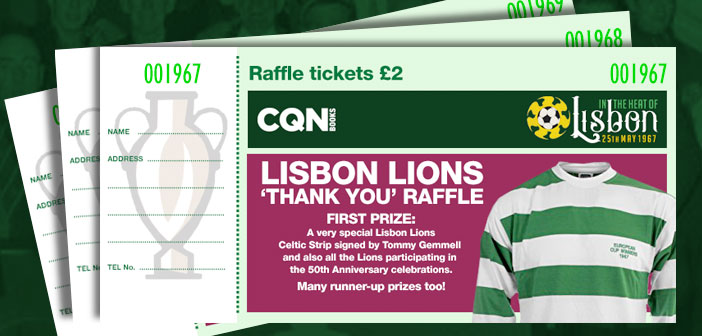 We are raffling this Celtic shirt at the moment on CQNBookstore.com and ALL of the money raised will be used to thank the Lisbon Lions (players from 1966/67 European Campaign) or for those we have lost, their families.
CQN is staging an IN THE HEAT OF LISBON party at Greenock Celtic Supporters Club on Friday 26 May feating Willie Wallace and the Lisbon Lions. This is 50 years to the day since the Bhoys returned to Scotland with the Big Cup. Tickets are £10 and available at the bookstore – demand is very high so please book now.
You can also order our new book IN THE HEAT OF LISBON together with the wonderful CQN Lisbon 1967 JOCK STEIN t-shirt both for just £19.67. The t-shirts sold out but we ordered 100 more to see us through May and satisfy the orders that were coming in. Profits from this to our THANK YOU fund.
Click Here for Comments >