CQN's occasional series in looking back in detail at Celtic stars continues with author Paul Dykes taking a look at one of that very special group of young Celtic players in Celtic's Quality Street Gang…
JOHN GORMAN
MOVING from Fife to Midlothian felt like relocating to the other side of the world for a pit-man's six-year-old son in 1985. It was all Margaret Thatcher's fault of course and the defiant chants of, "Maggie, Maggie, Maggie! Out, out, out!" were still ringing in the ears of the many irreparably decimated families and communities who had braved the miner's strike over almost twelve bleak and debilitating months.
The uncertainty of that penniless year of hand-me-down clothes and free school dinners had prompted my father to seek work elsewhere and, six months after returning underground, he moved his now-forever-politicised family lock, stock and barrel to Penicuik in Midlothian. As we left friends and family behind, my mother tried in vain to soften the blow by explaining that we would be staying close to a ski centre of all things. It felt like we were moving from one slippery slope to another.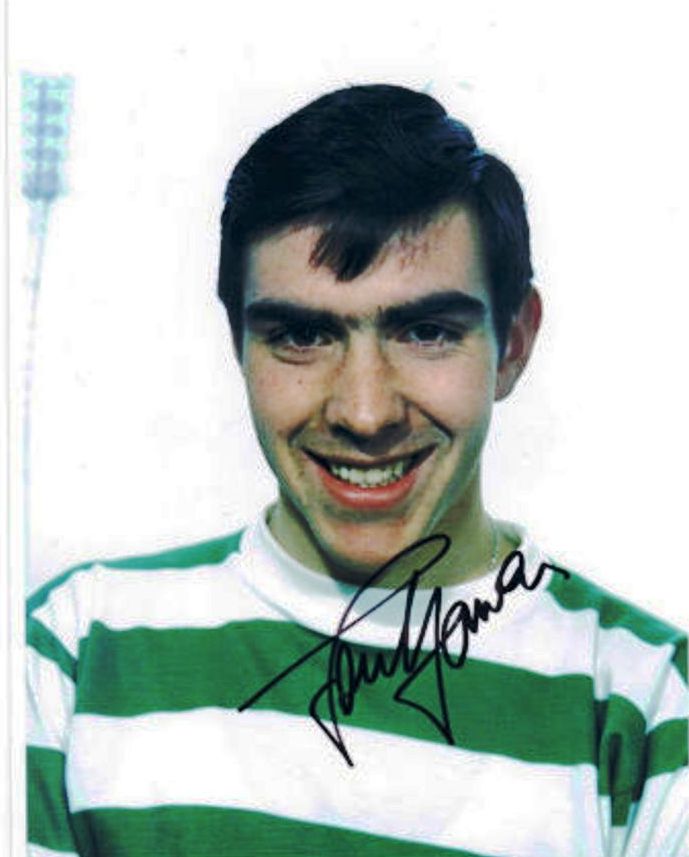 A new town, new school and no friends was the daunting prospect facing us and I vividly recall being taunted on my first day at Sacred Heart Primary School with chants of, "Glory glory to the Hibees," and, "Hearts, Hearts, glorious Hearts," in equal measure after it was discovered where my own allegiance lay. It was an unusual experience as Celtic and Rangers had, and have, a hold on the small Fife mining villages of my youth and the expletives that peppered my own impromptu riposte of "Hail Hail, the Celts are here," resulted in an early audience with the Hibs-supporting headmaster.
CATHOLIC
Suitably castigated, I finally made it to class where I was met by Miss Gorman, a strict disciplinarian of devout Catholic faith and exacting standards. Keen to ensure her that I was no purveyor of schoolyard anarchy, I immediately apologised for my foul language but stuck to my guns on the chants of "Hail Hail." Surprisingly, her icy gaze softened momentarily as she explained that I was right to be proud of my football team but I was to be in no doubt that she would not tolerate such a course turn of phrase from one of her pupils.
As the weeks passed and I settled into my new environment, Miss Gorman never pulled me up for continuing to wear my Celtic bar scarf and gloves in the schoolyard. The 'Cabbage' and 'Jambos' fans had strengthened my resolve and perhaps she admired my unstinting loyalty to what I realised was a shared ethos. The 1960s Celtic programmes and photos that she later brought in to show me were an unexpected treat however, and I was enraptured when she explained that her cousin, John, had played in the same Celtic team as Kenny Dalglish.
Miss Gorman described how John could play in the left-back role or as sweeper and that he had first gone to Celtic Park as a player aged just 13 in 1963. Two years later, Gorman was on the groundstaff after being signed by Jimmy McGrory. He had even been taken to the European Cup final with the club in 1967 by Jock Stein.
They don't normally teach you this stuff at school.
Life at Sacred Heart didn't seem so bad after this revelation and Miss Gorman never tired of my endless questions on Jock Stein and the Lisbon Lions. It was a middle ground that helped me through an early transition in life and one I was to use 25 years later when attempting to track down the much-travelled John Gorman.
QUALITY STREET
Official media requests to football clubs can often fall on deaf ears, much to the frustration of this interview-hunter on the trail of a 40-year-old story. MK Dons had received at least half-a-dozen of these professionally-bland emails from me before I finally changed tact. A hand-written letter described my 1980s affinity with Gorman's cousin and within a couple of days The Quality Street Gang's left-back called me on my mobile. The first thing that struck me about Gorman was his continued love of Celtic Football Club and his lasting regret that he didn't play hundreds of games in the green-and-white hoops like his contemporaries Dalglish, McGrain, Hay and Connelly.
His affection for those days with his Quality Street alumni immediately spilled out into our conversation as he looked back on the youth trip to Italy in 1968 with nothing but fondness. "The best memory was when we all stole the bikes," John explained. "There we were representing Celtic but we couldn't resist jumping on these bikes and we didn't know where we were going. There were about six of us just driving about, although we didn't really steal them because we put them back.
"Wee Lou used to slaughter me and say that I cost them the junior European Cup because we were playing against Juventus and I was playing sweeper that day and I dropped my shoulder on the 18-yard line and one of their players took it off me and scored the only goal of the game and put us out. We were playing really well and I got player of the game in the match before that, but in that game I cost us. George Connelly was the most talented. He could pass the ball sixty yards. He could have been the greatest for Celtic. When you look at that team now, you'd have to say that George was the best. We were so good, we went down and beat Carlisle's first team 5-2. Our reserve team used to go out there and beat everybody. Our little group was Davie Cattanach, George Connelly, Davie Hay, Jimmy Quinn and me. That was our little clique. We were part of the family. From that group, Davie Hay and I became best friends and we've been good friends since then."
JOCK STEIN
The quality of that Casale Monferatto squad was an early indication that Jock Stein was building yet another home-grown side on the muddy trenches of Barrowfield. A team that he hoped would emulate the greatest of them all. The reserves started the 1968-69 season with victory over Rangers, winning 2-1 in a Reserve League Cup match. Sean Fallon had the luxury of having the goal-scoring prowess of Joe McBride at his disposal as the striker's convalescence continued in the second-string. McBride scored both goals in a youthful side which also featured the experience of Charlie Gallagher, Jim Craig and Stevie Chalmers. Fallon's post-match musings in the 
Celtic View
 made particular mention of his 18-year-old left-back. "I have been impressed this season by the displays of young John Gorman, fresh from our groundstaff. John is playing well and learning a lot from experienced campaigner Jim Craig at right-back. Goalkeeper Bobby Wraith has the confidence and ability to make a big name for himself on the football field. Almost any player could walk into our first-team and make a solid contribution."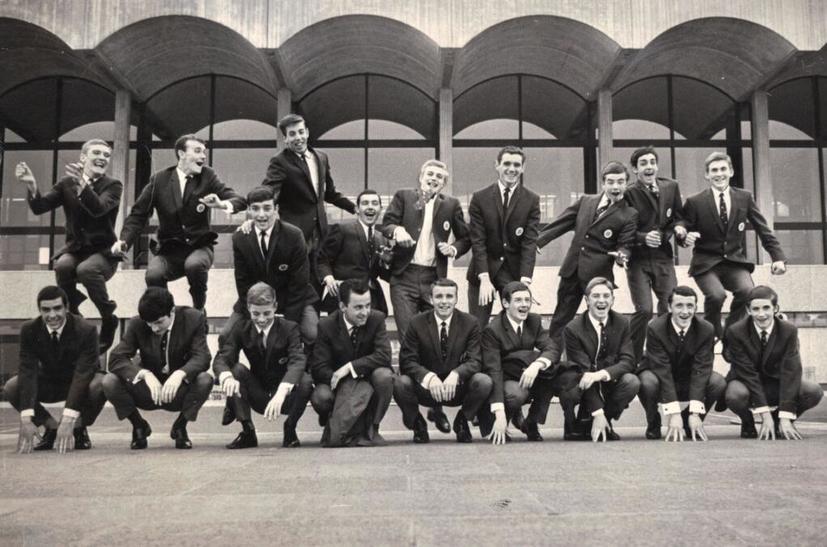 With the Celtic first-team travelling to Firhill already guaranteed of their place in the knock-out stages of the tournament, Stein leant a helping hand to the reserves as had been the practice when his own second team needed some experience some ten years previously, and no fewer than four of the Lisbon squad turned out at Celtic Park for the Reserve League Cup showdown with Partick Thistle. With Celtic needing at least seven goals to win their section over Rangers, the performance produced by the Hoops' precocious reserve team that day has become the stuff of legend.
Joe McBride and Bertie Auld scored four and two goals respectively, while the young stars Lou Macari and Paul Wilson also got four and two as Celtic ran out 12-0 winners. An ecstatic Fallon could not hide his delight after the match. "A tremendous feat, I can't praise my players enough for the courage and tenacity they showed in winning the League Cup section. Kenny Dalglish is only one of the potentially great teenagers we have at Parkhead. Paul Wilson is setting a high standard on the right-wing. He is one of our great natural players and once sharpened up he will make them all go."
John Gorman played left-back that day against Partick Thistle and remembered the motivational techniques which saw Celtic achieving such an incredible score-line. "Big Jock said if we won, we'd get £25 each."
BREAKTHROUGH
Gorman looked likely to be the next member of the Quality Street Gang to make the breakthrough to Jock Stein's starting XI and he recalled the somewhat bizarre circumstances behind his call-up for the European Cup first round first leg tie away to St. Étienne on September 18, 1968. Gorman said: "I was on the bench. Me and Lou Macari were playing Rangers reserves the day before and Sean Fallon came into the dressing room to tell us that we had to be up at the park on Sunday because it looked like we were going to be in the squad. When we trained on the Sunday, big Jock came in and said, 'I can only take one of you', and he said that we'd toss a coin and wee Lou won the toss. Then George Connelly arrived at my house and said Jock was taking me on the trip after all because he needed a defender."
Celtic lost that European tie 2-0 and a week later, with the champions 10-0 up from their League Cup quarter-final first leg against Hamilton Academical, Stein saw the return game at Douglas Park as an opportunity to introduce three more debutants to his first-team ranks as he explained prior to the second leg: "The fans will see George Connelly at right-half for Bobby Murdoch. Young George is a versatile player and you can field this fellow in practically any position. John Gorman, who has been playing so well in the reserves, makes his debut at left-back, and promising boy Davie Hay comes in at centre-half for Billy McNeill. Jimmy Quinn, the fastest man at Celtic Park, will lead the attack and Lou Macari, who is scoring goals in the reserves, will play at outside-left. Don't worry, this side is more than capable of winning this match – otherwise they would not be fielded."
On Wednesday, September 25, in front of 4,000 fans at Douglas Park, first-team jerseys were worn by Bobby Wraith and John Gorman, as they joined George Connelly, Davie Hay, Pat McMahon and Lou Macari as graduates of the youth team who had travelled to Italy just four months before. McMahon shone and set up Joe McBride's two goals as well as getting on the score sheet himself. John Gorman at left-back and Lou Macari at outside-left were particularly impressive and looked destined for a regular place in the first team while George Connelly scored one of two disallowed goals.
KENNY DALGLISH
Perhaps most significant of all, this match saw Kenny Dalglish make his debut for Celtic when he came on as a substitute. It was to be the start at senior level of a legendary footballing career. This non-contest more than illustrated that, had Celtic's proposal for inclusion of their reserve side in the Scottish Second Division been accepted, they would have been more than a match for most second tier outfits.
The Celtic second string continued to make hay with their reserve contemporaries and on November 20, 1968, Stein vowed prior to their Reserve League Cup semi-final first leg that 'the Celtic team for tonight's game at Falkirk will be the youngest ever to represent the club in a competitive match'. Full-backs Danny McGrain and John Gorman were only 18 and Dalglish, Wilson and Davidson were members of the Scotland professional youth pool, while Pat McMahon was the veteran of the side at just 22. Celtic ran out 6-0 winners. If you're good enough, you're old enough.
While George Connelly flourished alongside Hay and Macari over the next couple of seasons in the first team, many of their Quality Street contemporaries had to settle for reserve football. John Gorman, Davie Cattanach and Kenny Dalglish travelled down to Elland Road as spectators to witness one of their friend's finest moments during the European Cup semi-final. The three young Celts had a unique night set up for when they arrived in Leeds. Gorman explained: "Kenny Dalglish and I went down with Davie Cattanach and Alex Smith. Alex drove the car and we all stayed at Billy Bremner's house. We were all sitting with Jack Charlton, Peter Lorimer, Eddie Gray and Billy until about four o' clock in the morning, talking about football."
Connelly's winner set up one of the most memorable return legs in European football history. And a 2-1 victory at Hampden Park in front of a record crowd ensured Celtic's progression to their second European Cup final. The opponents were Feyenoord and the Celtic side made their familiar trip down to Troon, to stay at the Marine Hotel before flying out to Italy from Prestwick on Monday, May 4, 1970. It was reported that the entire playing staff travelled and Stein explained at the time why so many players made up the party. "The reason I'm taking all my players is to let youngsters such as Dalglish, Davidson, McGrain and Gorman find out what it's all about. The earlier they absorb this type of atmosphere, while they're not actually involved, the easier it will be for them when called on."
Upon arriving in Italy, Davie Cattanach suggested to some of the gang that they should go into Milan for a change of scenery. Ward White recalled: "We went down to the café, John Gorman, Davie Cattanach, Jimmy Quinn and me. We had bottles of wine up on the tables and the chairman, Desmond White, came in so we had to hide them under the table. He  then bought another couple of bottles of wine and put them on the table for us. Big Jock had given us all a tenner and it was a lot of money. I had gone out there with no money because I couldn't afford it. Davie Cattanach says, 'Come on we'll go to Milan'. So Jimmy Quinn, Davie Cattanach, John Gorman and me all jumped in this taxi and headed into Milan and as we were going down the road, John Gorman, who wasn't a drinker, was going to be sick and the driver went off his head and threw us all of out the taxi.
MILAN
"So we got into Milan, and the taxi had cost us about 20,000 lire, and we were walking up this alleyway with Davie Cattanach in the front, Jimmy Quinn behind him, then John Gorman and I was at the back. Then these two Italian boys came walking towards us and Davie Cattanach and Jimmy Quinn walked by them and bumped into them. I just walked by and turned around and the next thing this boy opened his jacket and pulls out this big sword and I shouted, 'This guy's got a knife'. You how fast Jimmy Quinn was? I was by him in a flash, it was the quickest you've seen me moving. We decided to go back to the hotel and flagged a taxi down to the Varese Hotel. We got dropped off about a mile away from the hotel and by this time it was about one o' clock in the morning. I mean it was a holiday, we weren't doing anything wrong, but we just hoped that the big man wasn't up, sitting in the lounge and we're going to be sneaking in there. Thankfully we were alright but the whole thing was a disaster and the end result was a disaster."
The 2-1 defeat in Milan was a catalyst in Stein's rebuilding programme and he had a cornucopia of talent to choose from. With such an alluring wealth of players coming through on a seemingly never-ending conveyor belt of talent, it was inescapable that many young players' dreams of a Celtic career would be unfulfilled. Having to force your way far enough up the pecking order to get anywhere near a first team changing room that included a mixture of Lisbon Lions and Quality Street Kids would have seemed like an impossible assignment for even the most accomplished of campaigners.
Attitude and injury would certainly work against you at Celtic Park during this unprecedented era of riches and many players simply found it impossible to displace anyone from the first-team even when their temperament and application was unquestionable. One such player was left-back John Gorman. Whilst his reserve team mate and fellow full-back, Danny McGrain, was impressing Stein and embarking on a top flight playing career that would span many years with Celtic, John Gorman was on his way out of Celtic.
CARLISLE
Bob Stokoe was a close friend of Jock Stein's and by the late sixties he was in charge of Carlisle United when Jock Stein agreed to send a young Celtic side down to play his first team at the beginning of the 1970-71 season. Gorman impressed Stokoe to such a degree, when the Celtic reserve side defeated his first eleven 5-2 at Brunton Park on August 3, 1970, that he paid Celtic £12,000 for the left-back the following month. Gorman did not wish to leave his beloved Celtic and it is something that still does not sit comfortably with him. He has a deep regret that his career did not blossom at the club he loves, and he is at pains to try and come to terms with it over 40 years later.
Gorman said: "Jock Stein was the big man and everyone just gave him so much respect. He was so authoritative that you had to get your hair cut short. He was very hard and I can't say that I love Jock Stein because I feel that he let me down. How can you say that to Celtic fans? I should never have left Celtic and I'm still to this day not very happy about it. It's always been a big regret for me because I was forced to leave. All the players thought I was going to be in the squad for Dundee and Bobby Lennox and wee Jimmy were thinking I was going to be in but Danny was picked and I was told I was going to Carlisle.
TOMMY GEMMELL
"I was gutted because at one time Tommy Gemmell was irreplaceable and it used to drive me mad. Tommy was fantastic but I thought I had a chance to take his place eventually and that's what frustrated me because Jimmy Quinn ended up playing left-back in the first-team and he never kicked a ball with his left boot. All of a sudden there was a shortage of left-backs. I know I should never have left Celtic. Then I got transferred to Tottenham and I'll never forget big Jock was managing Leeds and he said to me, 'Oh wee Gorry, you've done well', and I was so angry because he was the one who got rid of me."
On August 31, 1970, Gorman lined up in his beloved Hoops for the final time in a friendly match against Ross County, which Celtic won 3-0 with goals from Stevie Chalmers, Kenny Dalglish and Lou Macari. Gorman checked out a week later wondering where his Celtic career had gone wrong. His former reserve team-mate, Tom Lally, feels that Gorman should have been given a run in the first-team earlier and remembered the disappointment he felt at leaving the club he so cherished. "He was very, very down about it," said Lally. "I remember speaking to him about it at the time. He had come in to get his boots from the boot room and he told a few of us who were hanging around there that he had just been given a move to Carlisle and he'd have much preferred to have stayed at Celtic. We were all of the same opinion but there was quite an amount of experienced left-sided players at the club in front of him at the time. But I felt that John Gorman was a terrific player, I really did. And I watched his career progressing when he went down to England."
There is a suggestion that Gorman's stature may well have been a deciding factor as Stein's attention to detail prevented him from playing two small full-backs in his first-team, and Danny McGrain looked to be a cert for the right-back berth. Ward White believed that John Gorman should have been retained and utilised by Celtic despite his lack of inches. White said: "I think that was the biggest mistake Stein made, getting rid of John Gorman. He didn't like any player to go anywhere and be a success. I mean if they're going to go anywhere and fail then that's alright but don't go and be a success. John went to Carlisle and did well and got moved to Tottenham Hotspur. He wasn't big and I heard that Stein rated Danny McGrain and John on a par at that time, but Gorman was quite a wee bit smaller than Danny."
DAVIE HAY
Davie Hay has been a close friend of John Gorman's since their earliest says at Celtic Park. Hay highlights the huge amount of players Celtic had in his position, which prevented the Winchburgh left-back from progressing beyond the reserves. "What happened at that time was that, even before I broke through there was Jim Craig and Tommy Gemmell as the full-backs so as a youngster you're saying, 'How can I break into a team that's won the European Cup? As well as John Gorman you also had Willie O'Neill, Danny McGrain and I could play left-back as well. Celtic were maybe spoiled for choice and an opportunity came when Carlisle made a bid, big Jock accepted it and then John later went up to Tottenham. John had a sweet left peg, he started as a winger and moved back, but there's no reason to say that if he hadn't moved that he wouldn't have broken into the first-team. Unfortunately he didn't and I think he only played one or two games."
John Gorman was regarded by many of his teammates as the one that got away. He moved to Carlisle and then on to Tottenham Hotspur, where he met a player who would become a great life-long friend: Glenn Hoddle. Gorman moved to the States and played for a number of clubs in the North American Soccer League and the Major Indoor Soccer League. Whilst in America, he was able to enjoy his twin passions of football and art as he provided illustrations for the Tampa Bay Rowdies match programmes and Annual Calendar and his artwork proved almost as good as his footwork. Gorman returned to England in 1986 to take over as Gillingham youth and reserve team coach and he even turned out once for the first-team alongside Tony Cascarino at the age of 37. Gorman then joined his old Spurs friend, Glenn Hoddle, as his assistant at Swindon Town and then took over the manager's role when Hoddle moved to Chelsea. Whilst in charge of Swindon, Gorman's Quality Street mate, Davie Hay, joined him as his assistant and the pair signed Frank McAvennie on loan for a spell in the Premiership. Gorman's next position was as assistant again to Hoddle for England, and the pair led them to the World Cup finals in 1998 where he would work with another great bunch of kids called 'Fergie's Fledglings'. Various other managerial and coaching positions followed with such clubs as West Brom, Wycombe, Gillingham, Northampton, Southampton, Ipswich, Queens Park Rangers, Tottenham Hotspur and MK Dons, where he narrowly missed out on promotion to the Championship in 2011.
John Gorman is now retired from football and lives a quiet life in Berkshire. Had he remained at Celtic for a few months longer then he would have been impossible to ignore as the club's only recognised left-back. While his fellow full-back Danny McGrain is celebrated as an icon of world football, John Gorman will forever be recalled in the footnotes of our history as one who got away.
Written by Paul Dykes, author of The Quality Street Gang and Celtic's Smiler The Neily Mochan Story both available from CQNBookstore.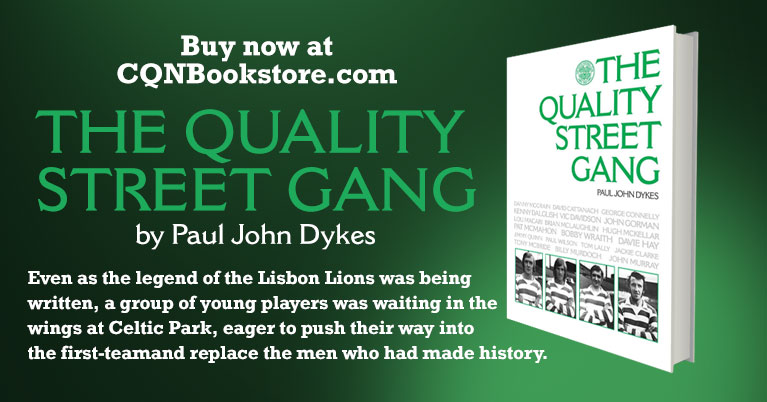 Click Here for Comments >