After the rest of the world has enjoyed a two-week international football break, Scotland gets back to real business tonight when Celtic visit Kilmarnock. A win would see the champions move level with their three nearest challengers on 12 games played, but 13 points clear of second placed Aberdeen.
Brendan Rodgers will welcome the Friday night kick-off as it allows for extra recovery time before the visit of Barcelona on Wednesday, so Kilmarnock can expect to face a full strength team.
The contrast between our earlier games this season against Kilmarnock and Barcelona could not be more stark. Killie looked like the worst team we've faced this season (Red Imps included) when they lost six at Celtic Park, while Barcelona blew us away at the Camp Nou.
My expectation for Celtic on Wednesday is that we will see a react to that painful defeat. I don't know if we have enough in our tank to repeat our previous recent wins against Barca, but we should be vastly more solid in all areas of the park.
Kilmarnock will have similar feelings about tonight. They have lost only six goals in their last five games, so can legitimately tell each other they are a much improved team. They are also nip-and-tuck with Inverness, Partick, Hamilton, Motherwell, Dundee and Ross County, all of whom are within three points of bottom of the table or a top six spot.
In other words, unlike Celtic, who are playing with the incentive to increase their already daunting advantage, Kilmarnock are playing for their livelihoods, a scenario which should never be underestimated.
CQN Badges, a free ticket for Barca game thrown in, and Walking with Shay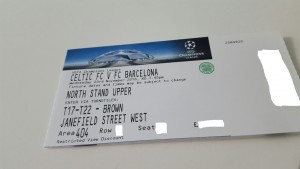 The WalkWithShay Campaign is delighted to be in a position to offer you a chance to bid on our auction of 4 CQN badges. The successful highest bidder will also receive a free ticket for the Celtic v Barca game next week, which is situated in the North Stand Upper, Block 404.
Please submit your bids by email to walkwithshay@yahoo.com. Bidding closes on Sunday at 9pm and the winning bidder will be contacted soon after.
Thank you for Walking with Shay.
Get bidding.
Click Here for Comments >