26. SAMARAS BLATANTLY CHOPPED DOWN IN BOX AT FIR PARK BUT NO PENALTY
Celtic do get penalty but only after having 3 claims for a penalty, two of which were stonewallers. The first one was a blatant penalty when Samaras was chopped in box.
Guardian: "Even if Celtic did have a legitimate claim for a penalty when Samaras was tripped by Reynolds. Another two poor decisions from referee Charlie Richmond denied them penalties after McGeady had equalized. STONEWALL PEN DENIED. 12 December 2009 SPL game 3-2 Celtic.
27. LAFFERTY HAS A SHOCKING KUNG FU KICK INTO ZHI'S GROIN, NOT EVEN BOOKED.
Lafferty (again) high feet left in to catch ZZ's groin, the Daily Record thought this was worth a full page photo with headline 'Welcome to Glasgow China.' Craig Thomson did not book Lafferty. NOT EVEN A  BOOKING. 4 October 2009 – SPL game. Celtic lost game 2-1.
28. DUNDEE DENIED 2 STONEWALL PENALTIES IN LEAGUE CUP v RANGERS 
Dundee were drawing 1-1 with Rangers when referee Dougie McDonald denied not one but TWO stonewall penalties according to Dundee manager Jocky Scott.
The Scotsman: "I don't care what anyone says. For the first one, Craig Forsyth says the goalkeeper definitely touched him. "There was no reason for him to go down as he would have been in a position to score. Unsurprisingly, Smith did not concur with his close friend's assessment of the incidents."I didn't see the first one, because my view from the directors' box was obscured by a pole," said Smith. STONEWALL PEN DENIED.  27 October 2009 League Cup 3-1 Rangers.
29. DUNDEE UNITED PLAYER BLOCKS SAMARAS' CROSS WITH HANDS, NO PENALTY AWARDED
Eurosport website: "Severin then comes across to tackle Samaras. Appeals for a handball and it was a hand. Severin fortunate there. 66 min – That Severin handball was as strong as the one given against  Steven Whittaker for Scotland against Spain the other night. Referee Dougie McDonald never spotted it."
The Herald: "There were claims for a handball from Sean Dillon as Samaras clipped a ball from the byeline." The two quotes list a different player as the offender but no doubt that it was hand ball. STRONG PENALTY CLAIM DENIED. 17 October 2010 SPL game Celtic won 2-1 with late winner, incident happened when score was 1-1.
30. HANDBALL BY 'WELL DEFEDER IN BOX. NO PENALTY
Motherwell player clearly handles the ball in the box. Richmond denies penalty.
Guardian: "Even if Celtic did have a legitimate claim for a penalty when Samaras was tripped by Reynolds. Another two poor decisions from referee Charlie Richmond denied them penalties after McGeady had equalised. STONEWALL PENALTY DENIED. 12 December 2009 SPL game 3-2 Celtic.
31. WEIR RECKLESSLY FOLLOWS THROUGH THROUGH ON SCOTT MCDONALD, NO BOOKING
David Weir follows through putting studs into McDonald's leg and adds a follow up knee to the back right in front of the referee Craig Thompson who had a clear view, free kick awarded but no booking. NOT EVEN A  BOOKING. 4 October 2009 – SPL game. Celtic lost game 2-1.
 32. PAPAC NEARLY HALVES KAMARA IN TWO ON EDGE OF BOX – NO BOOKING
BBC Sport website: "Diomansy Kamara fouled by Sasa Papac. Free kick to Celtic."
Goal.com website (match report):  "Kamara has his leg kicked inside the 'D'. Papac takes him down, but holds up his hands. Papac will feel lucky not to have been booked. Referee Dougie McDonald keeps his cards in his pocket. NOT EVEN A  BOOKING. 28 February 2010 SPL game, Rangers win 1-0 with late goal.
33. CELTIC GOAL DISALLOWED AGAINST HIBS, UNCLEAR WHY
The Scotsman:"Celtic toiled to get back into their stride, although they did seem harshly dealt with on the stroke of half-time when Darren O'Dea stabbed the ball into the net, only for the goal to be disallowed for a foul on Smith which was not easy to identify."
The Herald: "They thought they had regained the lead just before half-time when Marc Crosas's free-kick into the box was jabbed into the net by O'Dea but referee Iain Brines saw something – either offside or a shove – and disallowed the "goal". That stoked the atmosphere around Parkhead."
Celtic lost the game 2-1. GOAL CHOPPED OFF. 27 Jan 2010 SPL match.
34. KEANE CONTINUOUSLY FLAGGED OFFSIDE WHEN ONSIDE, 2 YARDS ONSIDE v FALKIRK 
The Times: "A Celtic source made allegations of refereeing incompetence around Keane, the source added: "It seems that officials are struggling to keep up with his pace. Several key offside decisions have gone against him purely because of his speed." This statement was made on 25 February, a few weeks after fans claim Keane was flagged wrongly offside against Hearts on FIVE occasions. A fortnight later Celtic played Falkirk, Robbie Keane is running a good two yards behind play when Georgeos Samaras releases the ball into his path. The assistant referee James Bee, also behind play, so he has the benefit of a clear perspective on the action, is a pace behind Keane and several yards behind the ball. The assistant referee raised his flag, intimating that Keane is ahead of the ball. Pictures show Keane to be clearly onside. LACK OF SHARPNESS/PACE OF ASSISTANT REFEREES. 7 March 2010 SPL 2-0 Celtic v Falkirk & 12 February 2010 Celtic 2-0 v Hearts.
 35. SAMARAS GOAL CHOPPED OFF v MORTON IN SCOTTISH CUP
One paper says chopped off for offside. Daily Record says chopped off for handball. On TV highlights it did not look like it had hit his hand.
Daily Record: "The big striker thought he'd scored in 75 minutes when he bundled the ball into the net. Referee Craig Thomson refused to award the goal, insisting Samaras had used an arm."
Other paper: "Celts thought they'd sealed it when Samaras bundled home at the far post from Crosas' 77th-minute corner. They should have coasted home with Lee Naylor denied by the woodwork and Georgios Samaras having a strike ruled out for offside". GOAL CHOPPED OFF. 19 January 2010 Scottish Cup 1-0 Celtic.
36. HOOPER FOULED TWICE IN THE BOX, PENALTY AWARDED THEN REFEREE CHANGES HIS MIND
Eurosport website:  "70th minute, Celtic awarded a penalty then denied a penalty. McDonald has changed his mind. That is unbelievable. Hooper was clearly fouled by Pernis after being nailed by Kenneth seconds earlier. Very bizarre."
Daily Record: McDonald SHOULD have awarded Hooper with a free blast at goal from 12 yards for a foul on him by Garry Kenneth. And the United defender, already on a yellow card, SHOULD have been sent off. "
Former top English ref Graham Poll has accused Dougie McDonald of giving in to playerpower. Poll said: "It was bizarre. It's player pressure working, which is something we shouldn't see."The ref has got a clear-ish view of it and thinks the keeper has taken the centre-forward out and gives a penalty – so far nice and simple. The players know that the keeper has got a touch on the ball but it should still be a foul. They pressurise the referee, he feels that pressure and goes to talk to the assistant and the assistant says to him 'the keeper got a touch to the ball' and the ref says 'no penalty, my mistake, I'm sorry guys'. If refs make mistakes and admit they've blown the whistle when they shouldn't have done, then you can respect him."But for me it was a penalty all day."
Hooper reckons the ref screwed up twice, insisting he was taken out on two occasions – and still didn't get the penalty. And the Celtic star believes he could have been given a spot-kick seconds before that moment of controversy – insisting he was held back in the box by Garry Kenneth. Hooper said: "It was a  penalty. He got me first and then the ball."The linesman has only seen him get the ball and it was a bad call. There were two penalties. If I had gone down with the first one it would have been a penalty and so was the second one." STRONG PENALTY CLAIMS DENIED. 17 October 2010 SPL game  Celtic won 2-1 with late winner, Incident happened when 1-1.
37. FORTUNE HANDLES BALL AND BOOKED. KENNY MILLER HANDLES BALL, NO BOOKING
After 7 minutes Fortune handles ball. A free kick is awarded to Rangers and Fortune is booked. 19 minutes later Kenny Miler handles ball. Dougie McDonald blows for a free kick to Celtic. Miller is not booked.
"Fortune was next in the book for handball with the whistler wanting to show his authority from the start. Gers had the ball in Boruc's net after 26 minutes when Edu cracked home a loose ball from the edge of the box. But McDonald had already blown for handball by Miller. SAME OFFENCE – CELTIC PLAYER BOOKED, OPPONENT OR RANGERS PLAYER NOT BOOKED. 28 February 2010 SPL game 1-0 Rangers Note – Miller was booked in second half for a horrendous tackle on O'Dea. If ref was consistent that would have been red.
38. FOUR PLAYERS KICK BALL AWAY, ONLY CELTIC PLAYERS GET BOOKED
Iain Brines books McGeady and O'Dea for kicking ball away against Aberdeen. In same match Stephen McLean kicks ball away and is not given a 2nd yellow card for it. Four days later the same Mr Brines is refereeing a match at Ibrox against St Mirren, Lafferty kicks the ball away and is given a lecture from Brines and no yellow card.  SAME OFFENCE – CELTIC  PLAYER BOOKED OPPONENT OR RANGERS PLAYER NOT BOOKED. SPL game 13 February 2010 4-4 draw. 17 Feb 2010 Scottish Cup game 1-0 Rangers.
39. IAN MURRAY HANDLES BALL TWICE IN BOX, RICHMOND DENIES PENALTY
The Evening Times: "Charlie Richmond's performance was inconsistent and, at one point, left Lennon leaping like a truculent teenager in his technical area. Had Richmond focused more on getting decisions right – like Ian Murray's double handball in the box when pressurised by Keane after just 16 minutes – and less on posturing dramatically when blowing his whistle, it would have made for a much more efficient performance. As it was, Celtic managed to overcome his shortcomings and their own sluggish start to grind out a win"
 Daily Record: On Ian Murray – Lucky not to concede a penalty in the first half but showed plenty of effort. On Charlie Richmond – Got too many things wrong. Missed Murray's handball in the box although he got the actual spot-kick right. STONEWALL PEN DENIED. 4 April 2010 SPL game 1-0 Celtic.
40. FALKIRK PLAYER HANDLES BALL IN BOX, REFEREE FAILS TO GIVE PENALTY 
Hand ball by Falkirk defender in the box. Alan Muir denies Celtic the penalty when TV evidence on the BBC highlights showed it was a clear handball. STONEWALL PEN DENIED. 16 January 2010 SPL game 1-1 draw.
41. SEVERIN HANDLES IN BOX AFTER MARK WILSON CROSS, NO PENALTY GIVEN 
Eurosport website: "Celtic denied another penalty when Severin clearly blocked Wilson's cross with his hand. The referee Dougie McDonald has called that one wrong. STRONG PENALTY CLAIM DENIED. 17 October 2010 SPL game Celtic won 2-1 with late winner, Incident happened when 1-1.
42. KENNY MILLER DIVES AND WINS PENALTY v HIBS TO GO 2 NIL UP
Kenny Miller goes down very easily in box. Steve Conroy points to spot.
Daily Record: "Zemmama, who also claimed Kenny Miller went down "far too easily" for the penalty which Boyd converted in the second half." SOFT PENALTY AWARDED. 14 February 2010 SPL game Rangers won 3-0. 1-0 at time of penalty.
43. PETER HOUSTON COMPLAINS ABOUT PENALTY AWARDED TO RANGERS
Losing 1-0 in a Scottish Cup quarter final Rangers were awarded 2 very soft penalties. Peter Houston was livid at both awards.
The Scotsman: "Houston said: "I was disappointed to lose what I thought were two soft penalties. The goalkeeper got his foot to the ball for the first one."  BBC website:– "I am disappointed and I just wonder if the penalties would have been given at the other end. I hope they would have been," said the Dundee United manager. "Dougie McDonald is an honest referee in normal circumstances, I think he is one of the best in Scotland. But I was disappointed that he got there early to give the penalty kicks." SOFT PEN AWARDED. 14 March 2010 Scottish Cup 3-3 draw.
44. THREE PLAYERS LEAVE FIELD OF PLAY TO CELEBRATE GOAL, ONLY CELTIC PLAYER GETS BOOKED
Rasmussen correctly booked for leaving field of play to celebrate with fans. Two weeks later McLean scores against Celtic, takes off his shirt, jumps the hordings along with half the Aberdeen team and celebrates with the fans at the Dick Donald stand. No second yellow card issued by Brines. The following day Whittaker scores a goal for Rangers and runs to the fans at the east enclosure. No booking issued by Conroy.. 10 minutes later, with the score at 1-0, Whittaker puts in a challenge that is deemed a bookable offence so gets yellow carded but although he should be off the pitch for 2 bookable offenses, he isn't. SAME OFFENCE – CELTIC  PLAYER BOOKED OPPONENT OR RANGERS PLAYER NOT BOOKED. SPL game 13 February 2010 4-4 draw, SPL game 14 February 2010 – Rangers won 3-0.
 45. LEDLEY FOULED FROM BEHIND BY GOODWILLIE, NO FOUL AND GOODWILLIE SCORES
Telegraph: "Until Joe Ledley was ambushed by Prince Buaben in midfield. Goodwillie gathered the ball, took a couple of strides and struck a shot which deflected off Glenn Loovens and beyond Fraser Forster."
The report said ambushed. Ledley was tripped and fell. Nine times out of ten a free kick would have been awarded. Dougie McDonald waved play on which led to Goodwillie scoring and equalising for Dundee United.  GIVE REF BENEFIT OF THE DOUBT IN THIS ONE BUT I HAVE SEEN THEM GIVEN. 17 October 2010 SPL game – Celtic won 2-1 with late winner.
46. DAVID WEIR IMPEDES FORAN IN BOX, NO PENALTY; "I DON'T THINK YOU WILL GET THAT AT IBROX"
BBC Sport website: "The former Rangers defender was also in mischievous form when asked if his side should have had a penalty when Richie Foran was challenged by Rangers' David Weir. "Yeah, but I don't think you will get that at Ibrox," he said in a week of much controversy about refereeing decisions in the  Scottish Premier League." 
Referee Iain Brines waved play on. STRONG PENALTY CLAIM DENIED. 30 October 2010 SPL game 1-1 draw.
47. MILLER GOES IN WITH STUDS HIGH ON O'DEA, YELLOW CARD, NOT RED
STV website: "Kenny Miller booked for a bad challenge on Darren O'Dea. Miller slid in for  the 50-50 ball, but his high boot stamped into O'Dea's leg in what could have a serious injury for the defender."
Dougie McDonald could have easily red carded Miller for that challenge. NO RED CARD. 28 February 2010 SPL game 1-0 Rangers 92nd min winner. Miller should also have been booked earlier in match for handball.
48. BOUGHERRA BRINGS DOWN KAMARA IN BOX, NO PENALTY
Daily Record: "Celtic hollered for a penalty  when Diomansy Kamara – another earner who failed to perform – went under a Bougherra challenge. But McDonald waved play on and his heart was in his mouth by now the was getting through this by the seat his pants." PENALTY  CLAIM DENIED. 28 February 2010 SPL game – 1-0 Rangers 92nd min winner.
49. KI FOULED IN INJURY TIME, NO FREE KICK. HIBS SCORE FROM BREAKAWAY
Celtic players were unhappy that an apparent foul on Ki was not awarded by Iain Brines in the 92nd minute when Hibs broke forward.  Miller and Stokes combined to set teenage Danny Galbraith, who has yet to start a game, free to score his first goal in senior football and collect the points for Hibs. WILL GIVE REFEREE BENEFIT OF THE DOUBT IN THIS ONE BUT I HAVE SEEN THEM GIVEN. 27 January 2010 SPL game – Hibs won 2-1.
50. GUS McPHERSON – "A DIFFERENT SET OF RULES APPLIES WHEN COMING TO IBROX"
From BBC Website – 'St Mirren boss Gus MacPherson was angry  Rangers' David Weir was not punished by referee Charlie Richmond for a foul early in the Buddies' loss at Ibrox. "I'm not wanting players booked or red-carded but there are laws to the game," MacPherson told BBC Scotland after Saints' 3-1 defeat. "David Weir impeded Michael Higdon in the process of shooting, he affected how he was shooting. There's a decision to get made there. No decision was made." 
MacPherson feels guidelines set down at the start of the season are not being adhered to. "It's compulsory that we must go      to a meeting at the start of the season, it's not optional, and we're set down guidelines," he said."And during the course of the season, these guidelines change. I'm not just talking about St Mirren games, I'm talking throughout the game as we see it. "We watch games, we go to games and we see clips on the BBC and we see a different set of rules getting applied. None more so than when we're coming here (to Ibrox)." NOT EVEN A  BOOKING. SPL game 7 March 2010 – Rangers won 3-1.
REMEMBER YOU CAN READ THE FIRST 25 HONEST MISTAKES FROM 2009/10, WHEN THE OLD RANGERS CLUB NEEDED TO WIN TO SURVIVE HERE
List of the SFA officials who featured on the Top 40 Honest Mistakes Season 2009/10:-
Dougie McDonald 17
Steve Conroy 7
Craig Thomson 6
Charlie Richmond 5
Iain Brines 6
Alan Muir 2
Wullie Collum 1
Linesman – 2  Lawrence Kerrigan OR Andy Tait 2 goals chopped off in 2 games but unsure which one of them raised flag. (games v Dundee United & Falkirk both times Samaras flagged offside.)
Linesman – 1 John Gilmore chopped off Motherwell goal.
Linesman – 1 Francis Andrews penalised Boruc for handling ball inside his own box.
Linesman – 1 James Bee  flagged Keane as offside when he was 2 yards behind the ball.
Linesman – 1 Bran McGarry disallowed a Dundee United goal v Rangers.
Linesman – 1 Steven Craven disallowed a Hamilton goal v Rangers.
Linesman – 1 Willie Conquer disallowed a Celtic goal v St Johnstone.
Celtic fans are ridiculed in the media as being paranoid and are told they have no facts to back up their claims. These decisions in the one season 2009/10 and the 1st 3 months of season 2010/11 provide evidence on what became known as "Honest Mistakes."
Video evidence in place would have overturned the majority of these decisions (especially the disallowed goals and penalty claims) with most only requiring one view to see the decision was wrong.
Celtic have nothing to fear from the introduction of video technology into the game, indeed they have everything to gain from it.
We started this long feature, which is over two parts, by referring to the evidence given in court yesterday in the case of HMA v Craig Whyte.
A Director of Rangers, the Bank's man on the Board at the old club, told the court that Rangers needed Champions League qualification to avoid an insolvency event.
It is truly a remarkable coincidence that these 50 Honest Mistakes happened just as Rangers were financially at crisis point and the Bank coulee have pulled the plug.
Finally, to repeat what we stated right at the very beginning, we produce these facts in response to the evidence from the High Court and publish it at a time when Celtic are going for a Treble and have just hammered Sevco Rangers at Ibrox by 5-1.
Looking back, it looks like we weren't paranoid enough.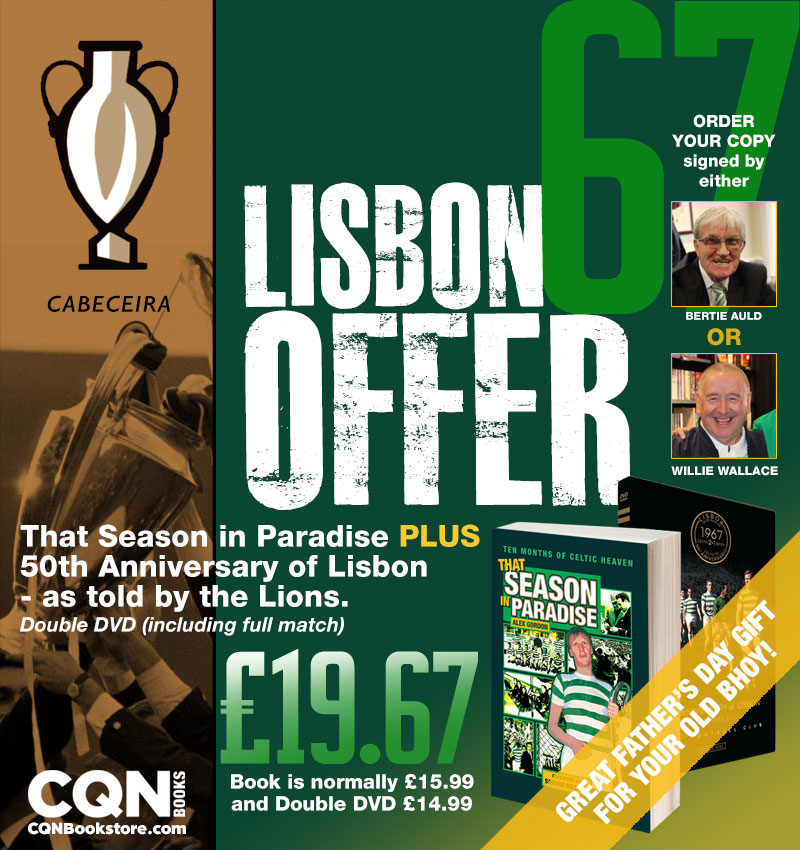 Click Here for Comments >