CALLUM McGREGOR revealed he went through a summer of hurt after Celtic's season from hell.
The Hoops captain had only known title success since he had been brought into the first team by Ronny Deila in season 2014/15.
The 28-year-old midfielder lifted a championship winner's medal during the Norwegian's two years in charge, another double in Brendan Rodgers' reign and another brace after Neil Lennon had returned.
However, the sequence of success came to a shuddering halt last term in the club's inexplicable fall from grace that saw them limp in a ridiculous 25 points off the pace in their botched historic bid to achieve a tenth successive crown.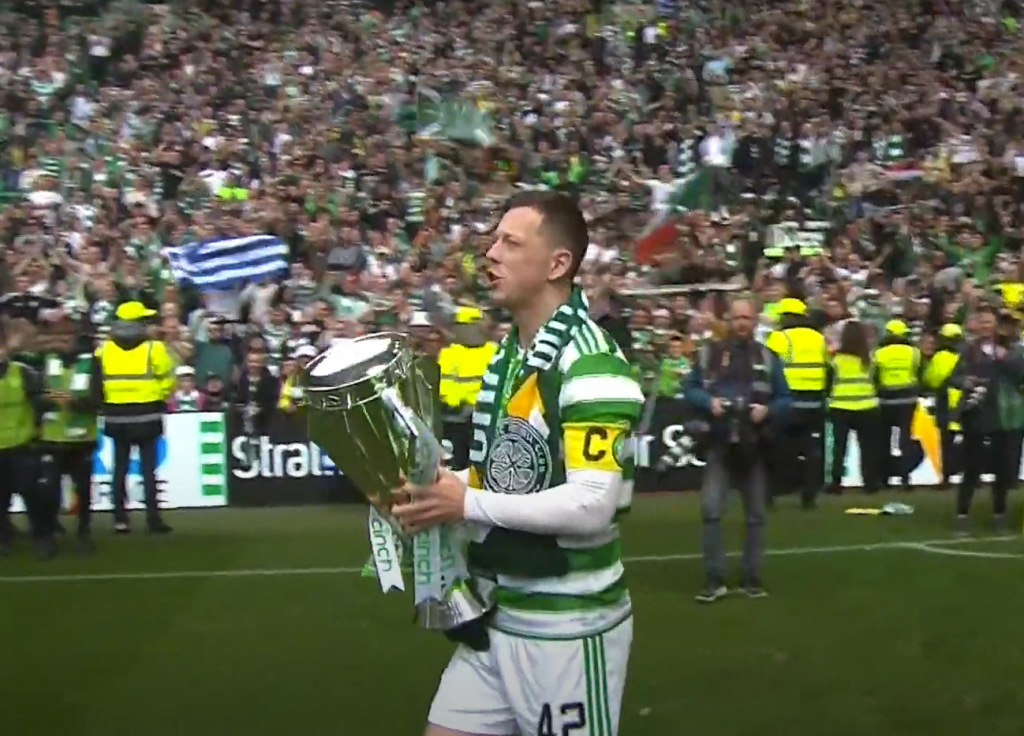 THE CUP THAT CHEERS…Callum McGregor proudly parades the Premiership trophy to the Celtic fans.
Lennon departed in February as the unacceptable results mounted at a frightening rate and John Kennedy saw out the remaining 10 games of a wretched campaign in which the team failed to deliver a trophy for the first time in 11 years.
Normal service has been resumed since the June arrival of Ange Postecoglou who didn't hesitate to make changes to turn things around in remarkable fashion.
McGregor took over the captaincy when Scott Brown left after 14 years for an ill-fated nine months at Aberdeen and the 28-year-old Scotland international anchorman picked up his first silverware as onfield leader in the 2-1 Premier Sports League Cup triumph over Hibs at Hampden in December.
But the Premiership flag was the one he craved most of all and, after a rollercoaster term in which the Hoops lost three of their first league games, the club achieved that target with four points to spare.
ROARING SUCCESS…Callum McGregor is hailed by the Celtic support.
The reliable middle-of-the-park performer savoured the 6-0 win over Motherwell at Parkhead yesterday as the curtain came down on a phenomenal season.
McGregor said: "When you are a winner and it is taken away from you, it hurts.
"It was a long summer and you can't wait to put it right.
"Lifting the trophy was an amazing moment for myself, but also collectively as a team, a club, the supporters. That's for everyone.
"It's been a long two seasons with Covid and last year was so disappointing. It's brilliant to bring this day back to the club.
"It's something that will stay with me and I need to thank everyone for making it happen."
JOY BHOYS…Josip Juranovic and skipper Callum McGregor are all smiles.
Reflecting on the team's false start to the campaign that saw three successive away losses at Tynecastle, Ibrox and Livingston, McGregor, speaking to the Sunday Mail, continued: "You always have to go through difficult moments, especially when you are building a team.
"Everyone at the start of the season was giving us two or three years to do it.
"But I spoke back then and said if we had that mentality within the group we would never achieve anything.
"This club demands success. The reality is that after six weeks we were under pressure. That tells you what the expectation is and we knew that.
"The pleasing thing is you could see everybody was hungry to do well. Then we just had to fine-tune it, build performances and togetherness within the team."
JUST LIKE THAT…Callum McGregor and Joe Hart with the silverware.
McGregor added: "You have to build a team and squad with the same mentality and these boys have got it.
"I saw early on that we had recruited winners and others who experienced last year and didn't want it again.
"What you see is the end product of all that hard work and sacrifice.
"The challenge now is to do it again. It's easy to chase, the hard part is to retain it.
"We need to get better individually and collectively because there's loads of room for improvement.
"The only way you do that is coming back with a fresh hunger to be successful again."
CROWNING GLORY: POSTECOGLOU AND CO IN PARADISE
Click Here for Comments >