Out of the Champions League qualifiers at the hands of a team with a smaller budget than ours, for the second season in succession. Where did it all go wrong? Two shortcomings stand out: team planning and tactical strategy.
I'll take the latter first. We had 60% possession last night, a remarkable figure for an away European game which was lost. We dominated possession, didn't score a goal and conceded twice (for the fourth time in five games).
Let me take you back a few years to a Dominik Diamond TV interview with Martin O'Neill, then Leicester City manager, in 1999. O'Neill laid plain his tactical philosophy, "My teams have big guys who know how to defend, they have players who can throw dangerous balls into the box, and players who can get on the end of those balls and put them in the net".
A year later, when Martin came to Celtic, it was like going to school as we watched the observance of these very rudimentary rules transform our club. His defenders could defend, he had wide players who could throw dangerous balls into the box, and strikers who knew where the goal was. Martin's teams never dominated possession against a European peer, never mind a team who beat them so comfortably.
It doesn't need to be explained that there was no team in the world who could score three times from corner kicks against the Celtic team of a decade or so back. Today, team planning has insufficiently focussed on a few fundamentals of the game: know how to defend, know how to translate possession into chances, and have a handful of players in the team who know where the goal is. This is the fittest, fastest, Celtic team I have ever seen, but we looked like busy fools last night.
Ronny Deila's post-match comments about the team being scared was an instant reaction to the defeat, but it's worth digging into what prompted this perception. There were actually many occasions when Celtic players showed for a pass, the Uefa possession and completed pass stats conform this, but what we never did was boss the middle of the park.
In yesterday's blog I asked Celtic to own the park as I have had a worry about this aspect for a while. This is different from covering a lot of ground (we do that), or being able to make a pass (we do that too). We have Scott Brown (runner) and Nir Bitton (passer) in central midfield. I like both but we need extra bite in this area. Celtic's most effective period over the last decade was when we had Wanyama and Brown central-mid. The role Wanyama fulfilled has been sacrificed for the player in the hole behind the lone striker.
Players of Wanyama's calibre are not common, and we shouldn't go 4-3-3 if all we have is a Kayal to fill the additional central midfield space, but Brown and Bitton are not enough in central midfield in Europe. It's also clear that selection for the four advanced positions (the 3-1) has been so fluid since the start of the season we're clearly not cohesive in that area of the field either.
For me, if it's Brown and Bitton, and I think it should be, we need another Brown-Wanyama influencer. Think back to our last Champions League group to consider the prospect of playing a European game without Scott Brown. At the very least we need cover for him, but in Europe we need two in his position. Go 4-3-3.
So much for tactical strategy, what about team planning? For the third August since parting company with Gary Hooper we are hawking around for a striker. Gary's not a panacea, so I'll ignore him as a prospect for now, but while Leigh Griffiths has performed beyond the call of duty, we are, again, out of the Champions League without having any idea who our primary striker will be this season.
We are in a loop of mistakes, and frankly, the most likely next action is that we respond by recruiting an identikit of the many strikers who have passed through Parkhead gates in recent years. We know enough about this problem to be aware that it's our primary challenge, yet we have been unable to overcome it.
In my State of the Club blog at the start of the season I cautioned that we'd swapped Gordon Strachan's soft spot for recruiting from Hibs, for a desire to see stars at Dundee United. Ciftci, Mackay-Stevens and Armstrong have been our primary recruits for advanced positions in 2015. Only one won a place in the starting line-up last night, leaving us relying on players who struggled to get in the team a year (or longer) ago.
Ronny Deila may well be able to polish Dundee United players into top performers at Celtic, but we didn't recruit the finished article. We should have known this, and should have been aware that our August cup finals would have made calls on bit-part players from recent seasons.
We will find the occasional Champions League player in Scotland, but you can't raid a mid-table SPFL team and expect to leap to the very top table in the game. This team planning strategy always looked vulnerable and it's proven to be.
On the money side, you know my views. Over any business period you pay what comes in, no more and no less. We're losing to team who spend less than us, not more, and on this occasion a team who picked up a player we discarded.
On just as important matters………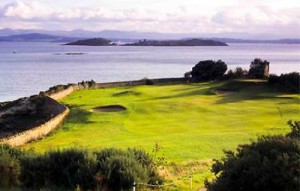 The golfers among you have three days to buy a raffle ticket – for £1 only – to win a round of golf at the fantastic Aberdour Golf Course for four people! Check it out here on ebay.  Money raised (by Taggsybhoy) will go to the Foundation.  This important work, always needs to be done, win, lose or draw.
Click Here for Comments >