CELTIC skipper Scott Brown and his team-mates are on the verge of overtaking a record set by Martin O'Neill's side.
Brendan Rodgers' men are currently on a remarkable streak of 22 consecutive Premiership wins and are unbeaten in 34 domestic games.
The British record stands at 25, a run established by O'Neill's Hoops side in 2003/04.The midfielder said: "We have to try and keep our run going for as long as we possibly can.
"The way we are playing, who says we can't keep winning?" asks the Celtic skipper in the new issue of the Celtic View, out today.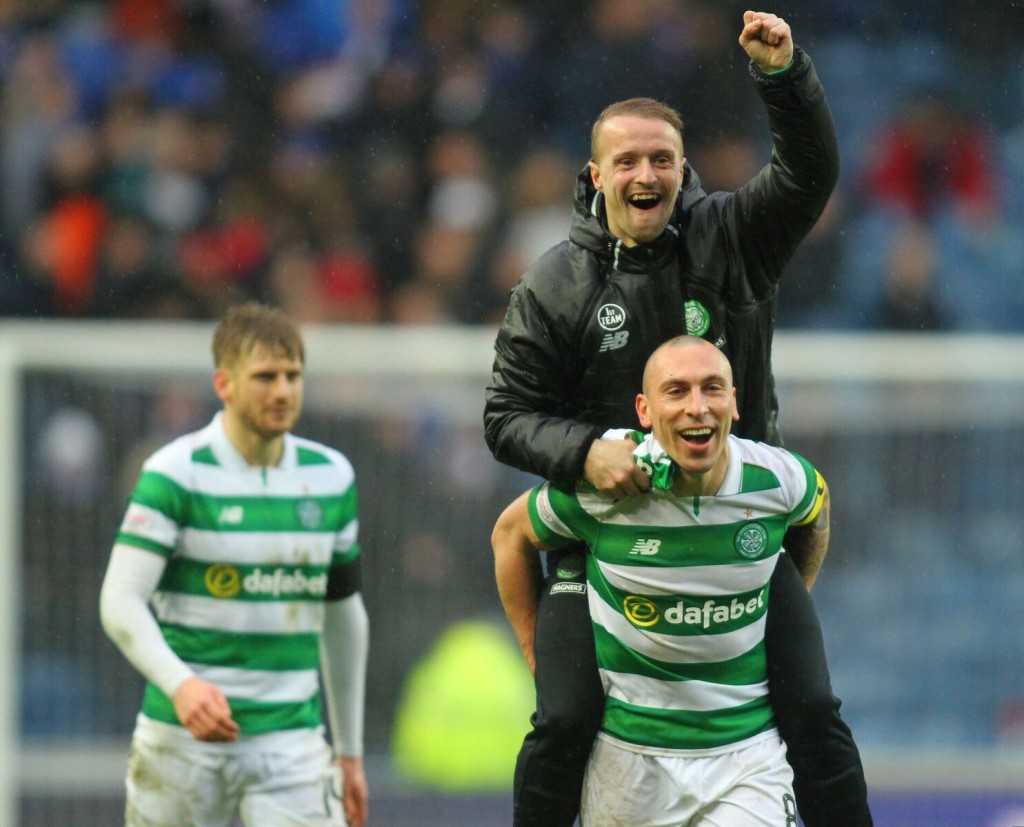 "We just need to take it game by game. Playing against Rangers (sic)  is a huge game for us, especially at Celtic Park."
And the Parkhead onfield leader reckoned the champions showed the manner in which they can cope with any kind of adversity when they came from behind to win at Ibrox on Hogmanay.Brown added: "The main thing about the last game is that we didn't have the best of starts.
"You expect Rangers (sic) to come out at Ibrox as they did and they did well for 20 minutes, but we were confident in our fitness levels and our belief in one another."As soon as we went 1-0 down, no-one panicked. We looked around at each other and thought: 'They have a goal head start, now here we go, let's start playing'.
"We could have scored four or five and, although they hit the post late on when it was 2-1, we had other good chances."
How long will Celtic dominate Scottish football?
Scottish football certainly is a tale of two clubs at the moment, both with vastly contrasting fortunes.  Or maybe that should be three clubs, but in Scotland these things can be confusing. 2012 is the key to all of this so let's consider what happened before that year. In the decades before 2012 Celtic and Rangers dominated both the league and cups; no other teams have managed to beat either of the Glasgow clubs to the league title since Alex Ferguson's Aberdeen did it way back in 1985.
Rangers held the record for the most league wins and their run of 54 titles ended in 2012 when the club went into liquidation. A new club was formed from the ashes when Charles Green's Sevco Scotland Ltd bought a basket of assets from the administrators Duff and Phelps and after trying to take the place of Rangers (IL) in the SPL, his new club was forced through fan pressure at the other clubs to begin life in the fourth tier of Scottish football.
Meanwhile Celtic have set about winning 10 in a row and are just about to achieve 6th title in a row over the next few weeks. No one can get close to Celtic and they have walked the league in the last six seasons and probably will continue to do so for at least the next six. Can anyone see where a challenge will come from?
Sevco Rangers, the club formed in 2012 by Charles Green , has by 2017 developed an identity crisis. At the start of the 2016/17 season they had after a mishap or two, including a 6-1 Play-Off thumping at the hands of a very poor Motherwell side, made their way through the lower tiers to reach the Scottish Premiership for the first time ever. They promptly sold season tickets to supporters claiming that they were "Going for 55". A remarkable claim given the fact that the club that won the 54 titles was in the hands of liquidators BDO.
And the pretending may not be obvious to their supporters, aided by their chums in a compliant Scottish media, but it is very clear that this is not the same Rangers when you look at what has happened on the park so far this season.
Sevco Rangers is lacking quality in the squad and management. Their support yearns for them to emerge as genuine challenger to Celtic but the void between the two clubs is still huge. Celtic proved this last year when they hammered Sevco Rangers 5-1 in the first ever Glasgow derby between the clubs to be staged at Celtic Park.
Celtic have a very strong team at the moment and a manager with pedigree in Brendan Rodgers. He made his name at Swansea and Liverpool, before moving to Glasgow last May to manage the club he has supported all his life. And what a wonderful job he has done.
Rodgers was able to bring 20 year old Frenchman Moussa Dembélé to the club. The striker scored a hat trick against Sevco Rangers in that match in September and two more against them since. Celtic are running away with the league under Rodgers with the other teams all looking light-years away from Celtic.
Dembele's form has been so good under Brendan Rodgers that he has been able to draw interest from European footballing giants in the transfer market, even if the player himself has stated that he would be happy to remain at Celtic for four years.
Yet some pundits have started labelling Celtic's dominance as 'boring' and are crying out for someone to try and put up a fight against the Rodgers steamroller.
It will be a long time before anyone can get close to Celtic. When it comes to money, Celtic are miles ahead of the competition and can afford the big wages demanded by world class players. There is also the draw of guaranteed Champions League Football.
Celtic haven't got past the last 16 since 2004 but that is now a top priority for Brendan Rodgers and accordingly that is where the summer transfer activity will focus.
Teams like Aberdeen, Motherwell and Hearts have finished second to Celtic since Rangers died, but have come nowhere near to closing in on the Bhoys. Pundits are currently plucking figures from thin air, but 4 years has been bandied around as a timescale for Sevco Rangers to even get close to Celtic in terms of league form and a squad that could compete in both league derbies and cup games. To most that is simply wishful thinking.
Celtic will still be a safe bet to the win the league year after year for the foreseeable future, but we can only hope that there will be an underdog  able to challenge Celtic while Sevco Rangers are still finding their feet playing with the big boys. Look out for improved odds on the likes of Aberdeen who have fielded strong teams recently, as well as Hearts who have had some great runs in the last few seasons. You may be waiting some time however before the odds on both Sevco Rangers and Celtic are back to how they were in the mid 2000s. It might never happen.
Click Here for Comments >