JAMES FORREST has been transformed from goal-maker to goal-taker this season.
The Celtic winger's neat strike in the 3-1 win over Hamiton Accies in midweek took his tally to 11 – already better than his previous best of nine from season 2011/12.
Forrest said: "It's the most I've ever scored in a season and I just want to keep going.
"We're only halfway through and I want to get better.
"When the manager came in 18 months ago, he let the forward players have a bit of freedom and he wants everyone to add goals to their game. I'm glad I've done that to contribute to the team.
"It's a team game and for the manager it's good to get goals from all over the park. Scoring helps my confidence and I just want it to continue."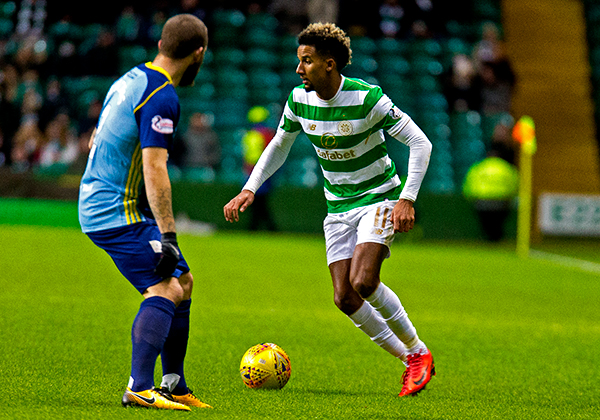 With Scotty Sinclair – who also scored against Accies to stretch his haul to 15 – on course to at least match his 25-goal tally from last season, the competition at Parkhead for leading marksman will be highly interesting.
Forrest said: "Scotty's our top scorer and looks sharp. He's ready for every game and he's a great player to have in the team.
"Scotty's record last season was tremendous and again this season he's scoring and is always a threat.
"That's what I've copied, but I need to keep adding goals.
"There's no banter about the amount of goals the boys score, I don't say anything.
"Whenever they play, they are always a goal threat, too.
"Honestly, I've not thought about a number to target. This is the first year I've hit double figures so the target for me is the next game and to try to add another goal.
"I just want to score as many as I can."
Click Here for Comments >