BRENDAN RODGERS has hit back at the ridiculous remarks by the rogue Hearts manager Craig Levein who is fast becoming the 'bad boy' of Scottish football.
In recent weeks Levein defended Kyle Lafferty and supported his appeal after his assault at Aberdeen rightly earned the Northern Irish striker a red card.
He then pushed a young Hibs player who was simply trying to retrieve the ball for a throw in – this the second such incident this season, an earlier match against Hamilton saw him sent to the stand for a very similar offence.
Then there was the 'Natural Order' comment after his side got the better of Hibs for the first time in years.
Leaven got plenty of well deserved credit for master-minding the defeat of Celtic and ending the unbeaten run at 69 matches back in December. His team that day got in about the Celtic faces and were hungier and more determined than the tired looking Hoops players.
However the same Celtic players were always going to be looking for revenge and it was no surprise that Celtic showed a much greater appetite on Tuesday night in the 3-1 win. In truth Levein's side could and should have lost at least 6 goals so the result flatters them.
Then there was the fouls in the game. Today Levein didn't bother to speak about the huge number committed by Hearts in the game, most it seemed to be against Kieran Tierney. Instead he focused on a fair challenge in which Scott Brown won the ball and Celtic moved up field to score the third goal of the evening.
Levein reckons that everyone needs protecting from Scott Brown. Really?
This is the guy that when he was playing for Hearts actually got sent off for landing a punch on the chin of a teammate during the game. If anyone is a loose cannon in this narrative it isn't Brooony!
"I think that certainly there was nothing in the tackle," Brendan said.
"They competed in the air and the young guy was unfortunate that with Scotty's power and strength he wins the ball and the young guy falls. He clearly falls awkwardly and was in pain coming off.
"You could argue, should a 16-year-old be coming into a game of that magnitude against the best team in Scotland and a game of that level of intensity?
"The young player showed he could handle it in the game at Tynecastle. It's just an unfortunate incident but I don't think there's anything against Scott Brown in it.
"If you actually look at the game the actual foul count was more towards Hearts. I think it was 21 fouls by them and nine by us.
"We had to be aggressive in the game, we had to have intensity but that's how we play. That's a general aspect of how we play every game. You have to earn the right, you have to be hungry for the ball and I think we did that."
"You could argue, should a 16-year-old be coming into a game of that magnitude against the best team in Scotland and a game of that level of intensity?
"Scott Brown goes into every game to dominate the game.
"That's what I ask him to do and it's what I ask the team to do, show our dominance. I don't think he was bossed at Tynecastle. As a team we weren't so good and Hearts did well.
"We were humble after the game. I would hope that Hearts were the same after this game.
"He's a top class international player and I've been fortunate in my career to work with top level players and they are highly competitive.
"They play on the limit all the time, whether they're midfield players, defenders or strikers. Scott Brown is a great example of a top class player who plays on the limit every single game.
"That's why our supporters love him and other players respect him. He shows his fight in every single game."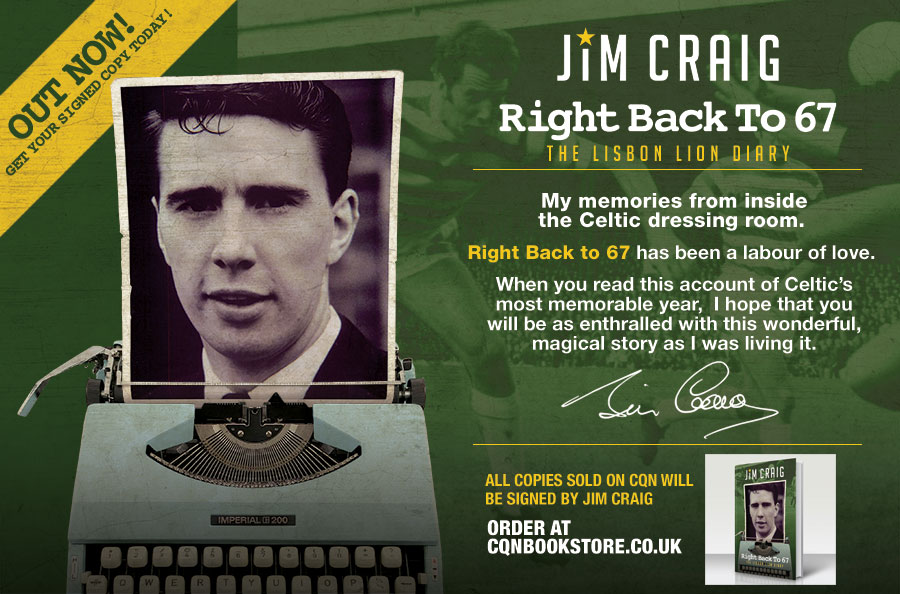 Order Jim Craig's new Lisbon Lion Diary – Right Back to 67 from CQNBookstore.co.uk and you will receive a signed copy from the man himself plus a FREE copy of That Season in Paradise – Ten Months of Celtic Heaven signed by fellow Lisbon Lion Bertie Auld! Simply order Jim Craig – Right Back to 67 and the second book will be sent automatically. Stocks are running very low so hurry! THIS DEAL WILL END IN A FEW DAYS!
Click Here for Comments >