While Celtic are busy preparing their players and supporters for the derby game at the weekend, Newco look to be storing up their major news story for after the game, perhaps anticipating a pick-me-up will be needed.
I've heard a bit of 'Why this guy?' chat about, Pedro Caixinha, one of our self-declared "Celtic brothers". Why not Derek McInnes or Tommy Wright instead of a man who sends video messages across the globe to congratulate Celtic?
McInnes, and Wright are both better than any previous Newco manager, and would use the Murray Park budget to out-perform Aberdeen and St Johnstone respectively, but ask yourself, what percentage chance would Newco have of catching Celtic with either as manager?
2%? Maybe more, but it's certainly not as high as 5%. Newco would probably finish second, but by this time next year the reality that they were miles behind Celtic would have dawned on everyone.
What chance would Brother Caixinha give them of catching Celtic? While there is a high chance he would be less successful in the Scottish Premiership than McInnes, the certainty of success or failure cannot be predicted as accurately, as with a manager we are more familiar with.  You could be around 80% certain that with Newco's budget and resources, McInnes would finish second in the Premiership, but 98% certain he would fail to top the table.
If you are left to choose between a manager you are 98% sure will fail, and a manager who you just don't have enough information to estimate his chances of success or failure, why would you appoint the former?  Newco are as well taking the Hail Mary manager than investing in a strategy they are sure will fail.
Brother Caixinha is being offered the job because there are no good choices, only bad ones, and worse still.  And that's the pick-me-up some will read about on Monday morning: 'Brother Caixinha will give us a Hail Mary shot at winning the league, but might finish below St Johnstone.'  Although maybe they'll phrase it differently.
I loved Ally McCoist's assertion on Sky TV that it was rubbish to suggest Newco needed a director of football and that all they needed was to spend ever-more money.  After all they have been through, their influential figures are actively briefing against adding technical resources, instead asking for a club already running at a loss to gamble more.  I hope Ally knows the Hail Mary!
Here's an idea, live within your means and get better at everything you do.  Do this and you'll survive.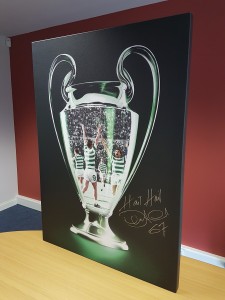 Thanks to everyone who entered the raffle to win the Lisbon canvas (above), signed by Bertie Auld, in honour of Billy McNeill, who last week we learned is suffering from Alzheimers.  Celtic artist Barry McGonigle (@BarryMcGonigle) has made this magnificent creation available for raffle in aid of Alzheimer Scotland. The raffle is open only until Monday.
We ask for a minimum donation of £5.
You can enter through this MyDonate page, with the money going straight to Alzheimer Scotland.
Please make sure I have contact details from you (email me at celticquicknews@gmail.com with the word "Canvas" in the subject, just in case) to make sure I can get in touch if  you win.
I can deliver in central Scotland, at Celtic Park, or by collection in Lanarkshire.
Good luck!
Click Here for Comments >